I don't know how to begin, because I want to be funny but can't. I wish it was funny. But when something is expensive, and hyped up by almost everyone and their mother, sister, brother, dentist, nanny and so on, the hopes have been built so high, that nothing less than perfection is expected.
Imagine me like a sniper if you will… I was lurking in the shadows, waiting and waiting for the right time to snatch this palette the minute it went on sale. And I did. Thank heavens I managed to not pay full price for it, now that I think of it. I would have been so mad at myself if I had paid the $48 it retails for.
Let's start on a positive note. When my package arrived, it was so pretty and well-presented, I was immediately hooked. The box had the company logo on it, the inside was just as beautiful with "thank you" and "melt cosmetics" in a variety of fonts all around, there was black tissue paper, the works! You also got a card with Lora Arellano, the owner of Melt., and another model wearing some of the products, a sticker and the cutest tiny Melt. lipstick keychain that I have ever seen in my life. The keychain actually made its way to my keys and i carry it around every day.
On to the products, each one had its own lovely black box with the name of the product and the company imprinted on with a glossy finish, all over the box as well as the characteristic Melt. logo. The packaging is top notch. It is well designed and classy, just like the design of the palette is.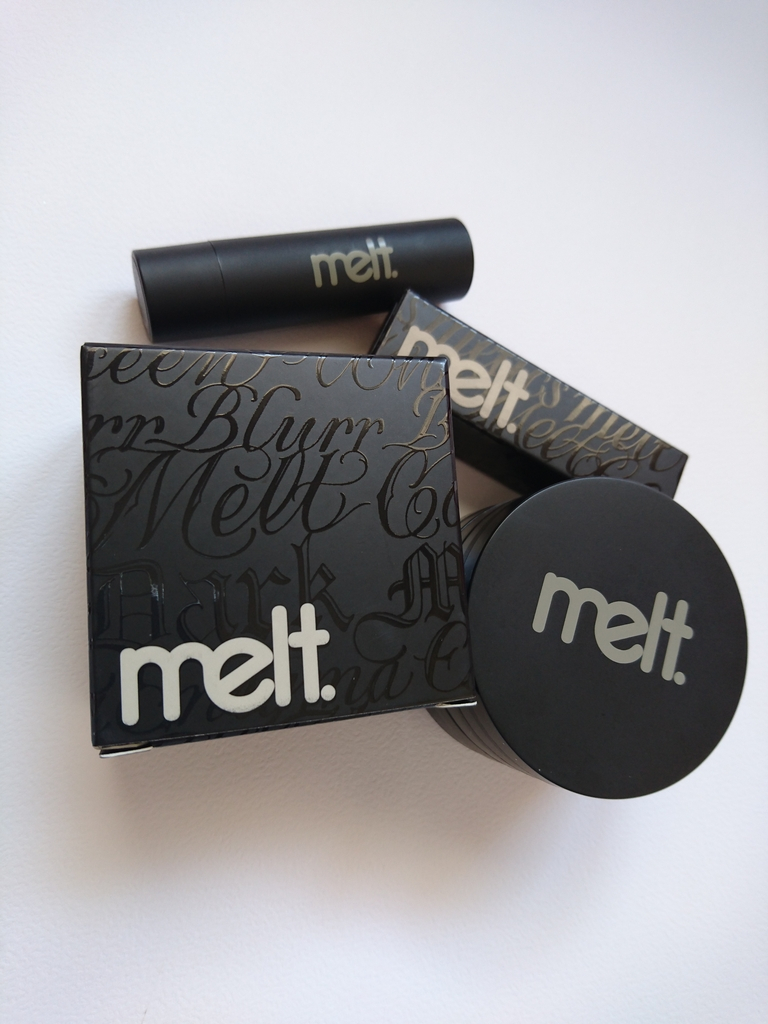 In order to stand out in any industry, especially the makeup industry that is swarmed, you have to create original, high quality products with a clever twist. And that's exactly what Melt. did. The twist? The palette itself is not plain like the ordinary eyeshadow palette out there. It is magnetic and the individual shadows are stacked on top of each other, topped off with a mirror on the lid. Genius. Excellent. On a scale of 0 to 10, I give this packaging a 47. Whoever had the idea, needs a cookie. And a raise…
Each Melt. stack comes with 4 eyeshadows. The one I chose ("Dark Matter") comes with all matte shades that range from black to peachy nude. The one I was really excited about was the deep red/wine shade ("Enigma"). It looks so good, you would want to bathe in it. Keep in mind I got those back in November, so that shade was exactly what I was looking for around fall/winter time. The peachy nude and camel shade ("Blurr" and "Unseen") would be ideal for transition and crease shades, which they are and the matte black always comes in handy. The palette makes sense, that's what I'm trying to say.
Seeing the swatches, you will start to understand were my disappointment lays…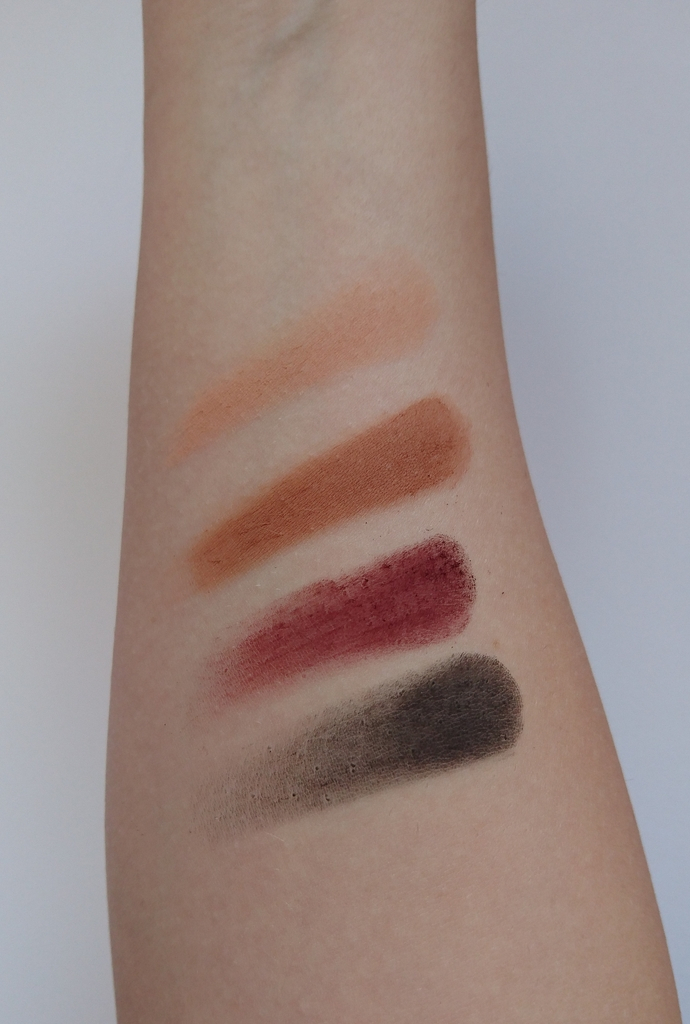 The two lighter shades feel, swatch and perform FLAWLESSLY. And those two are the reason I reach for this palette every single day. There has not been a day since I bought this, that I haven't put "Unseen" in my crease and "Blurr" as a transition. They work with every look. Cool, warm, neutral, you name it. And then there's "Enigma"…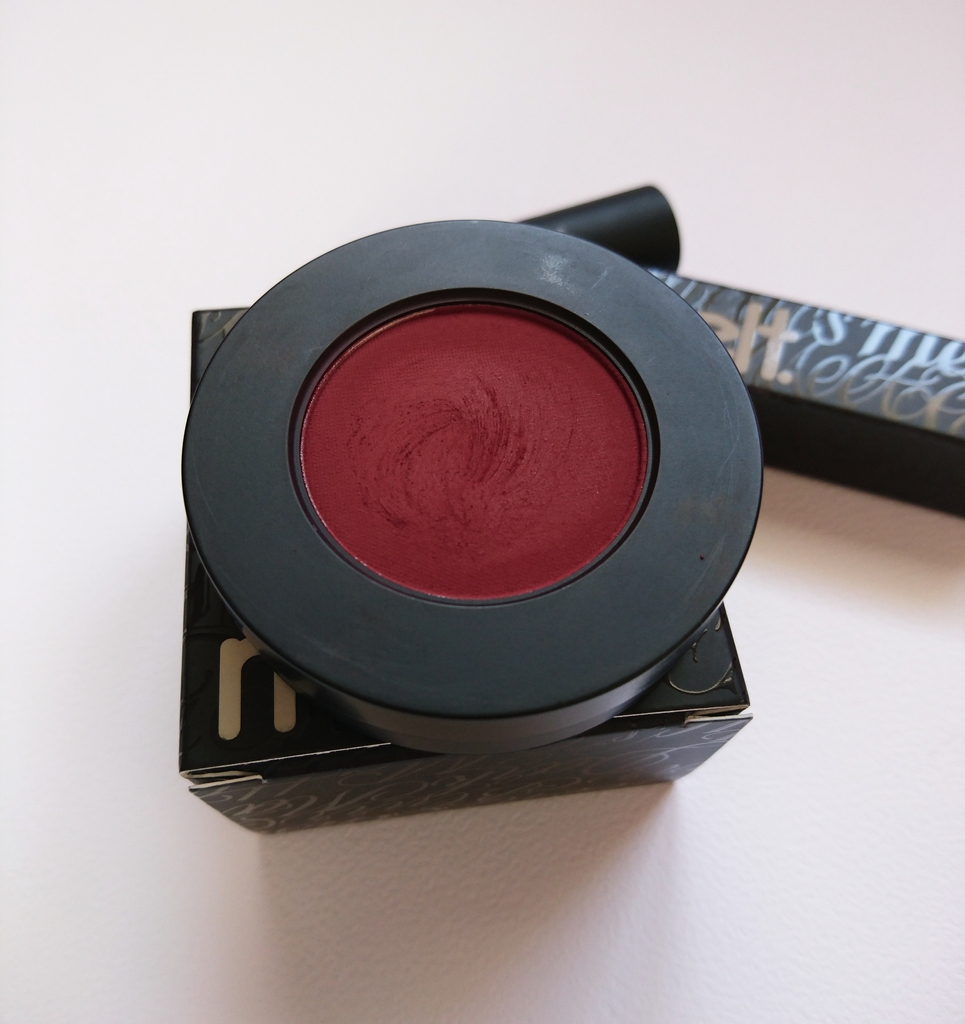 I'm so mad at this shade. It was the one I was looking forward to using the most. And it let me down, big time. *insert Ewan McGregor "YOU WERE  THE CHOSEN ONE!!!" meme here* . It's not as pigmented as it should be, the texture is depressingly gritty and uneven and it's a total bitch to blend. Why? Why? Why? The question of the day…WHY? Ugh, I could have used you for so many things!!!! To paint you a picture, I had never had the "opportunity" in my 10 years of applying makeup to myself to take off my eye makeup TWICE while trying to get ready. But I lived to see that happen too… It was so frustrating, I started laughing. I should point out for those who don't know, I am a trained makeup artist as well, so this is…something.
Let's talk about the black ("Dark Matter")now. It is okay. And that is annoying on its own. You don't buy a 4-shade palette for $48, for one quarter of the palette to be "okay". I want 4/4 quarters to be mindblowingly awesome. I want to not be able to believe how amazing each and every color of it is. It's a matte black called "Dark Matter", so it should be pitch black. Well, no. It's more of a really dark dark dark charcoal grey that only comes off black when layered over a black gel/pencil liner. That's not what you want. Especially myself, that has been spoiled by Urban Decay's "Blackout" for years. Here's the two of them side by side.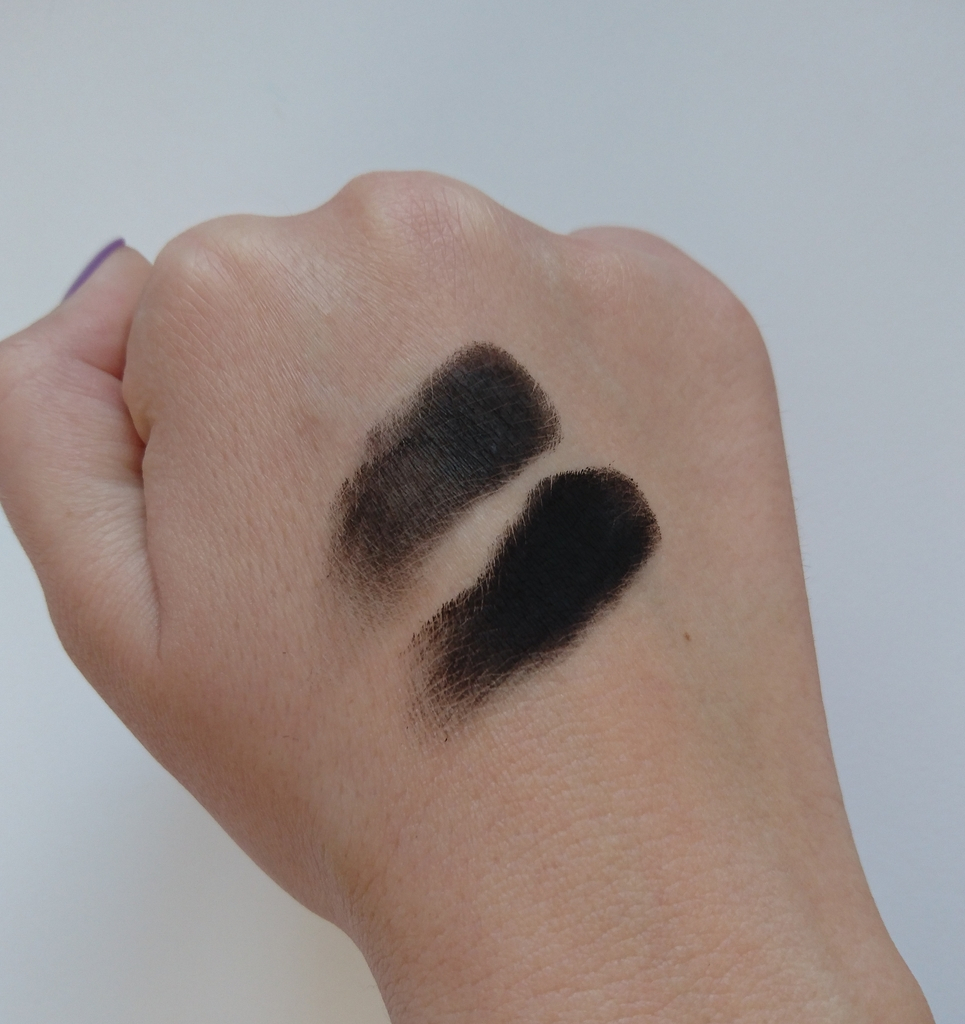 I don't want to rant, the pictures talk for themselves. But from what I hear, Makeup Geeks's "Corrupt" will actually perform better for the astonishing price of $6. So, at least we have options. Not cool, magnetic, stackable oprions, but we'll manage…
I also bought one of their lipsticks during the 30% off sale, to justify the whole purchase. You know that retarded mindset us people who shop online have… "Well, if I'm gonna pay for shipping, might as well add this and this and this in my order to make it worth my while". When will we learn, smh…
I picked up "Dark Room", which is a matte beetroot/plum shade. I always gravitate towards shades like these. I guess they are not kidding when they say their products are "Ultra-Matte". As beautiful as this color is, it's so matte it makes it quite hard to apply and a bit uncomfortable on the lips. It drags a bit while applying and the only way I could only make it bearable on my lips for a while was layering it over my Vaseline Lip Therapy Cocoa Butter (you need this is your life, seriously).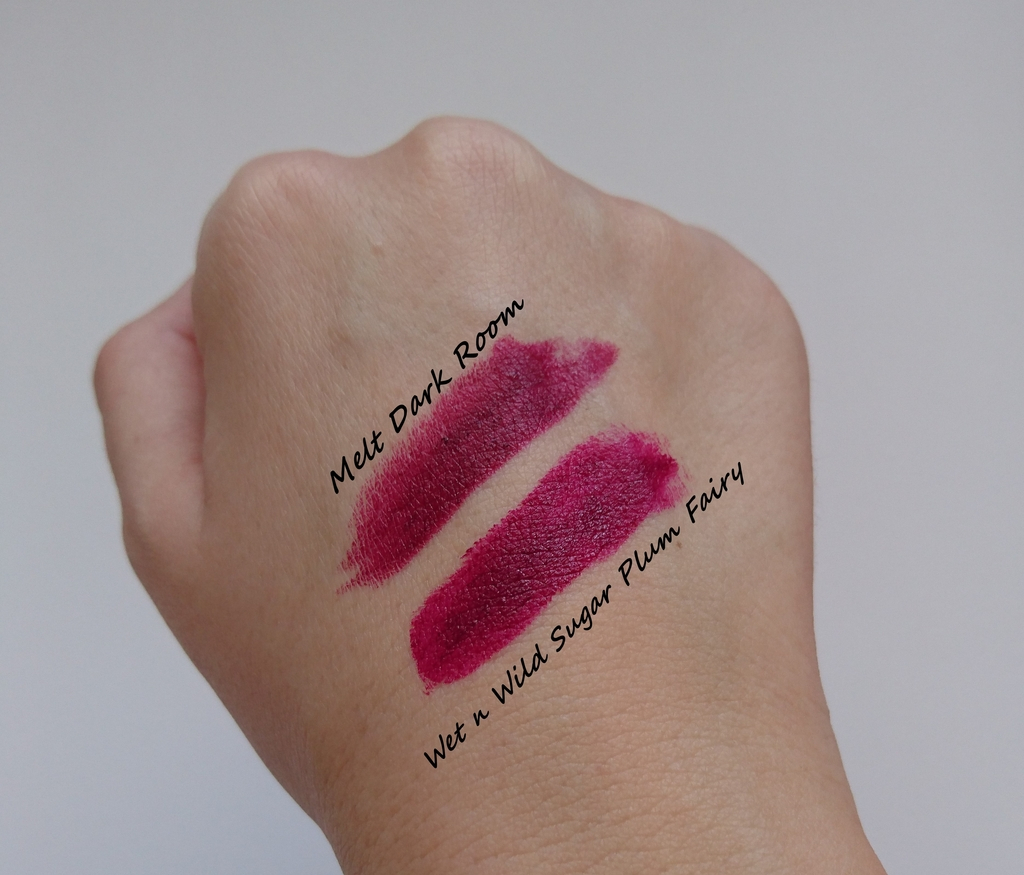 Here it is next to Wet n' Wild "Sugar Plum Fairy", which most of you already own. Here's my problem… If you own
any Wet n' Wild matte lipsticks, you know that they are a bit hard to work with. Well, "Dark Room" is drier and harder. And it's $19. The Wet n' Wild is $1,99. Do you see what's wrong here?
I am hoping, I got a defective stack. I know the lipsticks are dry, because I saw a couple of people put them in their "Products I Regret Buying" videos. But the eyeshadows were raved about by everyone. It comes to show that you should take what you hear with a grain of salt. I really wanted to get their "Love Sick" stack as well, but now I am a bit hesitant. They also launched their new "Radioactive" stack a few days ago. I hope you had a chance to read all this before ordering.
DISCLAIMER: I am not by any means bashing the brand. I think they are doing a great job. I am just telling you my side of the story, because not everything is coming up roses…