When you have accumulated a good amount of makeup in your collection, finding products that work exactly the same is inevitable. Also, when those products have a huge price difference, you can either feel really stupid, or really smart depending on which one you got first. But when they are both really expensive, then you definitely feel stupid.
I've said it before and I'll say it again. Thank God I bought it, so you don't have to.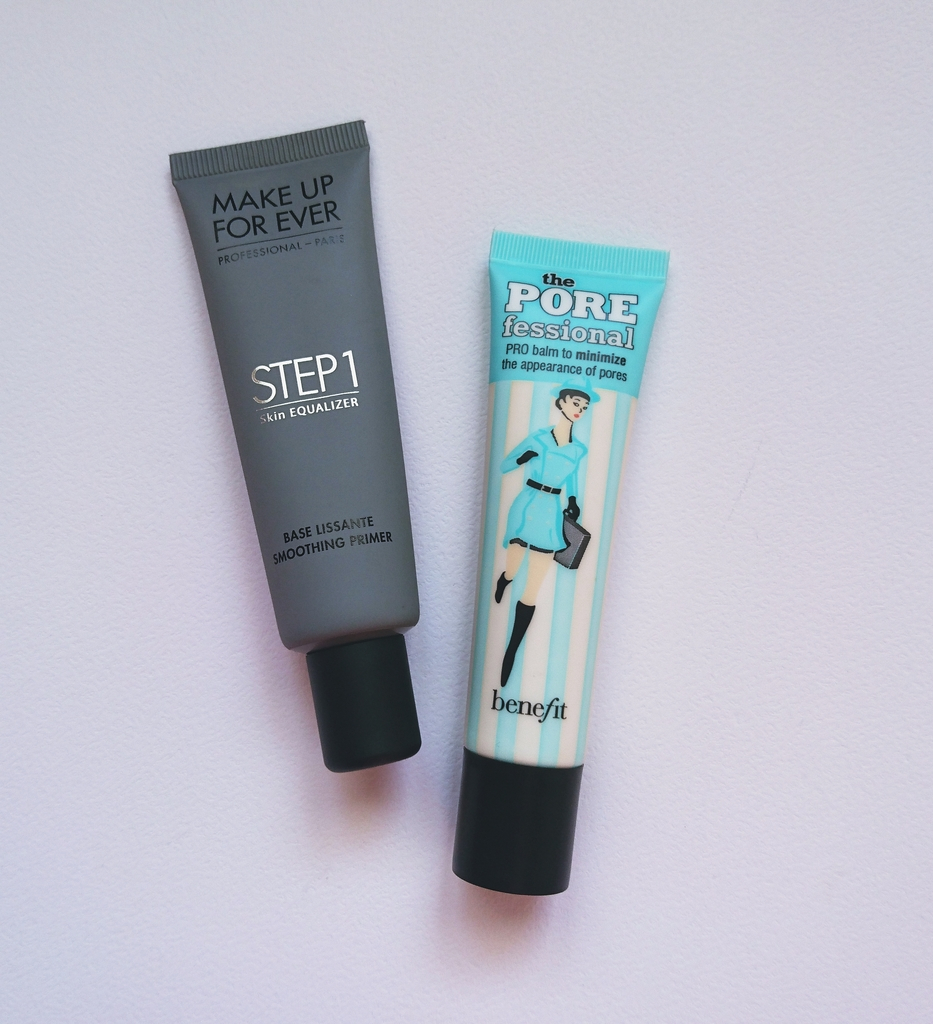 Let's start of by saying, that the Make Up For Ever Step 1 Skin Equalizers have been really hyped up lately, rightfully so, since the range is big enough to cover everyone's needs and the quality is excellent. Benefit POREfessional has been hyped up looong before those came in the picture, it has been a cult favorite to be exact. But, hey, there's always more buzz about the new kid in school, right?
Let's take a closer look at the ingredients and have a chance to explain what they do.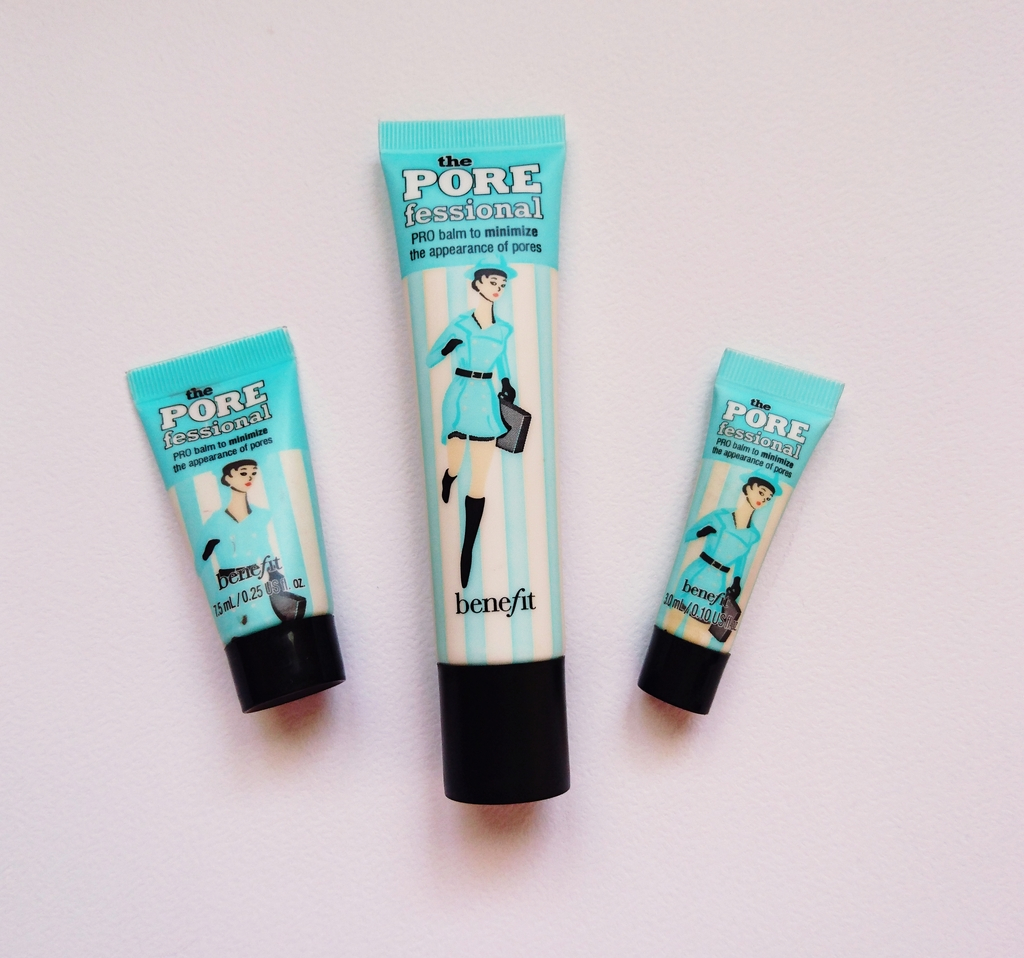 Benefit POREfessional : Cyclopentasiloxane, Dimethicone, Dimethicone/Vinyl Dimethicone Crosspolymer, Isononyl Isononanoate, Silica, Dimethicone Crosspolymer, Isododecane, Phenoxyethanol, Polymethyl Methacrylate, Titanium Dioxide (CI 77891), Cyclohexasiloxane, Tocopheryl Acetate, Fragrance (Parfum), Mica, Iron Oxides (CI 77492), Limonene, Iron Oxides (CI 77491), Iron Oxides (CI 77499), Triethoxycaprylylsilane, BHT.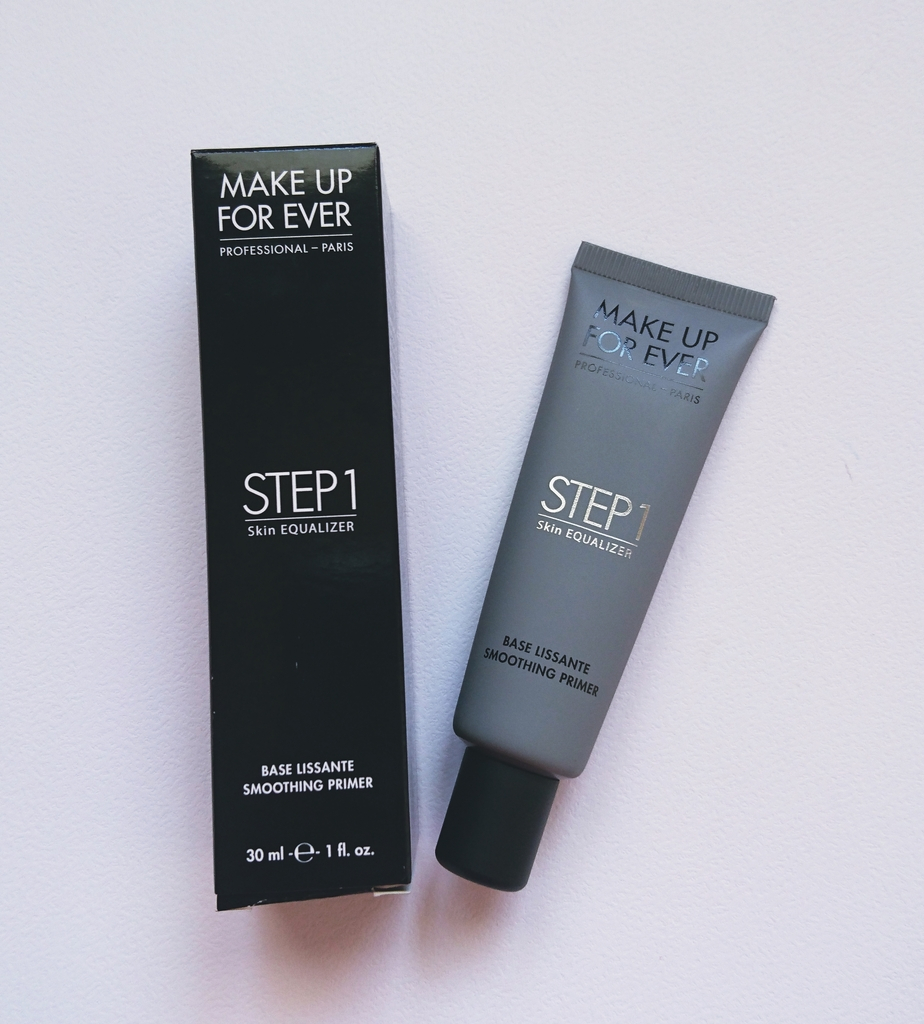 MUFE Step 1 Smoothing : Methyl Methacrylate Crosspolymer, Dimethicone, Cyclopentasiloxane, Dimenthicone/Vinyl Dimethicone Crosspolymer, Diphenylsiloxy Phenyl Trimethicone, Trimethylsiloxysilicate, Titanium Dioxide, Phenoxyethanol, Silica Silylate, Parfume (fragrance), Aqua (water), Cl 77492 (Iron Oxides), Magnesium Carbonate Hydroxide, Polymethylsilsesquioxane, Sodium Hyaluronate, Aluminum Hydroxide Tocopherol, Cl 77491 (Iron Oxides), Hydrogen Dimethicone, Cl 77499 (Iron Oxides), Avena Sativa (Oat) Kernal Extract, Cichorium Intybus (Chicory) Root Extract, Ethylhexylglycerin, Benzyl Benzoate, Benzyl Salicylate, Limonene.
The underlined ingredients are the ones that appear in both primers. The first ingredients (i.e. the ones that can be found in a higher percentage in the mixture) are quite similar. As you can see, Cyclopentasiloxane (CPS for short) is high on the list in both ones. But what is it? CPS is a type of  really thin silicone, commonly used in cosmetics due to its ability to lubricate while providing waterproof results. CPS along with Dimethicone (a silicon-based polymer) are the main reason pore-filling/smoothing primers have that characteristic silky smooth feel. They are often used together in makeup, because CPS helps spread the greasier and heavier dimethicone (that does the job of smoothing) before evaporating. POOF!
The one that stands out in the MUFE primer, is Methyl Methacrylate Crosspolymer. This particular compound, that acts like a film former, helps the primer create a smooth base for the foundations to lay on top of. Not only that, but it increases the viscosity (makes it less runny).
Phenoxyethanol that can also be found in both, is an anti-bacterial preservative used in cosmetics as an alternative to parabens. We are not quite sure yet if it is a safer alternative to parabens, but you can do your research and make an informed decision.
Silica (a mineral compound) and Silica Silylate (a hydrophobic silica derivative) are used as absorbing and binder agents in the cosmetic industry, among the many functions that they have, such as anticaking, bulking , opacifying, anti-foaming and suspending. Silica Silylate is generally considered a safer form to be used in makeup products.
Most of you will already know that Titanium Dioxides are used as UV filters in sunscreens, powders etc. , and Iron Oxides are the ones that give cosmetics certain colors, because they conveniently some in shades of red (CI 77491), yellow (CI 77492), orange, brown and black (CI 77499). So no surprise they are around, since both primers are tinted.  Lastly, Limonene acts as both a solvent and a fragrance ingredient.
The only concerning ingredient that I need to mention is the BHT (listed as the last ingredient in the Benefit POREfessional). BHT, or Butylated Hydroxytoluene is a potent synthetic antioxidant, that has been found to have carcinogenic properties when consumed orally. Before you freak out, as Paula's Choice website informs us:
"The amount of BHT uses in cosmetic products is typically 0.01-0.1%, and does not pose a cancer risk to skin, nor does it penetrate skin far enough to be absorbed into the bloodstream (Source: 2008 CIR Compendium, Cosmetic Ingredient Review, 2008, pages 43-44)." *read original article here*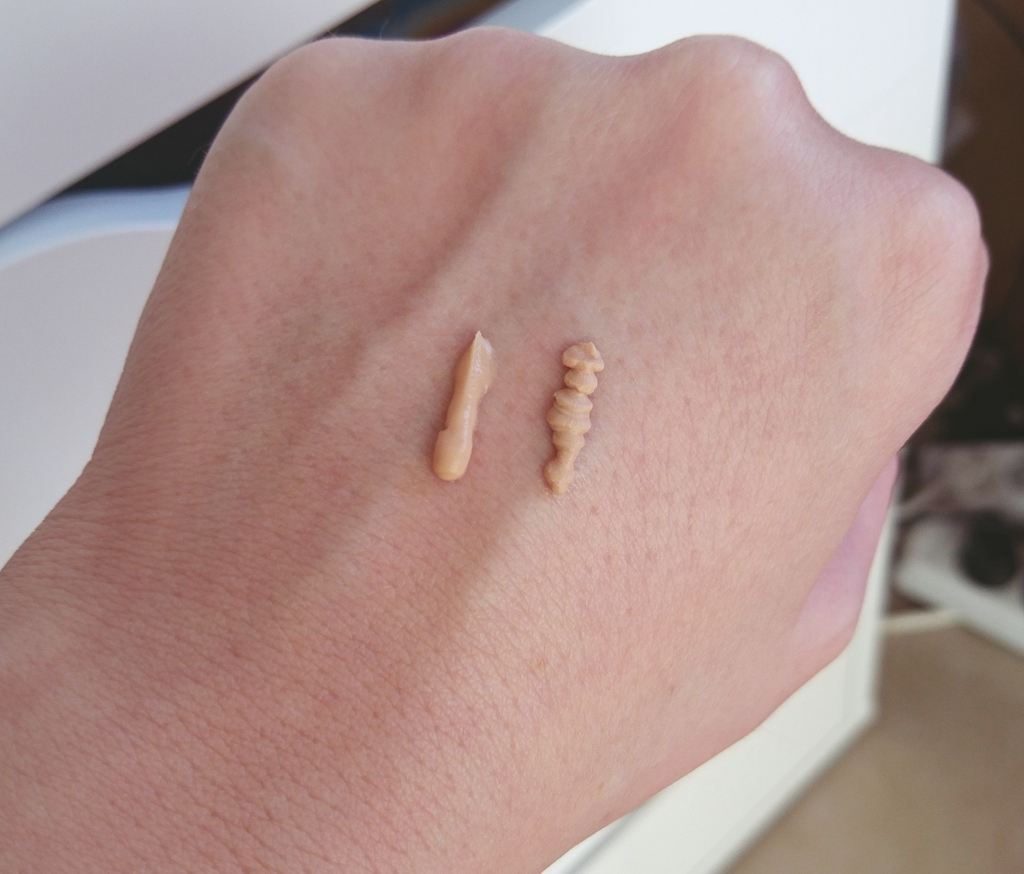 Leaving the boring chemistry stuff aside, these two products look, perform, smell and cost the same. I tested out both primers on my face (half POREfessional/half Step 1) and I noticed absolutely no difference in appearance of pores, lines, skin finish or longevity.
The Benefit POREfessional retails for $31 (22 ml/0,75 fl. oz) and the MUFE Step 1 Smoothing Primer for $37 (30ml/1 fl. oz).  That comes down to $1,4 per gram for the Benefit and 1,23/per gram for the MUFE. Not much of a difference I'd say… Bottomline is, you don't need both. The MUFE Step 1 Smoothing is one step (get it?) further in the evolutionary scale of primers, but still, really really REALLY similar to the classic POREfessional by Benefit.
BONUS ROUND:
If you made it this far, kudos you are a real trooper (let me know on insta by leaving a comment with the hashtag #iamatrooper). If you haven't heard of everyone using the Nivea Sensitive After Shave Balsam  as a makeup primer, you must be living under a rock. Nikkie Tutorials started this craze, and honestly she is amazing. This is an inexpensive item, that if you live with a man that shaves you have most likely seen laying around the house at some point and time.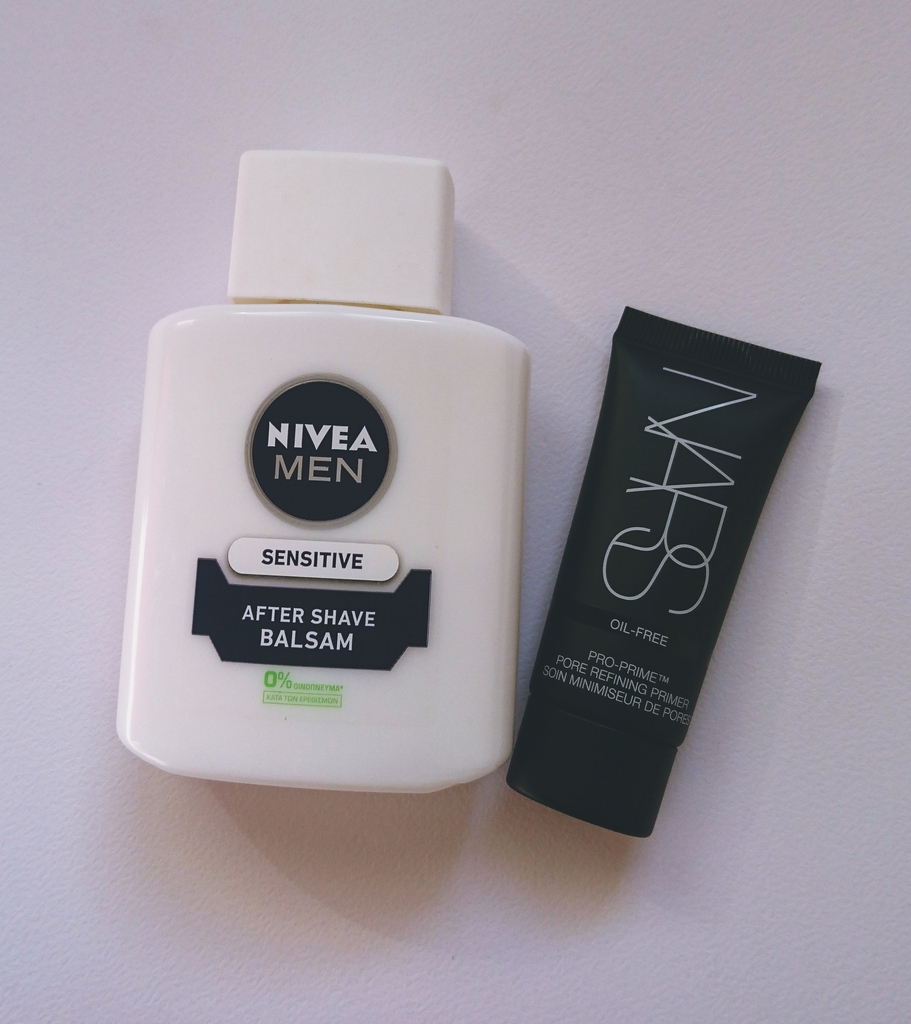 What you don't know, is that it is an EXACT dupe for the Nars Pro-Prime Pore Refining Primer. They look and feel the same. Same liquid texture, white/clear suspension appearance (we know what it reminds you of, don't say it).
The wonderful thing is that they apply the exact same too. A silky runny liquid that starts getting tacky when rubbed into the skin. Nikkie says that it is because of the glycerin in the Nivea one, and she's right. LO AND BEHOLD glycerin is the 3rd ingredient in the list on the Nars one too. Glycerin is used largely in the cosmetic industry because it acts both as a humectant (keeps things moist)-lubricant and a bonding agent. So it makes other makeup products put on top of it stick while keeping the skin soft and moisturized.
The only 2 differences you will find between those two are :
a) The Nivea has a very distinctive male skincare product scent (smells like a dude) while the Nars is a bit more florally (?) scented. Both scented though.
b) The pricetag. Woah, boy… The Nivea Bottle (100ml) costs less than $10 (price varies around the world, but still is available around the world, so yay!), while the Nars will cost you $34 for just 30ml (1 fl. oz).
Which one is right for you? I have no idea… I am here to present the facts.
It's your choice. The world is your oyster. Buy whatever you please and don't shoot the messenger!
-xoxo- Macy