I have been wanting to write this article for quite a while now, but life kept getting in the way… The pandemic claimed lives, livelihoods, and our right to enjoy makeup, especially lipstick. Having to wear a mask since March 2020 takes a toll on wearing any lip product other than lip balm, so lip gloss has been a no-go for over a year. Before you go off, obviously our right to gloss is the least important thing the pandemic has claimed, but you clicked on a makeup blog post, so what did you expect?!
My fondness of Fenty Beauty products is well established, I thoroughly enjoy Rihanna's take on the world of makeup. Some of her products have even reached holy grail status in my books, Gloss Bomb being one of them.
Fenty Beauty Gloss Bomb was introduced as part of the core collection of the brand with its initial launch on September of 2017. Since then the range has expanded, not tremendously, but large enough to include a few more shades of the original formula, the Gloss Bomb Cream (a creamy gloss with no shimmer) and the newly launched Gloss Bomb Heat (a slightly tingling-plumping formula).
Just last year, during New York Fashion Week in February 2020, Maybelline introduced a brand new gloss formula to their line, the hydrating Hyaluronic Acid infused Lifter Gloss. Now go back to the top of the page and read what I wrote again. Can you imagine a worse time to launch a lip gloss? I couldn't even if I tried. Despite the unfortunate timing of this launch, the reviews for the product were actually raving, so when the mask mandate lifted a bit in Greece, I ordered myself a couple of shades to test out.
My choice of shades were nothing but random. I noticed the similarities to the Fenty Gloss Bomb shades immediately. Taking a quick look at the Fenty ones I already owned, I made sure to hit the correct spot when purchasing the Maybelline Lifter Glosses and OH BOY, LET ME TELL YOU.
Unboxing them and trying them on was a complete slap in the face. A total 'bitch stole my look!' moment. Not only the shades are practically identical, but the formula is eerily similar. From glitter particle per square centimeter, to lip feel, to scent even. Makes you second guess everything, really. Let's break it down, shall we?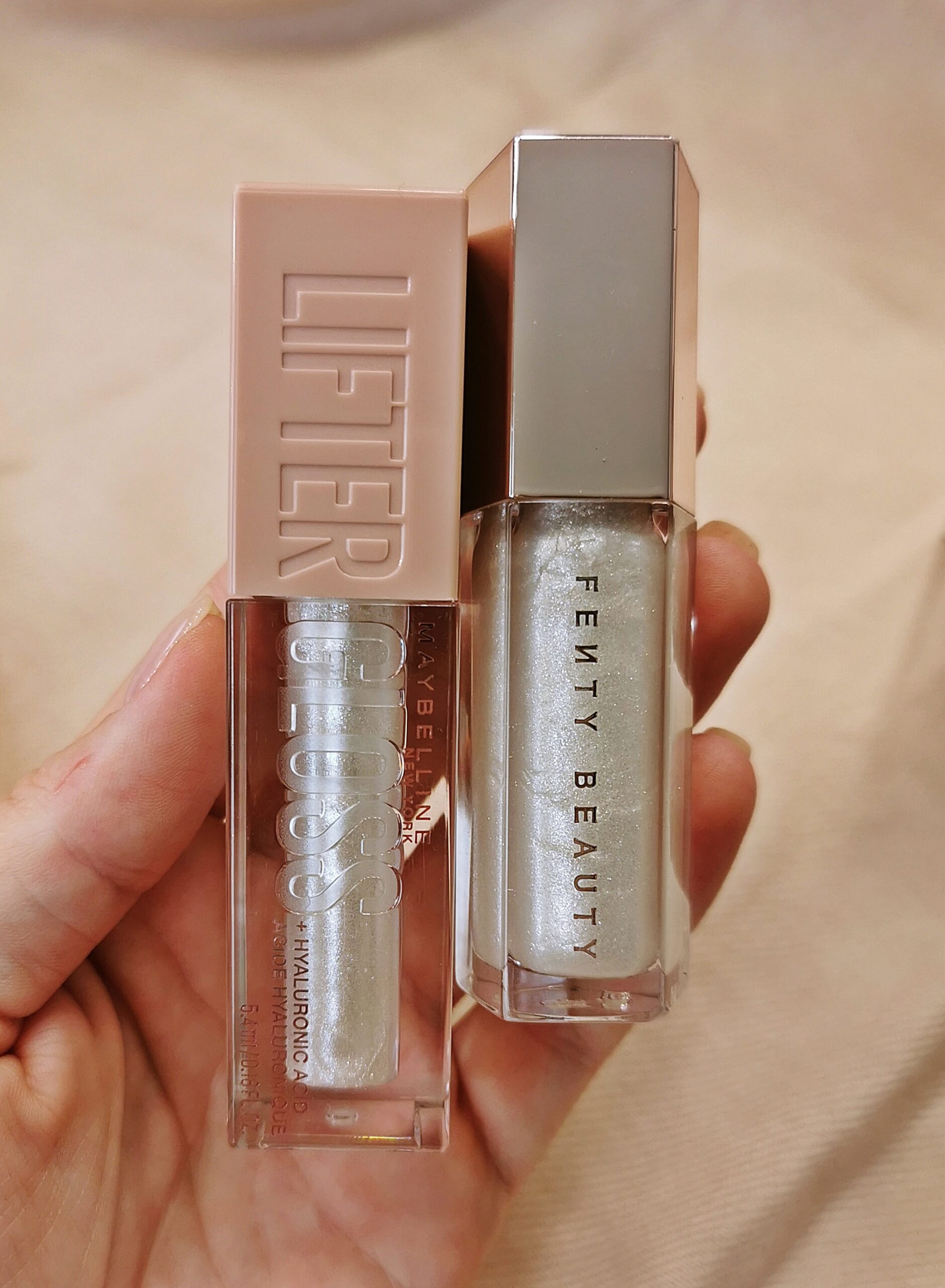 The shades
The ones at hand are Diamond Milk, Fu$$y and Fenty Glow vs their Maybelline counter parts 001 Pearl, 003 Moon and 009 Topaz.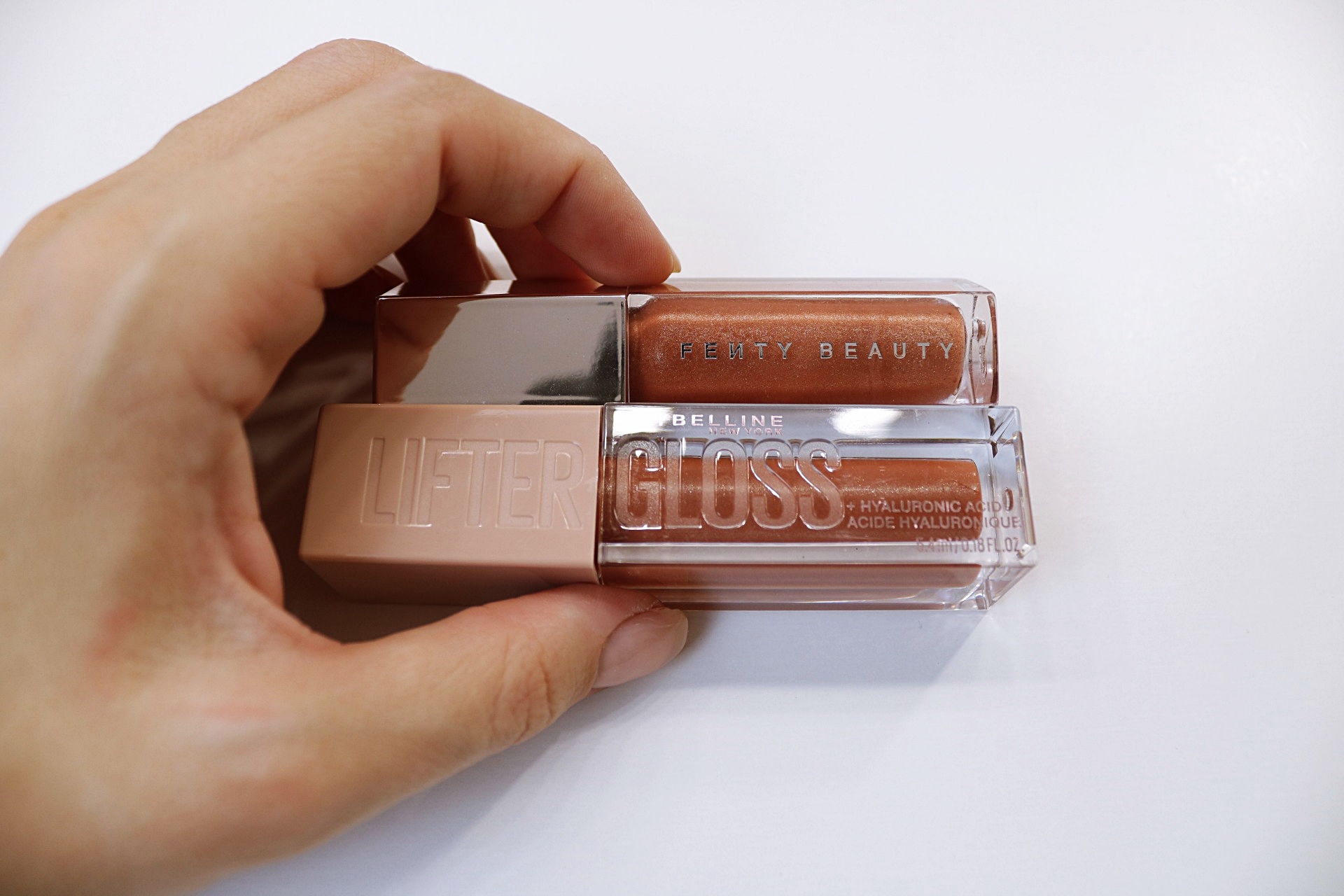 Have you ever heard the phrase "there's no parthenogenesis in art"? Well, Maybelline definitely has, and they are yelling it at the top of their lungs. Is this even legal? That's all I'm asking.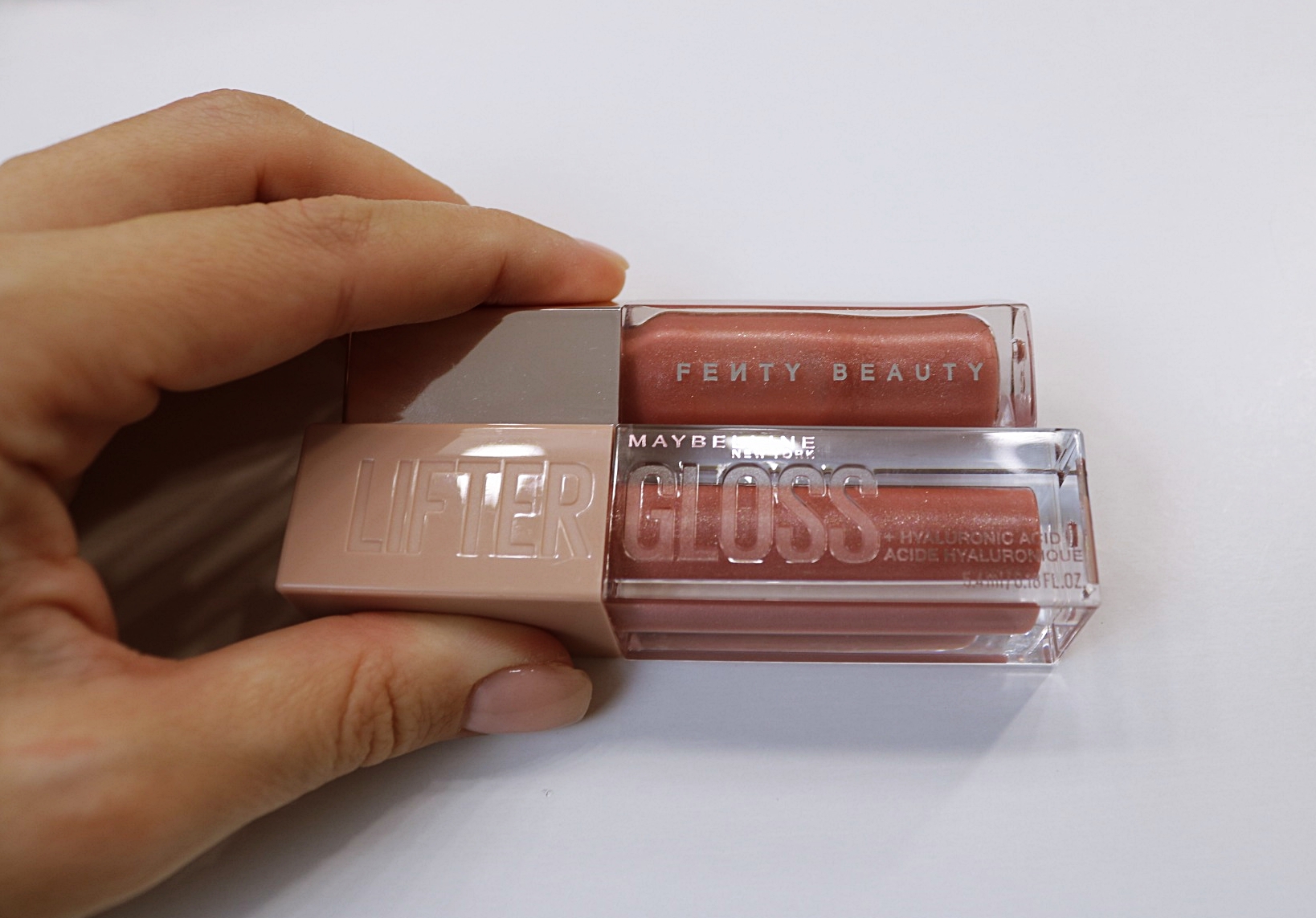 The shades are offensively similar to each other, with minuscule differences that honestly would have pissed me the f*** off if I were Rihanna. Well, frankly, if I were Rihanna sitting on a 1,7 billion net worth I might've not even cared, but still.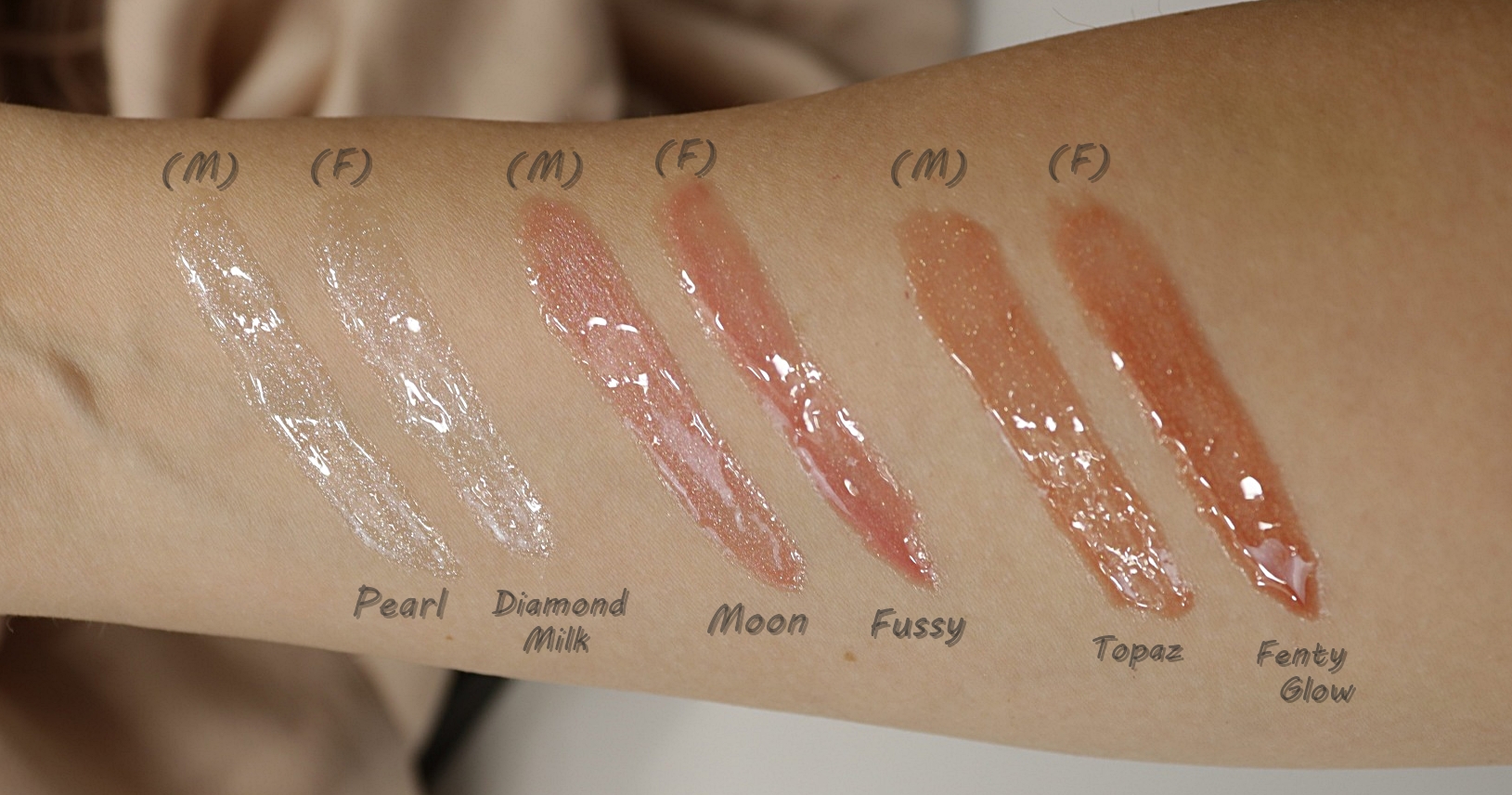 If we had to nitpick, Fu$$y is a smidge more warm toned and has a bit less microglitter than Moon, just like Fenty Glow when comparing it to its doppelganger Topaz. Realistically speaking though, when applied on the lips there is 0 difference between them. I mean it. Zero. Null. Zilch. Nada.
The packaging
While the Fenty Gloss Bomb sports a pentagonal shape, characteristic of the whole Fenty line, Maybelline opts for the more conventional square that looks and feels significantly bulkier. Point to Fenty.
As far as applicators go, someone should sue someone if they haven't already.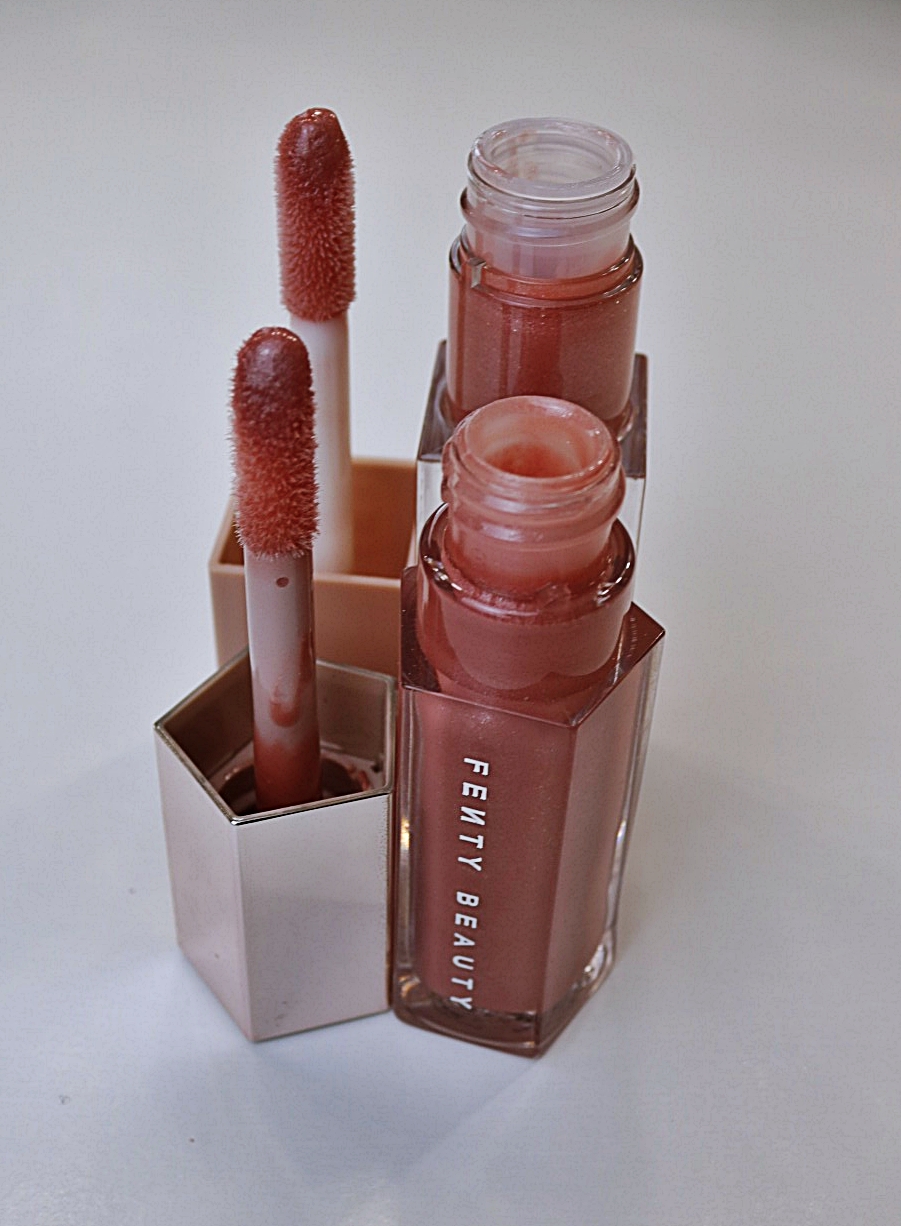 Could this doughfoot BE any more similar? No. It couldn't. Because it's identical. Identically humongous, that is. If you are not-so-gifted in the lip area, you might find these applicators a tad too much.  We're not talking Tarte Shape Tape big, but they are big.
The formula
Now this is where they hit the nail on the head. It's quite tricky getting a gloss to perform exactly the same as another one, especially from a rival brand. Think of all the times a brand couldn't even get it right within itself. Well, Maybelline did it. Point to Maybelline.
And that's some hell of a formula. Smooth, lightweight, not at all sticky, very hydrating and comfortable on the lips. Tens across the board! My favourite gloss formula ever created, coincidentally, was by Maybelline; the cult classic 'Maybelline Water Shine Diamonds'. This formula comes close, it is a bit thicker than the Water Shine one, which was worthy of the name, truly water like. I still treasure my last bottle of the Water Shine Diamonds in 'Strawberry Karats' that is my ultimate nude gloss.
As for the scent, quite similar, not exactly the same. The Fenty ones have a sweet, fruity scent reminiscent of a red skittle maybe, whereas the Lifter Gloss has a more punch you in the face sugary sweet scent, with a faint waxy base note. Point to Fenty.
The value
Now this is my favourite part.
Fenty Gloss Bomb retails for $19.00 (20,95€) and offers you 9ml of product. That comes down to $2,1 (2,32€) per gram of product.
Maybelline Lifter Gloss retails for $8.99 (11,48€) for a modest 5,4ml of product. That translates to $1.66 (2,12€) per gram of product.
It's one of the few times when the difference in price between the high end and the drugstore brand is not that significant. It all boils down to which one you prefer. If i had to choose all over again, I think I would opt for the Fenty, just because the packaging is more aesthetically pleasing, unique and less chunky. But if you rarely use gloss to begin with, so finishing the 9ml that Fenty packs seems unlikely, definitely go for the Maybelline Lifter Gloss, they will give you the exact same result without having to splurge the 20 bucks.
The true question is 'has any of these replaced Strawberry Karats in my heart?'. No. Are they all amazing glosses that deserve all the hype they get. Abso-fuckin-lutely.
Consider this post a petition to bring back the Maybelline Water Shine Diamonds, not a review of the other two.
xoxo,
Macy