Yesterday, I found myself hanging around Stars and Stellars with the lovely Stella, where we chatted, had coffee and as expected ended up in Sephora. Looking around for a while, I noticed they had brought in the new L'Oreal Nude Magique Cushion Foundation that I had been eyeballing on insta the past week. So, naturally, I was like "Great, gimme!"
I have been contemplating getting a cushion foundation for quite some time, because as I was explaining to her yesterday, life has been cruel to me and I suffer from very annoying allergies. Therefore, I have to blow my nose on an hourly basis, meaning that the makeup on my nose is actually never…on my nose. I wipe it off, within an hour of application if I'm lucky. If not, within minutes. So, I thought, that a foundation compact will be a really useful thing to have in my purse for touchups throughout the day.
To be honest, I was planning to get the Missha Magic Cushion, because it is fairly more affordable than any other of its kind on the market (around the $10 mark). We both know I wouldn't give what Lancôme is charging for it, even if my life depended on it. Plus, I have noticed that Korean products are really excellent as far as quality goes and they always combine skincare benefits with makeup. But, I figured, since I found this one right now, why wait 3-4 weeks for my Missha to come? Let's give it a shot. It does say it's made in Korea, actually. How different could it be?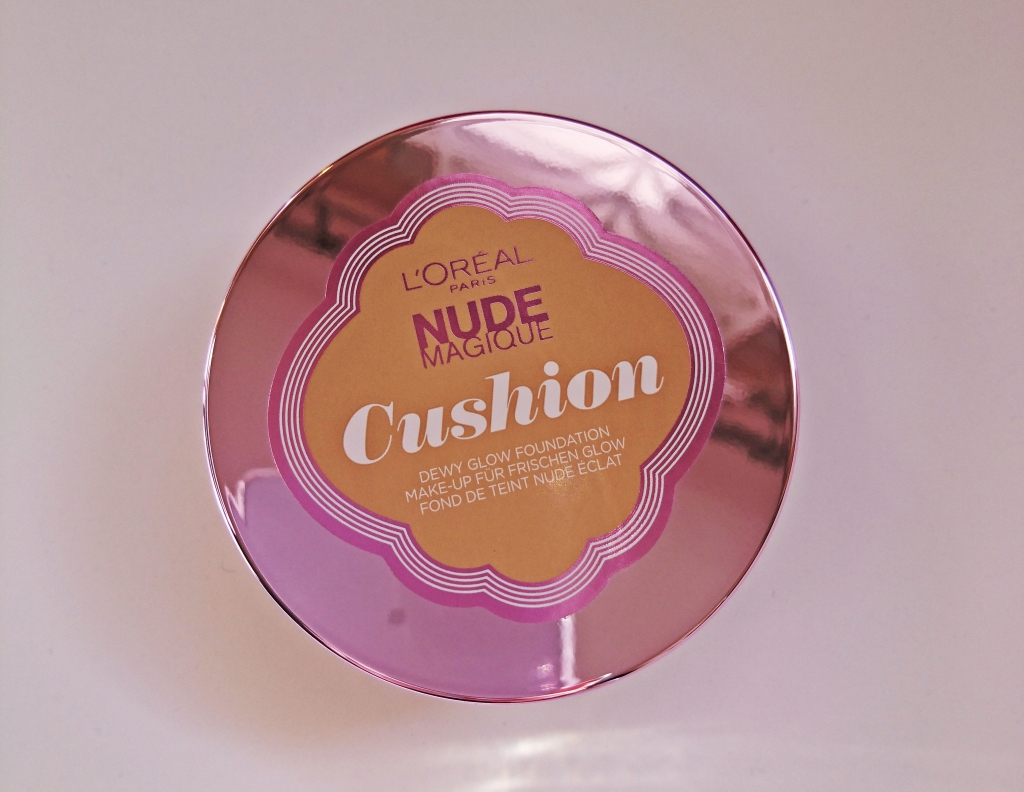 Packaging always wins me over, I have to do something about it.  This one is baby pink with a metallic pink cap. Girly and fun. As I saw online, the U.S. version is rose gold and goes under the name "True Match Lumi Cushion". I would have preferred that version, but eh, what can you do?
In europe, as fas as I know, there are 7 shades available, ranging from Porcelain to Golden Amber. I picked the shade "07 Golden Beige" (for color reference I am an 120 in the MUFE original HD and Y245 in the Ultra HD), which unless I remembered, there would be no way to tell, since it's nowhere on the actual compact. That is not good. Will I remember the shade when I run out in 6 months? No. So what's up with that?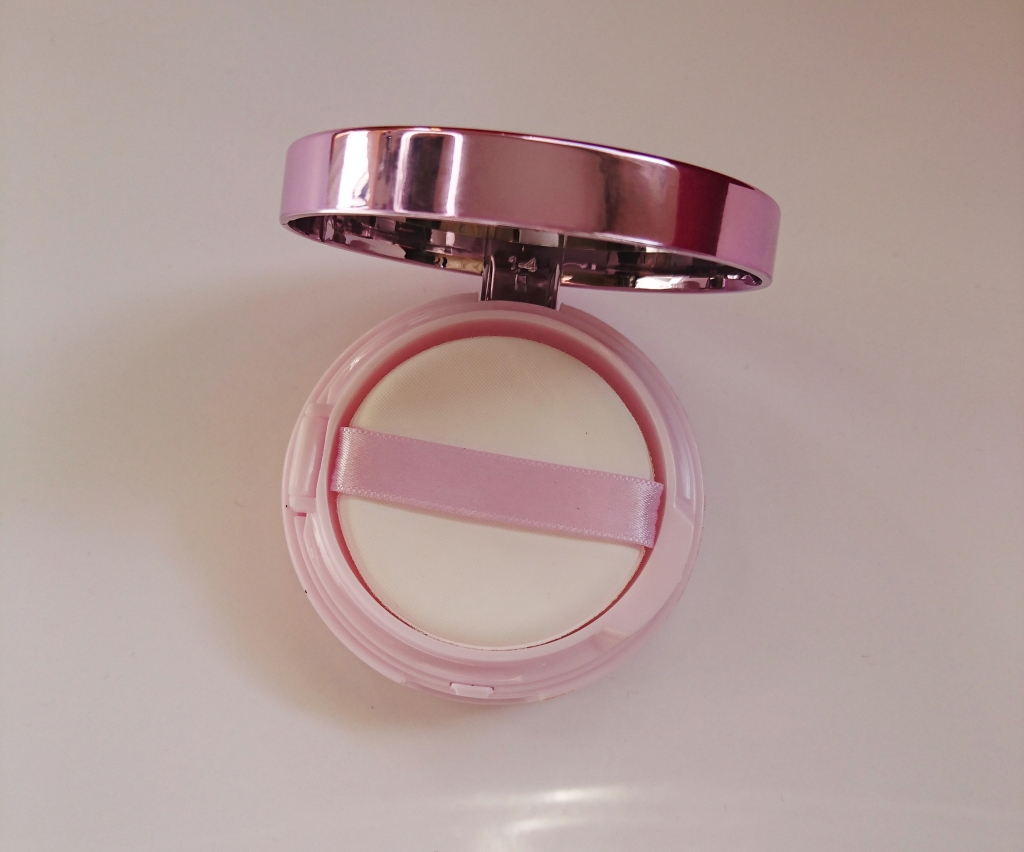 The foundation comes with a good-sized mirror and a sponge, that will come in handy if you do your makeup at work/on the train/the bus/the back of an alley/an airplane/your basement etc. but I wouldn't suggest using if you have the option of a brush or a beautyblender. The good thing is that the foundation has an SPF of 29, so If you actually make it out of the basement, you're covered.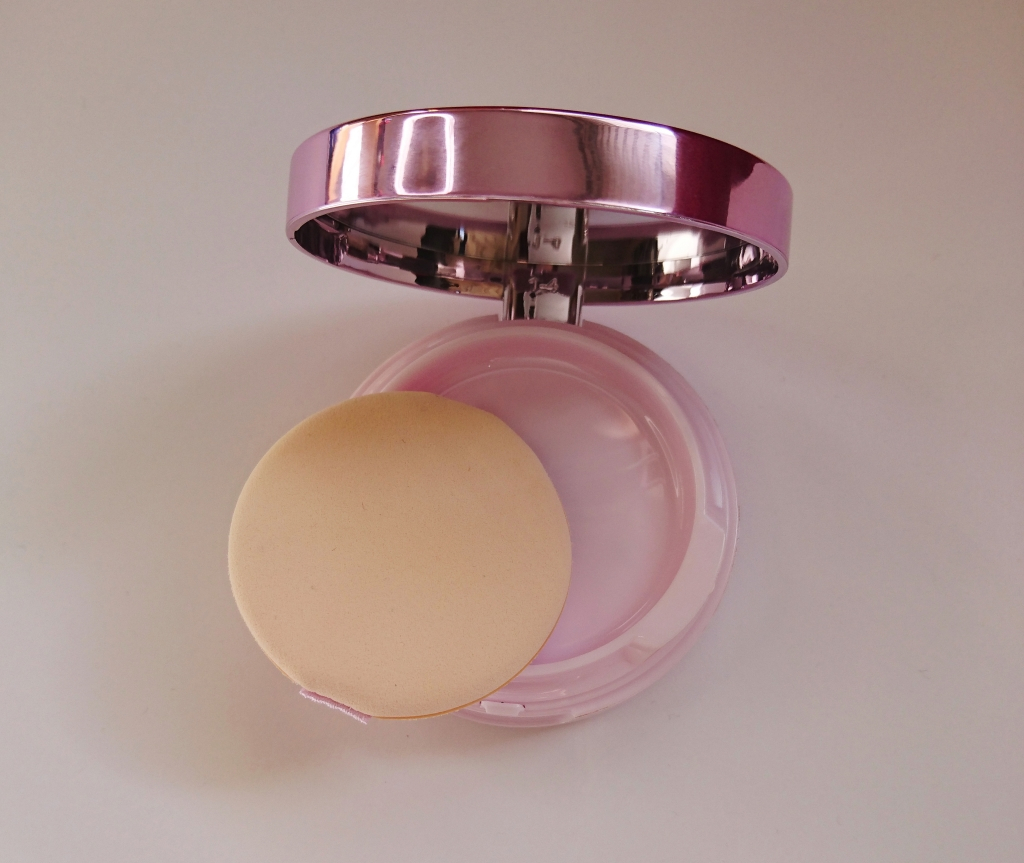 Opening "the special flap" that seals the cushion compartment shut so that it doesn't dry out (you don't want to keep it open, trust me, the Lancôme samples in Sephora were beyond disgusting…), we have a sticker that warns us about it.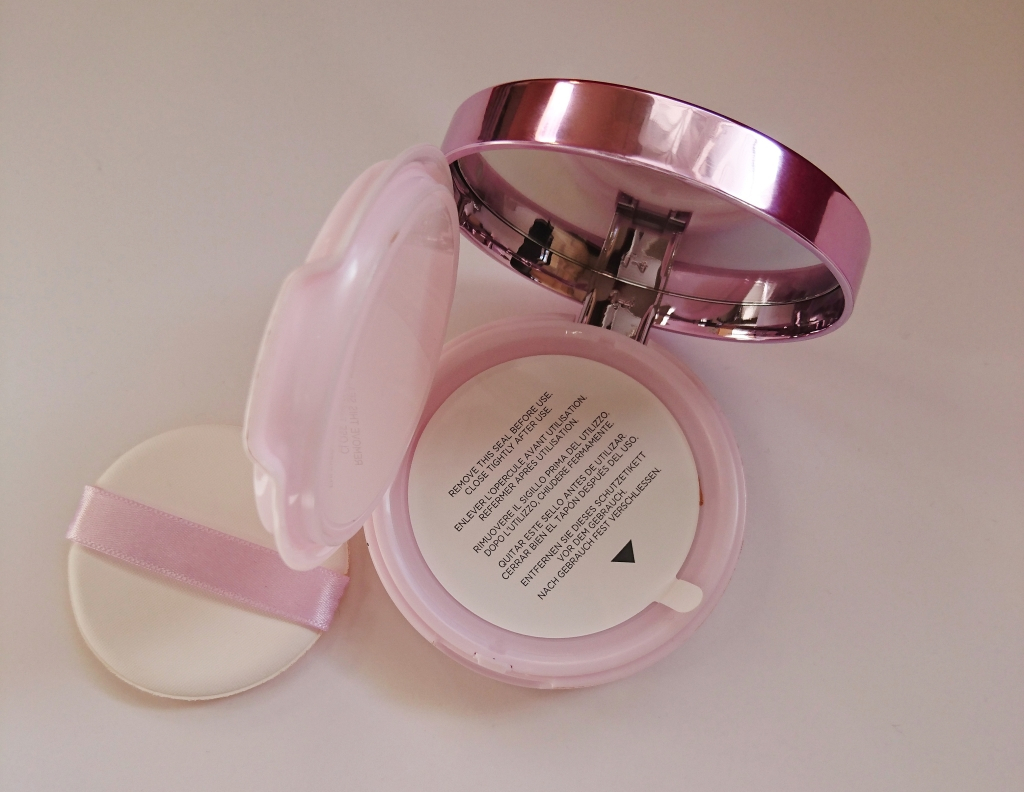 After removing that sticker I noticed that the foundation had somehow dripped a bit outside the cushion on one side, as you can see. I don't know how or why that could have happened, because no matter how much I tilt the compact, foundation doesn't seem to be dripping anywhere. It may have occured during the manufacturing process, but I honestly cannot tell.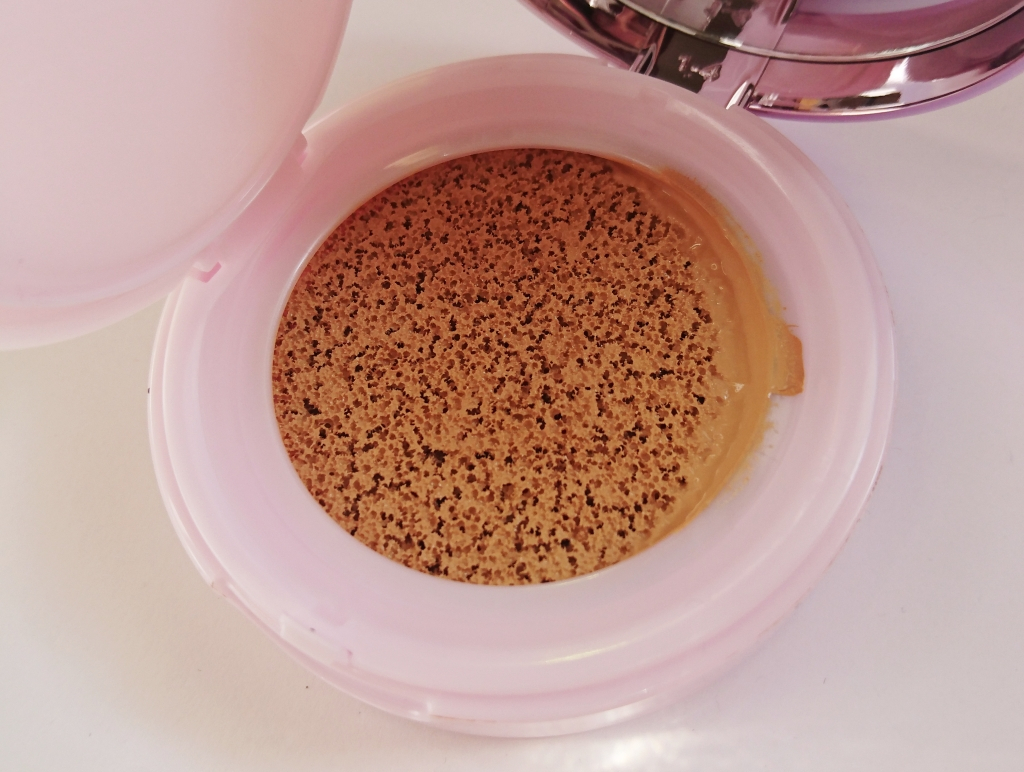 The cushion is thoroughly saturated in the foundation and feels wet, spongy and bouncy. It's not at all hard picking up product, so there is no need to push hard on it. More pressure means more product, so proceed with caution.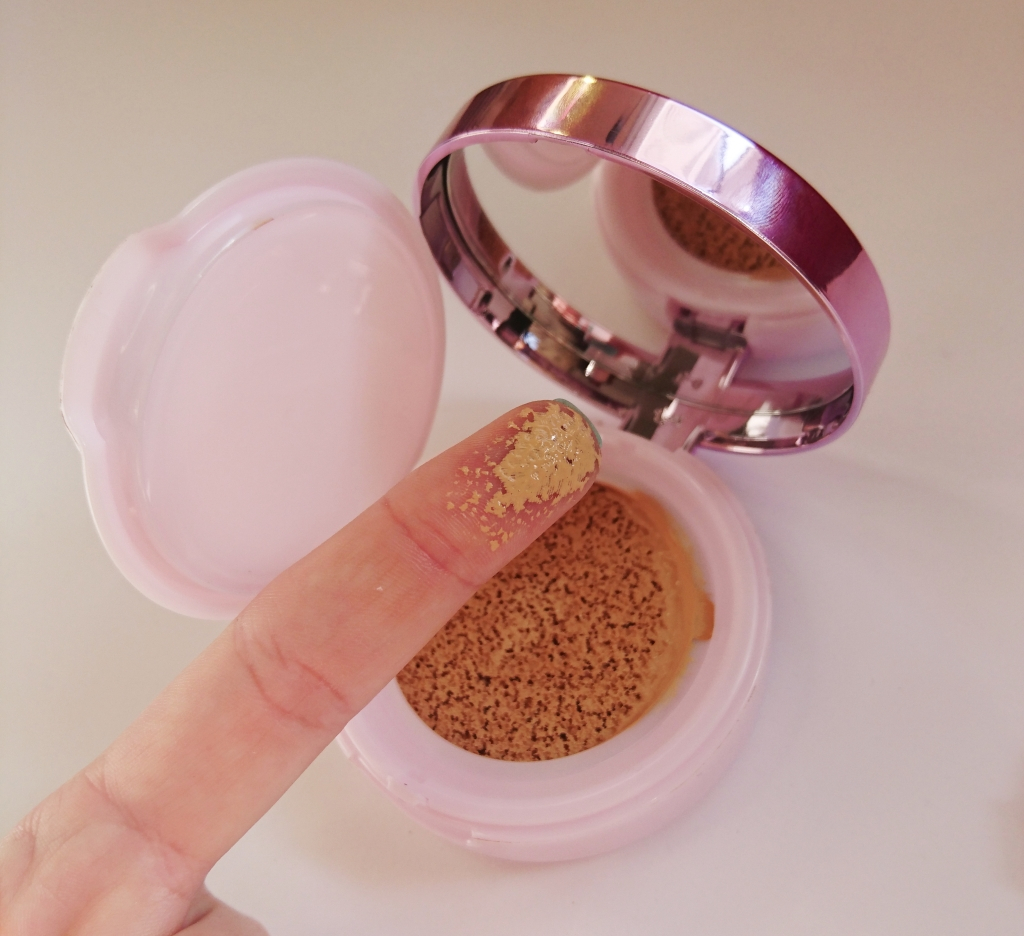 I decided to "first impression" it using my trusty old beautyblender that never fails me, and what happened next was really surprising. I went in, thinking this is a light coverage foundation, oh I don't know maybe because it says "Nude" in the title? I stand corrected. This sucker has medium coverage, that is actually buildable too! Who would have known… I was pleasantly surprised.
It applies quite easily and it blends quite effortlessly. But, it needs to be set with powder immediately. It is a very silky smooth hydrating foundation, so it naturally tends to move a bit around and set into lines if not set properly with a setting powder. But once set, it's good to go. I didn't use a primer underneath it or a setting spray over it, so I wasn't surprised to find out that when I wiped my nose after a sneeze and my mouth after lunch (had a killer tuna wrap) the areas had been foundation free. The good thing is, that I was able to touch up without making it look cakey.
I have to mention that oily skin gals will not be very pleased with the performance of this foundation, since it is more geared towards normal to dry skin types. I am combination oily and the run down is that after 8h+ of wear, my forehead is a bit shiny, but that happens regardless. The colour hasn't oxidized on me, and I don't feel like I'm wearing makeup. And that's a big plus. I paid 18€ ($20) for it, which seems a bit excessive for drugstore if you ask me, but whatever. I think I will be getting the Missha after all, I am really fond of the cushion. You don't make a mess, it's portable, it's cute… All in all, I dig.
In case you are not a fan of L'Oreal, you can always opt for the Lancôme version ($47) or the Givenchy ($83). Or you can even go for the MAC and YSL versions that will be coming out later this year, or even the Sephora one.
Whichever you choose, please let us know how you liked it.
-xoxo, Dewy Macy