So help me God, I am turning into a junkie… I have never been so infatuated with a brand ever since I discovered Sleek. It's something about the really awesome inexpensive brands that sends me into overdrive. Is it the unique textures? The mindblowing colors? The fact that they cost less than a Starbucks drink?! I really can't put my finger on it, but I'm leaning towards "All of the Above".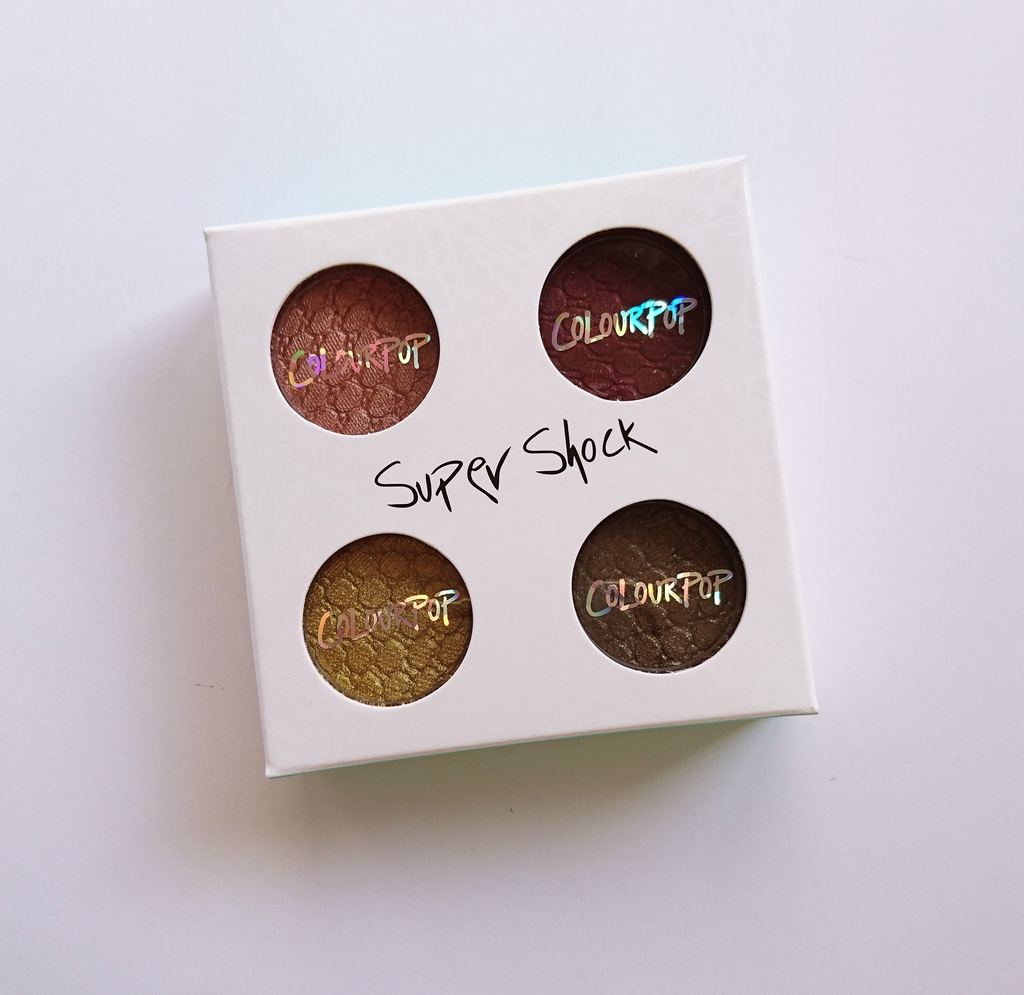 ColourPop is a brand that was created in the Los Angeles area of the U.S., and to whom it may concern, is a cruelty free and against animal testing company. It has entered the limelight and taken the beauty community by storm, presenting us with the most interesting collaborations. It's not the first time the lovely Kathleen Lights has collabed with CP, but this time we're down for color!
The "Where the Light is" quad, which can now be purchased individually by the way, consisted of four neutral "day-wear" Supershock shadows. "Where the Night is" punches us in the face with 4 shades so trendy and relevant, it looks statistically calculated. I was so hooked… These colors speak to me. They are colors I would reach for all the time, that's why I couldn't pass it up. Plus I am really fond of Kathleen, she's the sweetest, most humble makeup up guru ever.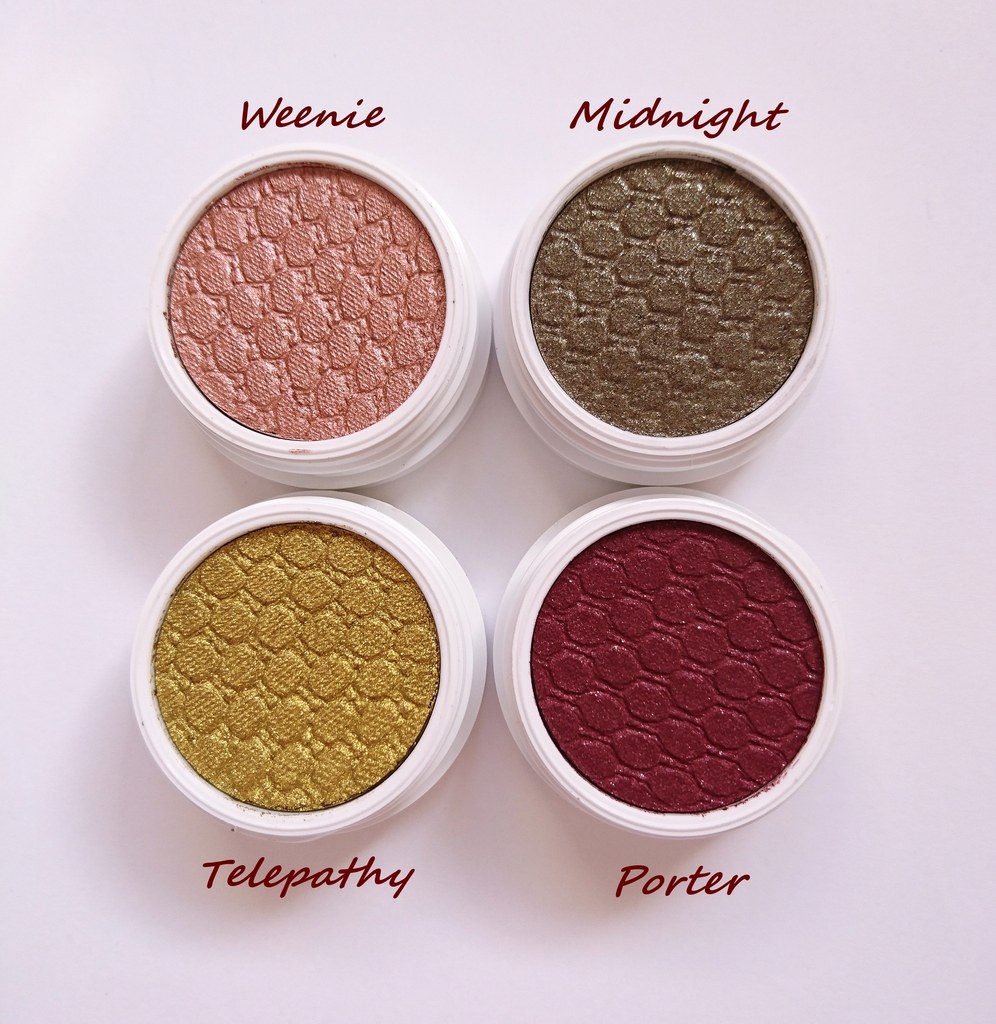 The kit comes with "Weenie" (a rose gold with a 'Pearlized' finish), "Porter" (a burgundy with silver and gold specks of glitter in a 'Metallic' finish), "Telepathy" (an old-gold in an 'Ultra Metallic' finish) and "Midnight" ( a muted olive green with a ton of silver and gold glitter in a 'Metallic' finish). Gorgeous! The collection also includes lip products (2 lippie pencils and two corresponding lippie sticks, and I guess Lumiere 2?), but I was too busy drooling over the shadows.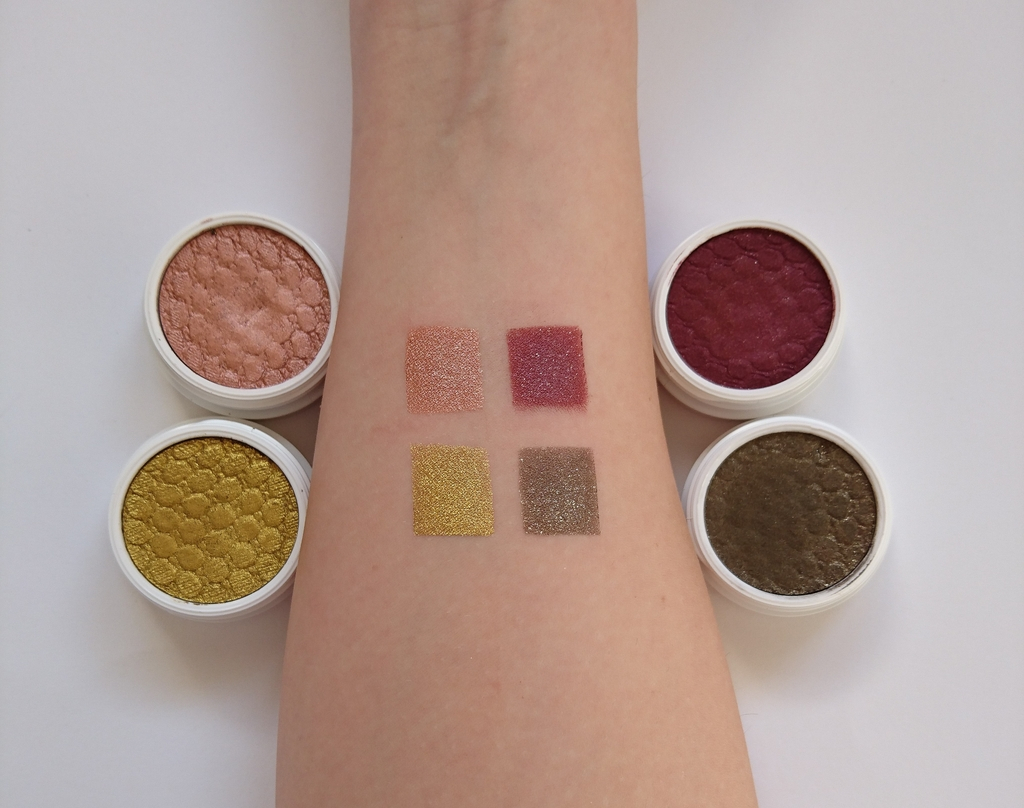 If you're not familiar with Supershock shadows by CP, they have a very… fresh texture. They are somewhat like the L'Oreal Infallible Shadows, but not exactly the same. My point is, they are not dry. The are semi-wet. But not like a cream shadow. Like "I broke my shadow, pressed it back down with alcohol and I am waiting" kind of situation, that doesn't actually dry down in a day. It's very difficult to explain if you haven't experienced it, but that's the most accurate description I could come up with.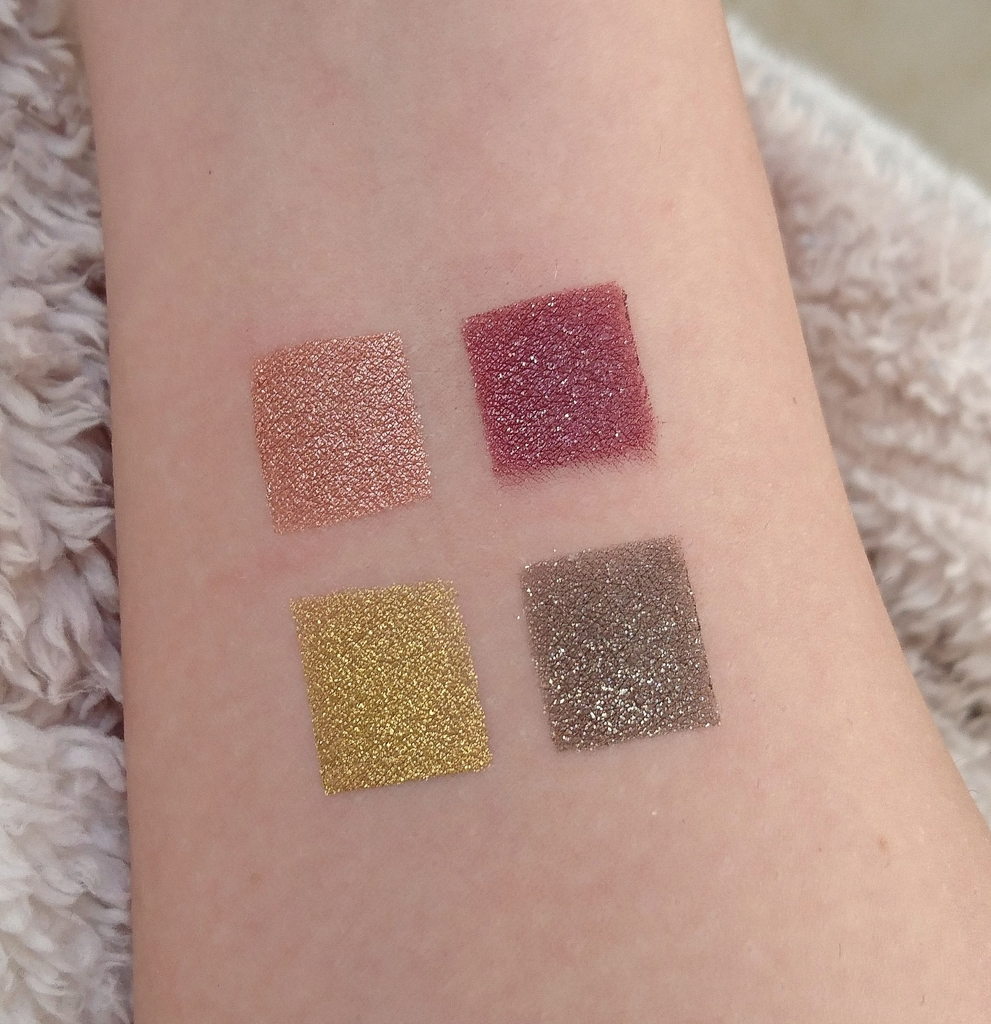 The thing is, and I really don't know how they did it, these shadows don't crease on me. I was in awe after the first time I used them. Looking at the mirror at the end of the day, when it was time for them to come off, I was like "what the…?" HOW CAN YOU NOT BADGE? YOU'RE A CREAM! But that's the thing, it's not a cream… It's like some extraterrestrial hyper-wet sand-solid substance that defies every known law of physics. *ALIENS*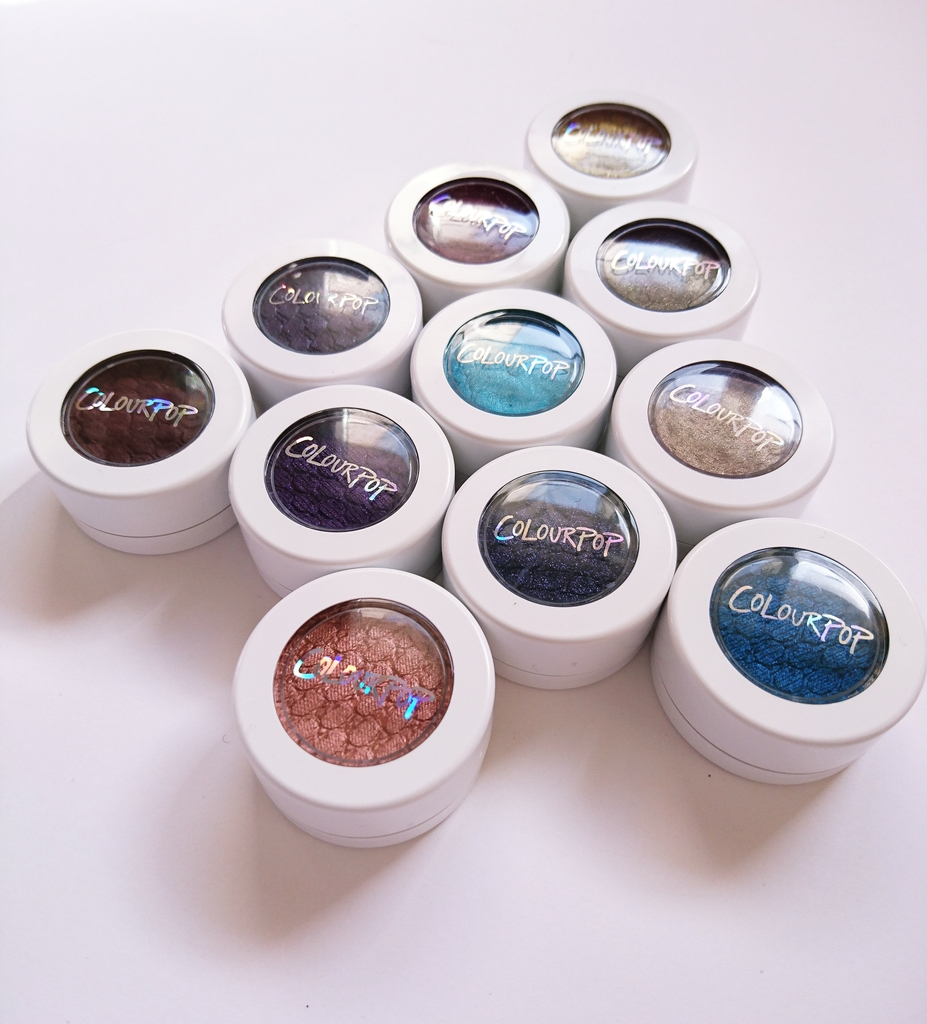 I have also collected a few shadows form their regular line, that are excuisite and make me fall in love each time I open them. In my drawer you will find "So quiche" (a stunning taupy brown drenched in silver/pink violet duochrome glitter 'Metallic'), "Mittens" (a warm chocolate brown with a reddish undertone 'Matte'), "Lace" (a deep purple with blue and violet glitter 'Metallic'), "Bae" (the equivalent of Blue Brown pigment by mac, in a ready-to-wear form in a 'Metallic' finish), "Ibiza" (a turquoise with silver and pale gold glitter 'Metallic' that screams summer), "Coconut" (a peacock teal in a 'Pearlized' finish) and last but not least "Rex" (a jaw dropping black base with a shit ton of 50 shades of blue glitter 'Metallic' dream).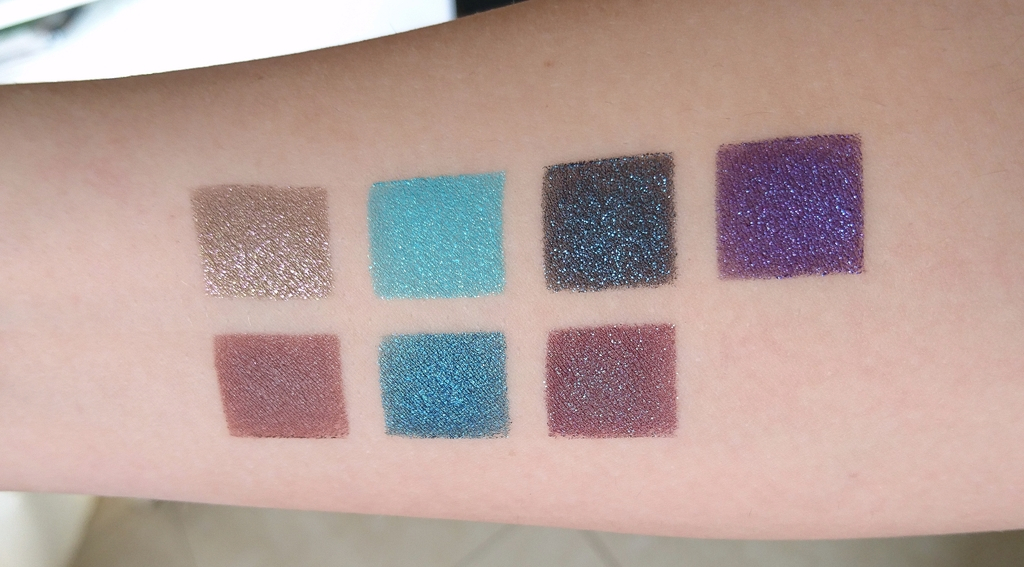 Capturing their magic in still photography is almost impossible, and I am not a professional photographer. Come to think of it I should have taken video footage, but that wouldn't even do them justice. Just take my word for it, they look 10 times more beautiful in real life.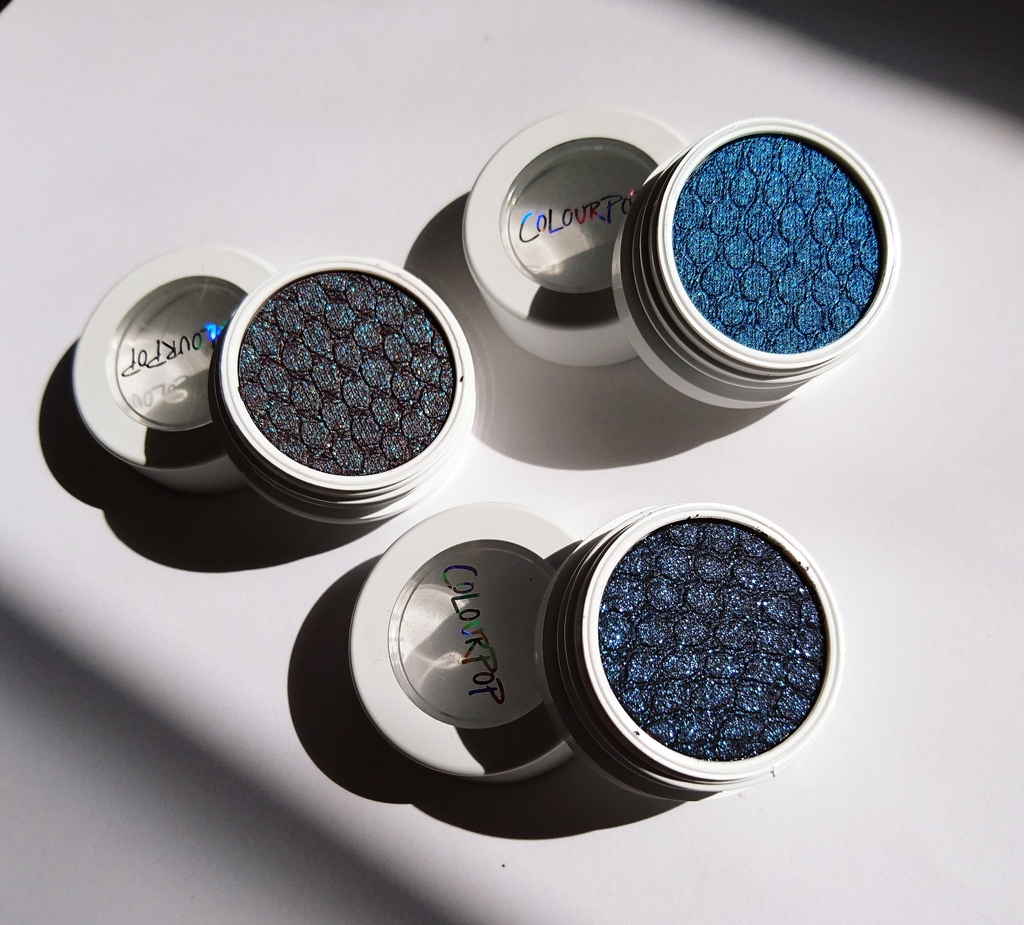 Application wise, I have found that for an all-over lid wash of color you can't go wrong with something like the Sigma P82, the Zoeva 142 or the RT Deluxe Crease brush. For maximum color payoff, fingers work best. Colourpop themselves suggest :
"For maximum coverage: Use fingertip and tap shadow onto eye lid. A flat, fine tip synthetic brush will work fabulously as well and is actually better for a more detailed application close to the lash line. However, your fingertips make for the most intense application. To blend: Use a fluffy brush that has good movement, dip tip of the brush into the shadow and blend with a "wind shield wiper" movement throughout the crease of the eye. This will make your shadow softer and more diffused (like a total pro). When finished, close that sucker up tight! Don't leave the jar opened for long periods of time, you may lose some of the magic that makes the Super Shock Shadow so amazzzing."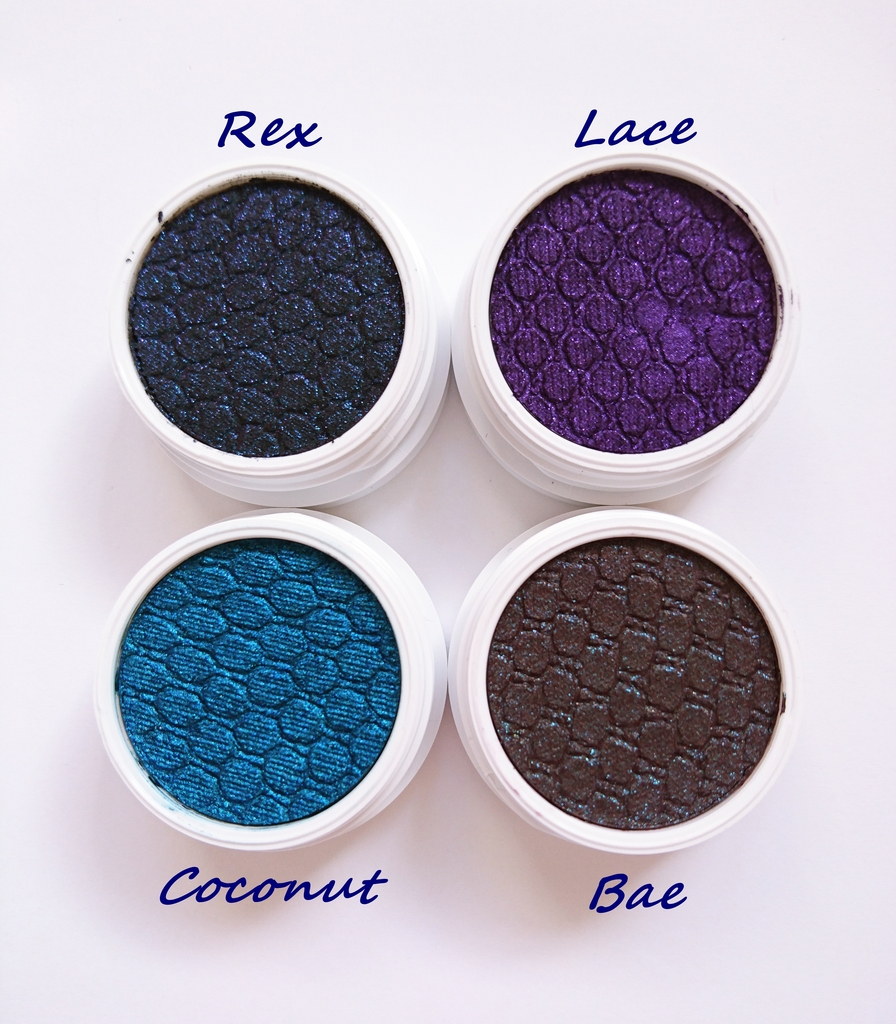 The really interesting fact is that for $5 a pop, you get 2,1 g/ 0.07 oz of product. And since we always use mama MAC for reference, a MAC shadow (in its individual casing) costs $16 for 1,3g /0,04 oz of product. I'm not saying anything…I'm just saying.
Moving on to lip products, I am sad to say that I own 0 of their Lippie Pencils, don't ask why. But I do have some of their Lippie Sticks  and I am obsessed. First of, they are very handy dandy. Their shape makes application so easy, it's one of the reasons I don't own any of their pencils. Because I never felt I needed one when applying their Sticks. Secondly, they smell like vanilla cake. Lastly, their formula is BOMB. Even their matte finish is so comfortable on the lips, it's heavenly. Did I mention they only cost $5? They only cost $5.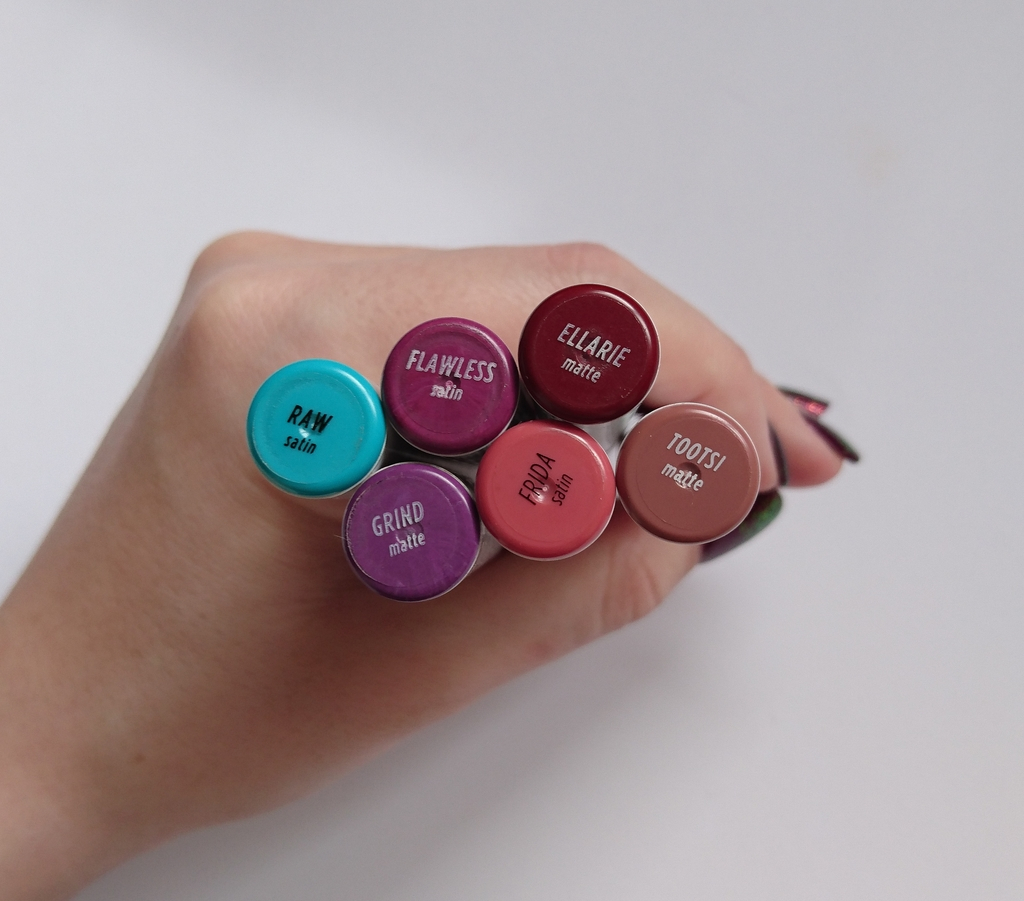 I have in my posession "Tootsi" ( a brownish mauvy nude 'Matte'), "Frida" (a mid-tone warm pink/nude in a 'Satin' finish), "Ellarie" ( a cranberry red 'Matte'), "Flawless" ( a deep warmer magenta purple 'Satin') , "Grind" (a cool-toned deep violet 'Matte') and "Raw" ( a vivid pistacchio green with a blue hue 'Satin' because I am obviously insane).

As far as the ever so popular liquid lipsticks, the ColourPop Ultra Matte Lips are breaking the competition with their $6 pricetag and their ever growing colour selection. I own 3 of them, "Beeper" (a true Kylie Jenner shade), "More Better" ( a deep raspberry/wine shade) and "Limbo" (a gorgeous chocolaty brown).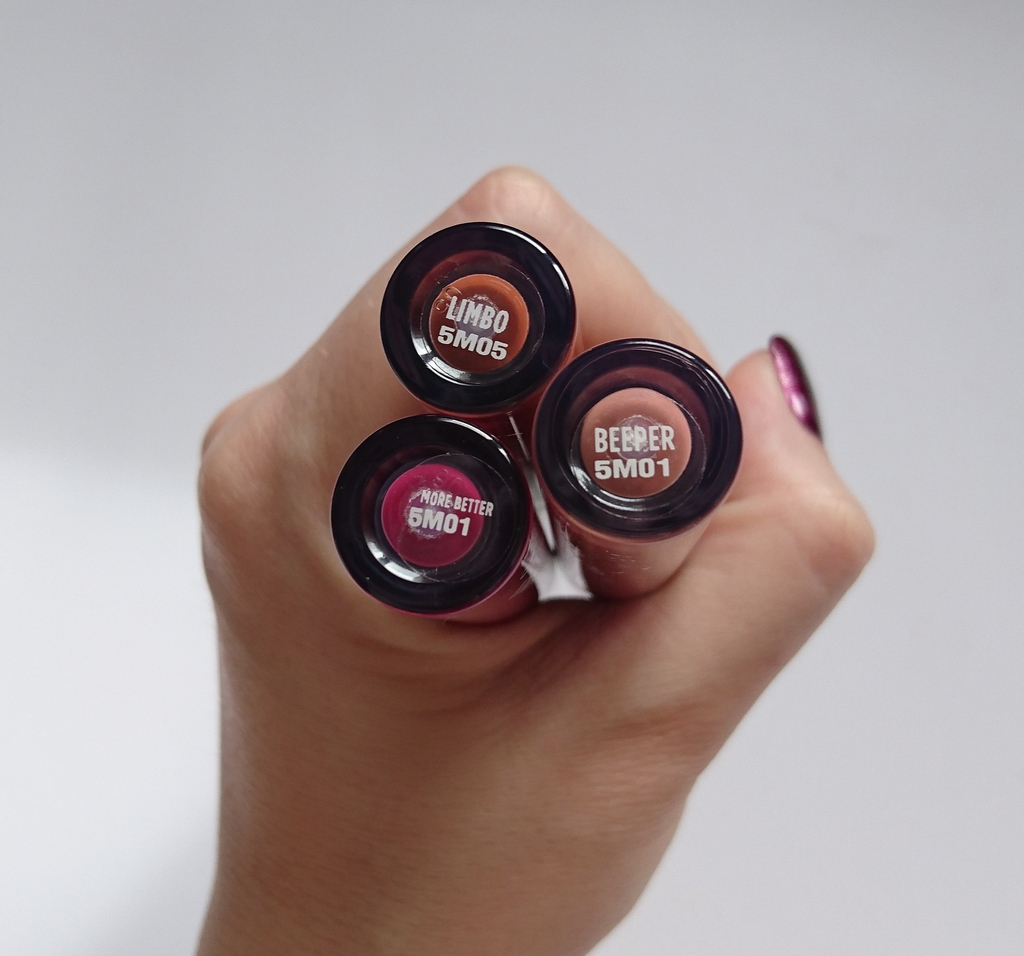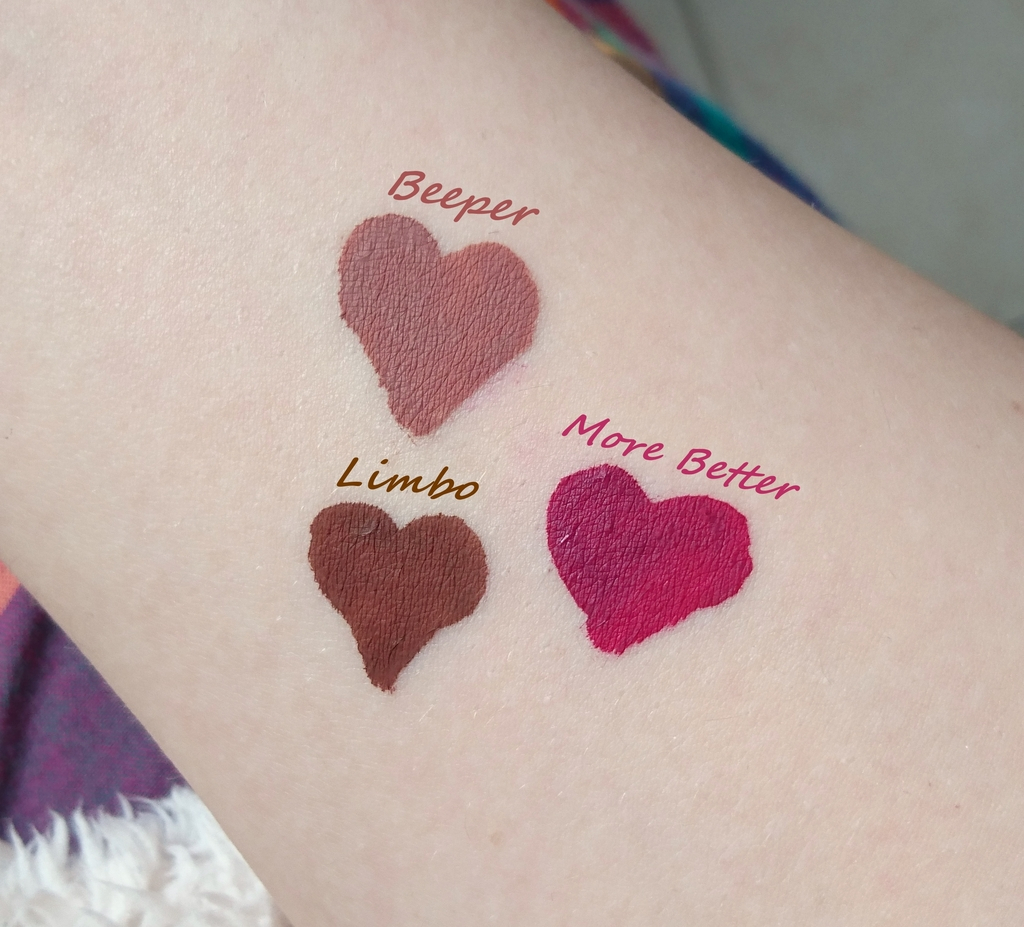 I have to say that they apply easier than any other liquid lipstick I have tried, because they are a true liquid to begin with, and dry down to a complete matte. Now, some people will find it a little uncomfortable to wear  and compared to others lile Ofra, yes they are not that lightweight on the lips. BUT, their finish is gorgeous, their price is insane and their shade range is amazing. How can you beat that?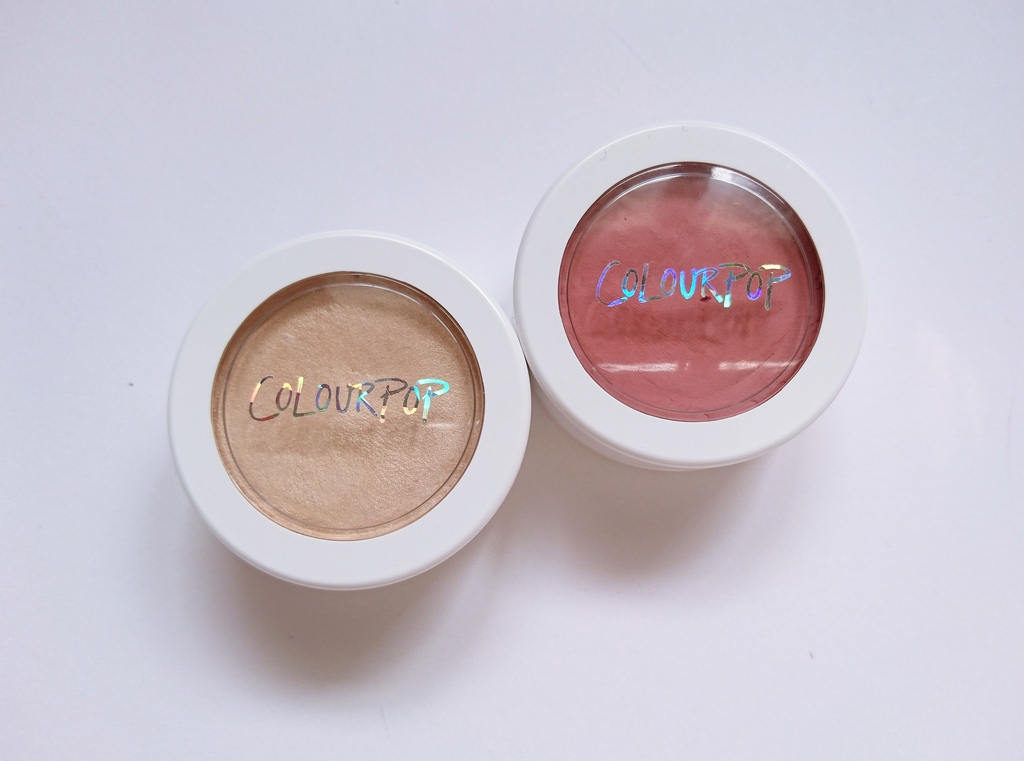 When it comes to face products, I had a really hard time getting used to their blush and highlighter. There's a learning curve to things with an unusual texture, and it took me quite a while to realise that your safest bet with these are either fingers or a Beautyblender. But they have the most natural finish on the skin, it's almost unreal. If you are on the hunt for some products to complete you no-makeup makeup look, look no further. They blend seamlessly on the skin. Plus, the "cream" highlighter acts amazingly as a base for your powder highlighters to lay on top of and "pop". I own "Between the Sheets" (Matte) blush, and "Lunch Money" (Pearlized) highlighter. The SuperShock Cheek products will cost you $8 for 4,2 g/ 0,15 oz of product.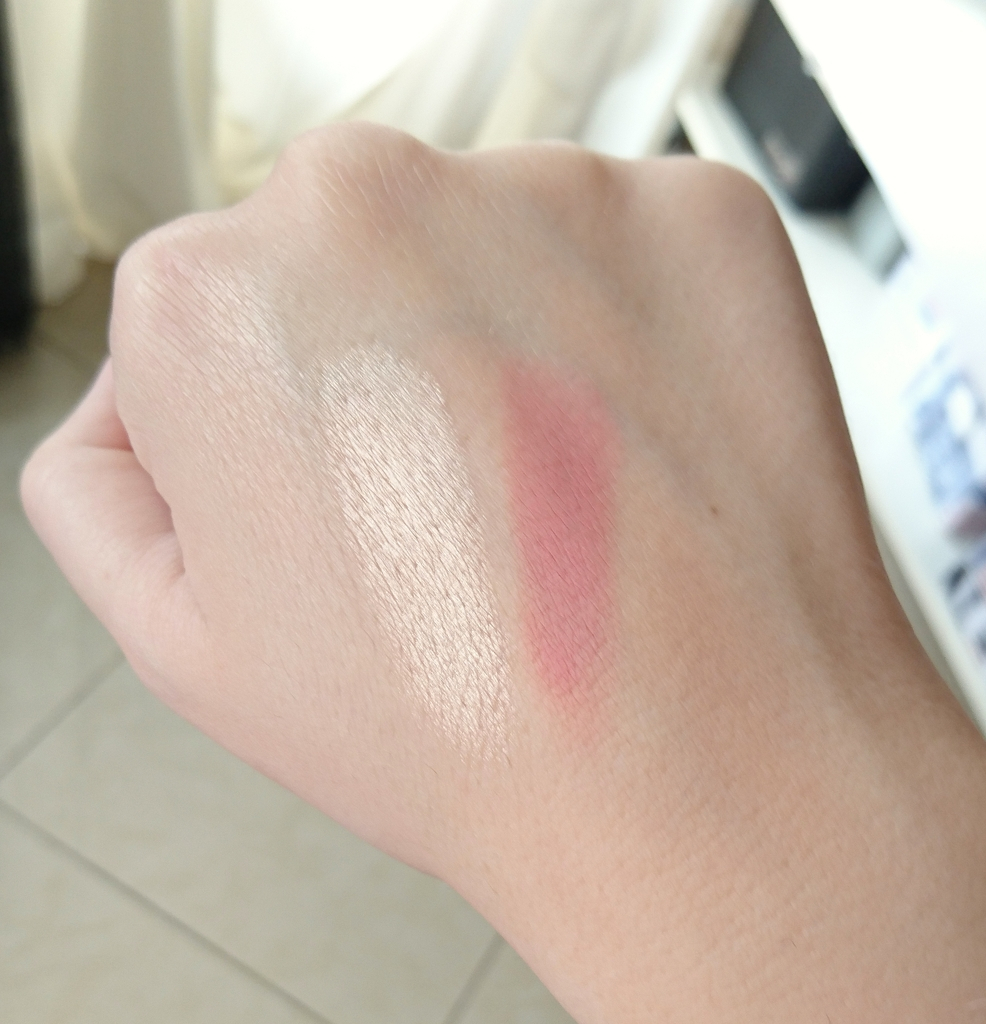 I also happen to own a couple of their Crème Gel Colour liners. They double as a cream base and they are of surprising quality, especially for the price. I got "Fast Lane" (a dark teal 'Matte') and "Best O" ( a deep burgundy plum 'Matte').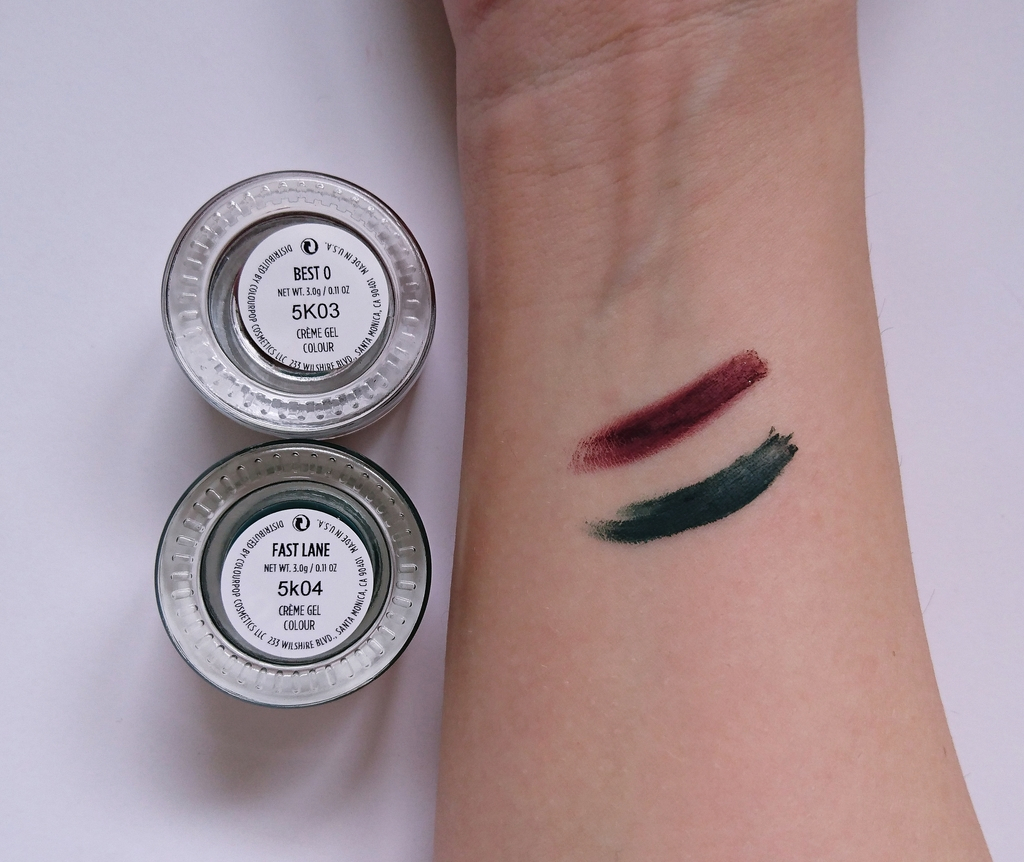 For $6, these liners are fantastic. They are creamy, they apply great, they can be smudged out to perfection. They pass my tests…
To sum up, ColourPop is killing it. If you haven't checked them out yet, wait no more. Get some to try out, fall in love like the rest of us and start building your collection. I know I will…
-xoxo- Macy