Since MAC has finally decided to drop the price of this palette in my country almost 2 years after the original drop of the american prices, I thought it might be a good idea to show you swatches of the (now more affordable) palette and share my thoughts with you in case you wanted to get it yourself.
MAC came out with 2 curated palettes, Warm Neutral and Cool Neutral, that consist of 15 eyeshadows. The original retail price was $150 which translated to $10/shadow, and now has gone down to $85. So we're now talking about $5,66/shadow. And that is huge for MAC.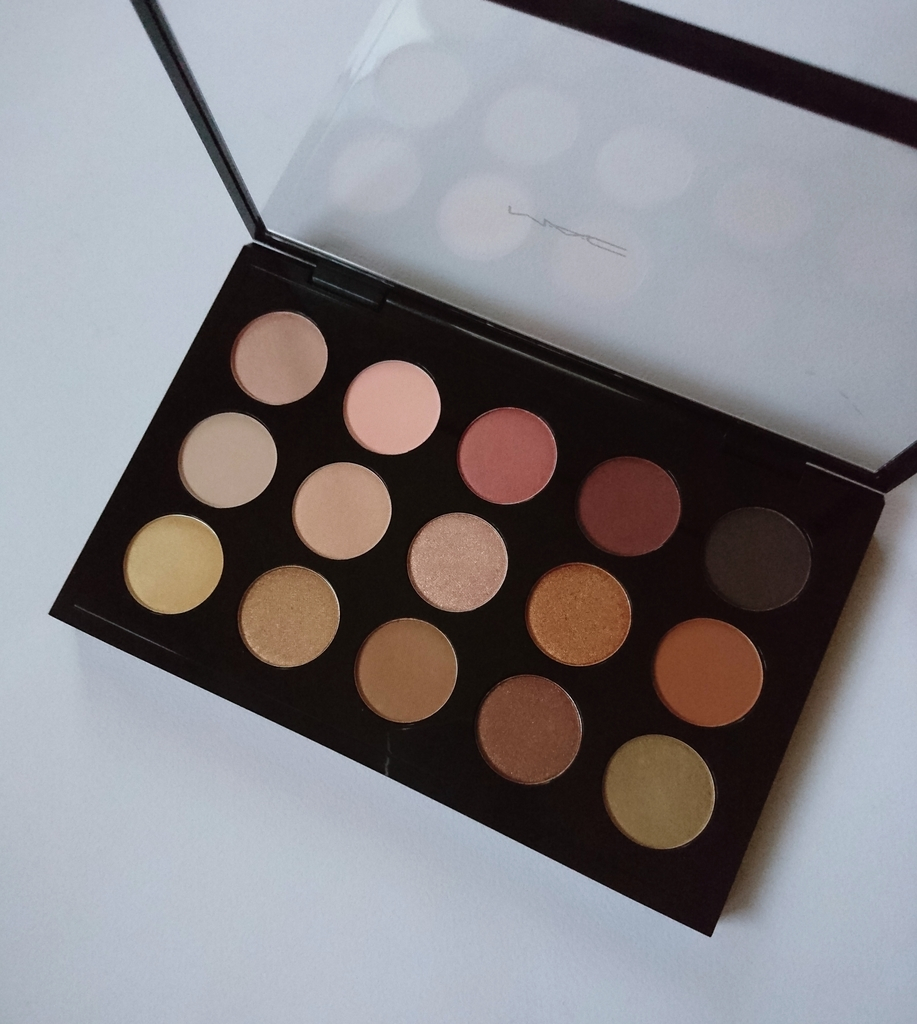 Everyone's infatuation with MAC shadows is well justified in my humble opinion. If you have worked with MAC shadows, you know what I'm talking about. They are pioneers, and they know exactly how to formulate a shadow, in order for it to work exactly right without much effort.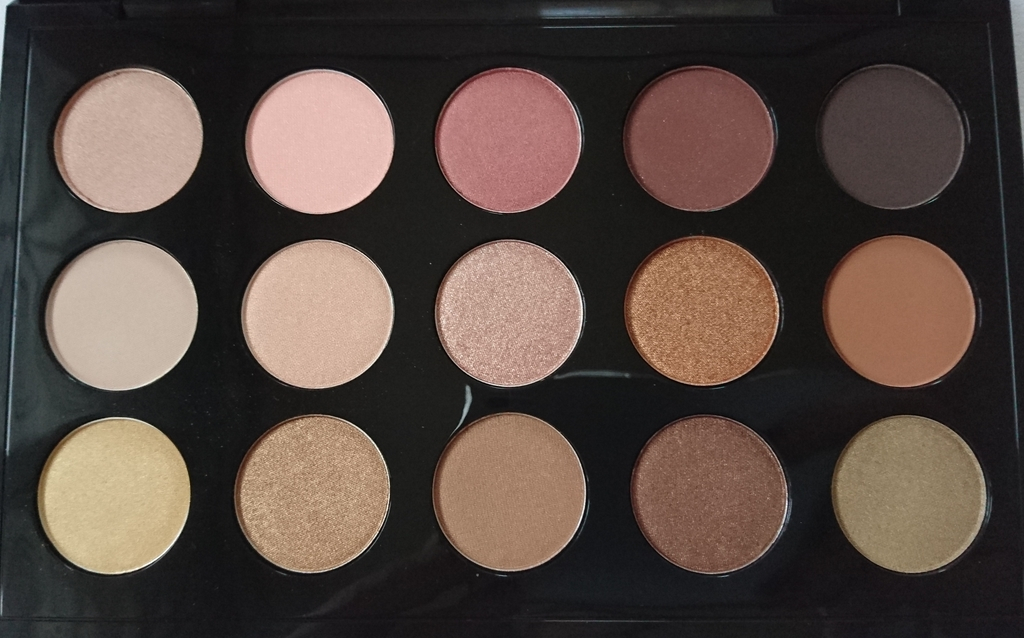 Let's take a closer look at the Warm Neutral palette in hand. As the name suggests, we get 15 warm toned shades, ranging from light,to medium to dark. A quite stingy 3 matte shades, a bunch of satin finish shades and 3 metallic/shimmers. Being the high maintenance bitch I am, I miss the matte black in the palette, but the dark brown makes up for it…a bit.
The palette offers a combination of permanent MAC shades and quite a lot that are exclusive to the palette. We'll examine them row by row. But first let's address the way MAC categorizes her eyeshadows. We have :
"Matte" (M) : Hi-Color pay-off in a no-shine matte finish.
"Matte²" : Intense. Opaque matte finish with exceptionally rich color payoff.
"Satin" (S) : Pure color in a satin-style finish. Provides a soft,subtle non-frost, light refracting sheen.
"Frost" (F) : An iridescent shine that adds a highlight to any color 'conditioned' look finish.
"Veluxe" (VX) : Superfine, richly pigmented shadow that is luxe to apply. Silky smooth matte finish.
"Veluxe Pearl" (VXP) : Superfine, richly pigmented shadow that is luxe to apply. Shimmering metallic. High-shine pearl finish.
"Velvet" (V) : Soft-look finish with high-color intensity. Has a plush, velvety look and feel.
In the first row of Warm Neutral we have :
Hey (VXP), Warm Breeze (S), Gingersnap (F), Dark Brew (V) and Dance in the Dark (M).

Second row :
Brule (S)(Permanent), Vanilla Extract (F), Honey Lust (L)(Permanent), Amber Lights (F)(Permanent) and Saddle (M) ((Permanent)

Third and final row :
Lemon Tart (VXP), Creative Copper (L), Butterfudge (S), Divine Decadence (V) and Unwind (VXP)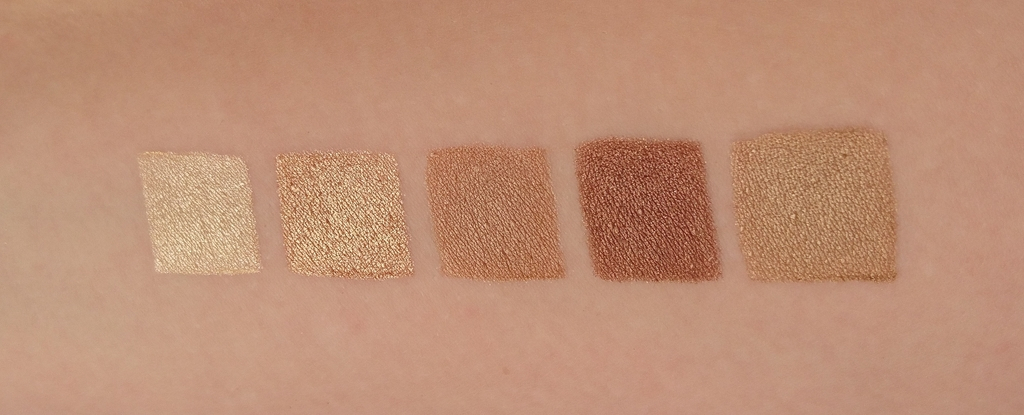 I would say, it is a very good selection of shades. I would prefer a couple more mattes to balance out the palette, but in general, the shades in there are shades that you will find yourself reaching for again and again on a day-to-day basis. Especially if you are a professional, this palette is a must-have in your kit. You'll also be able to get it with the pro discount, so it lowers the price even more.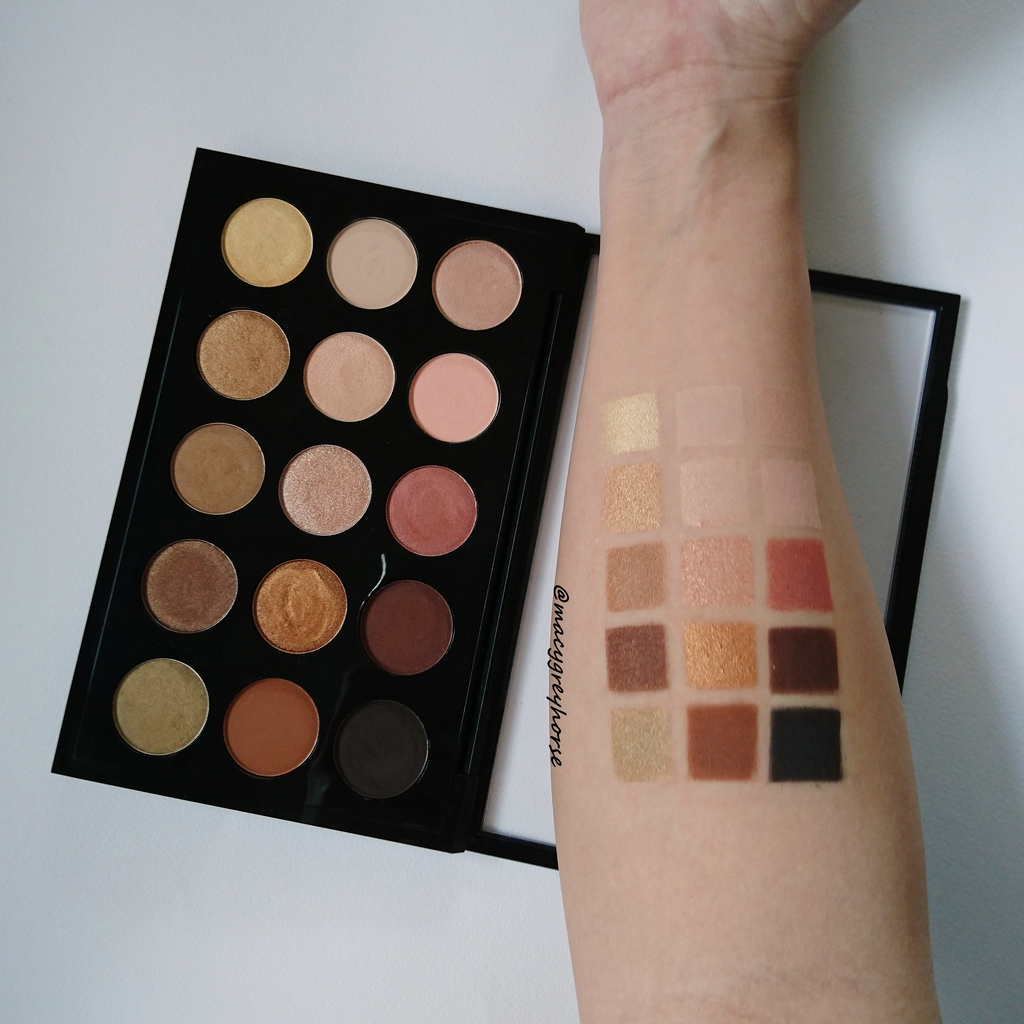 Some drawbacks you may notice when examining the palette more thoroughly is that, unlike the regular MAC palettes, the shadows are glued down to the back of the palette. Which will make it a bit harder (but not impossible) to replace a single once you run out of it. You also have no choice of replacing the ones that are exclusive to this palette. Which is a bummer, because there are some gorgeous shades.
The overall feeling that this palette gives me can be summed up in one word. "Safety". These are the shadows you can bet on. So don't think about it anymore. Go get them!
-xoxo- Macy