A really controversial comedian once said "I can't stand people who say they don't like chocolate or french fries.So, if we are ever stranded on a desert island together and we find a chest with a plate of fries/chocolate and a plate of shit, I know who's getting what. Thank you."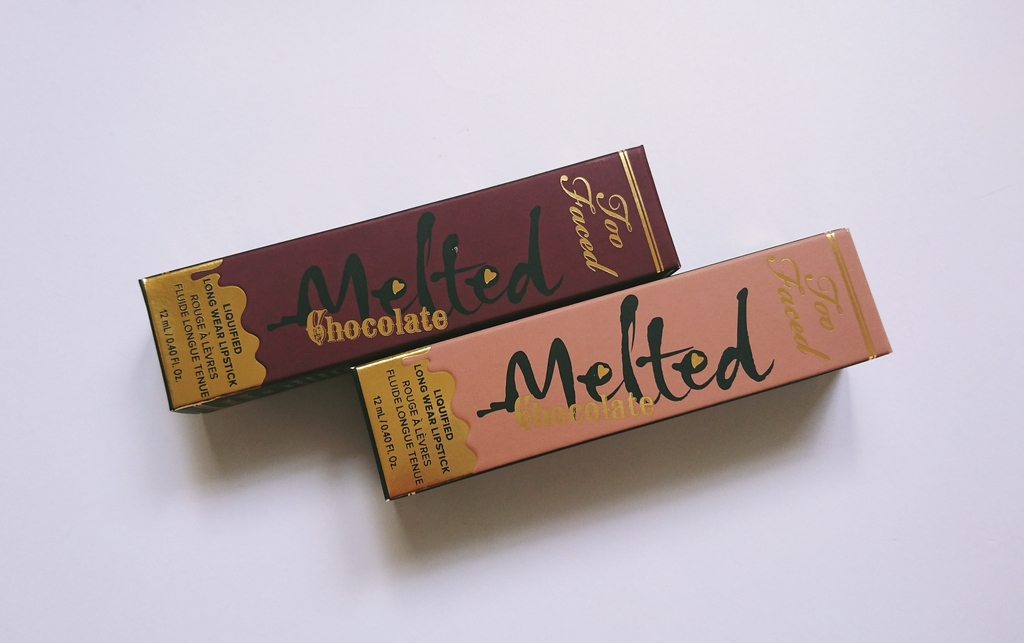 Because honestly, who doesn't like chocolate? Aaaah, just thinking about a rich chocolate fondue makes my mouth water. Well, GUESS WHAT! Too Faced knew exactly how to take advantage of that. Their new Melted Chocolate line is an ode to chocolate and speaks directly to the chocoholic's heart.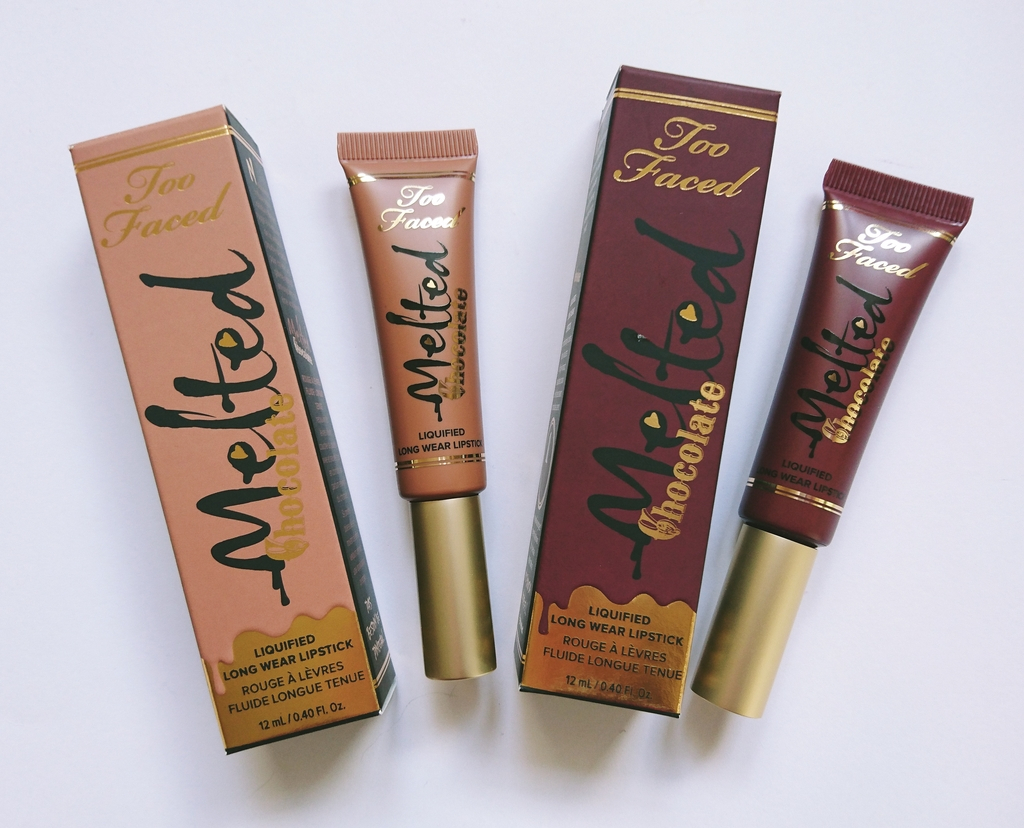 Their Melted Chocolate Liquified Longwearing Lipsticks come in 6 shades, half of which have a metallic finish and the other half are creamy. The shades are inspired by chocolate, honey and everything sweet. They come in a squeeze tube, just like the regular Melted lipsticks, with a slanted  doe foot applicator attached.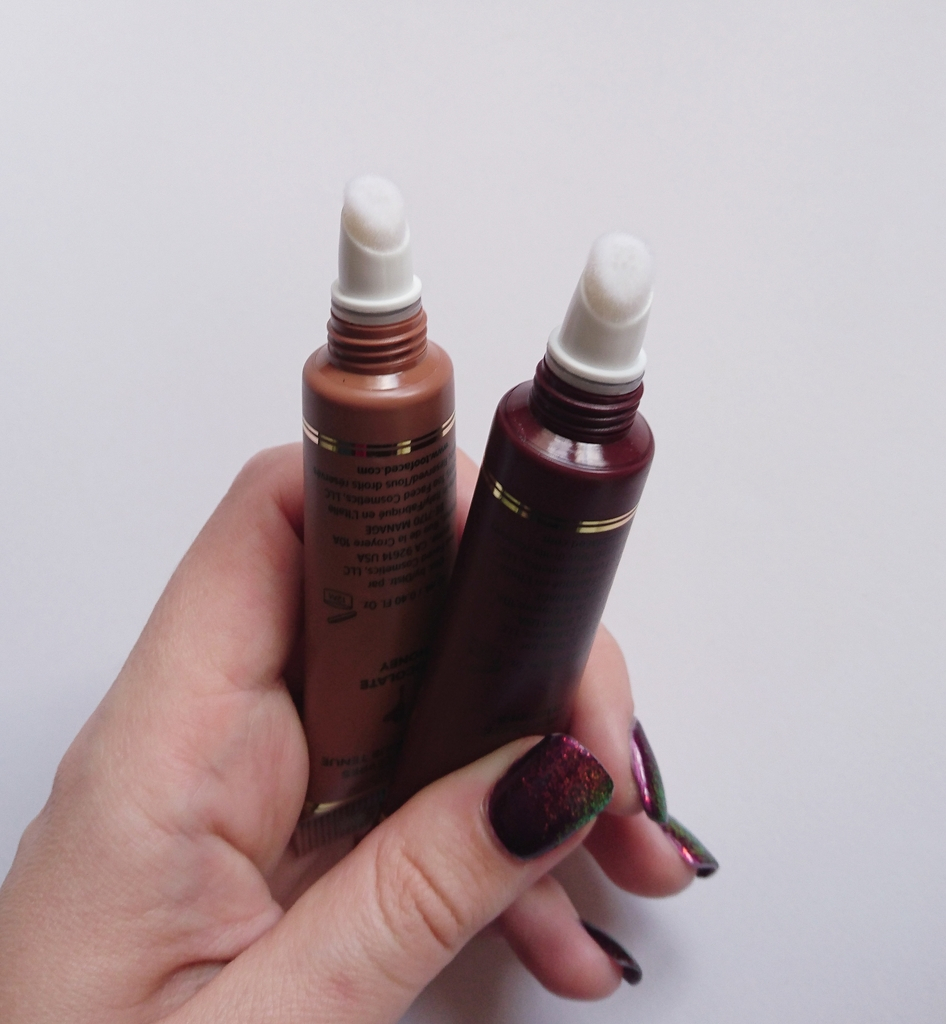 I get excited by fancy packaging and even the outer box of these is beautiful. It's one of those boxes that you hold on to for as long as possible, until maybe you have to move house and you start decluttering stuff. The colors on the box correspond to the colors of the tubes, that correspond to the colors of the lipsticks. Correspond-ception.
Let's examine the shades one by one. First, the cream finish ones (lightest to darkest):
Melted Chocolate Honey : A browinsh nude shade with a hint of peachy undertone.
Melted Chocolate Milkshake : A mid tone peachy pink nude.
Melted Chocolate Cherries : A deep burgundy brown with a plum undertone.
As for the metallics, we have :
Metallic Chocolate Diamonds : A sheer pale beige nude with shimmer
Metallic Candy Bar : A semi-sheer mid tone brown with shimmer
Metallic Frozen Hot Chocolate : A semi-sheer nude beige/pink with shimmer.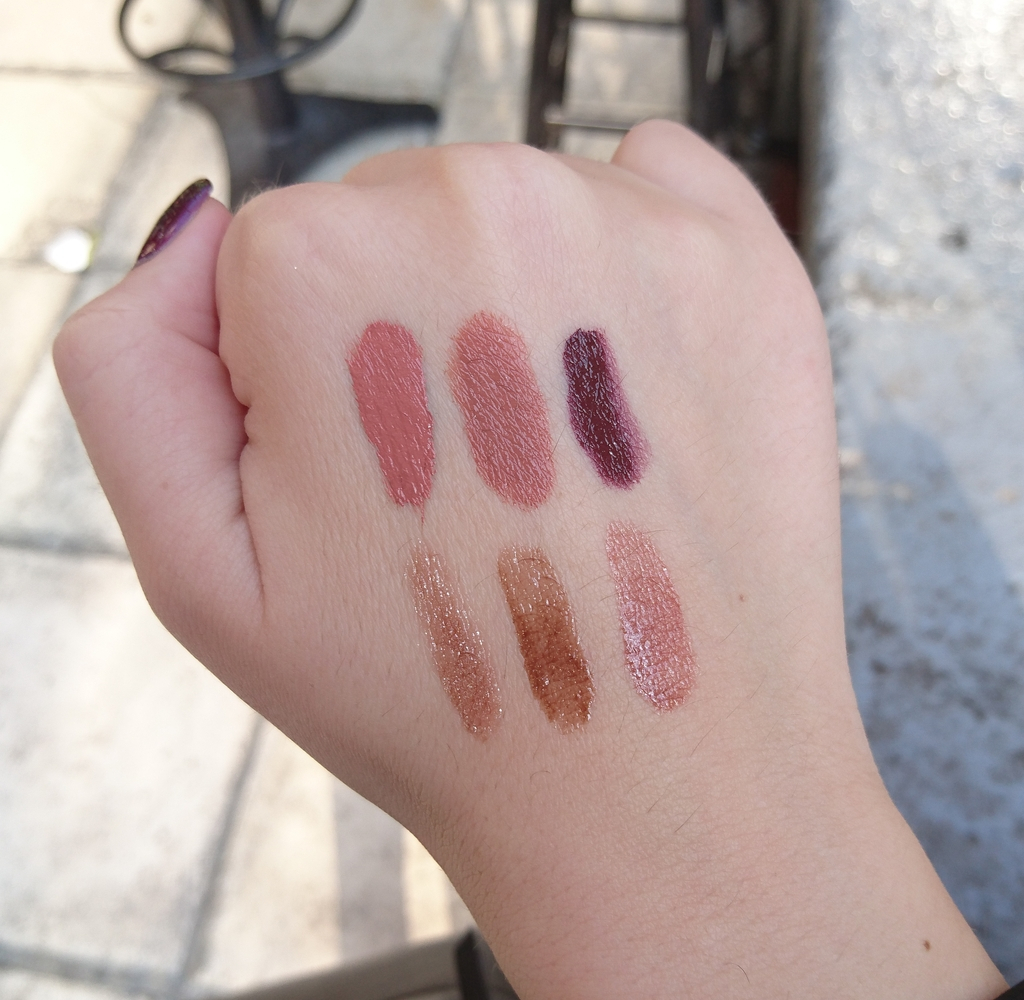 Ok, let's address the elephants in the room. Obvi, Chocolate Cherries is the most gorgeous shade in the line. Obvi no2 (hehe, number 2) Mettalic Candy Bar is the weakest link. Continuing the Captain Obvious statements, the Metallic ones are more of a gloss than an actual liquid lipstick. They can be used on top of other lipsticks for a cool "fuller lips" effect. I'm not going to say anything more about them, because frankly my dears, I don't give a damn…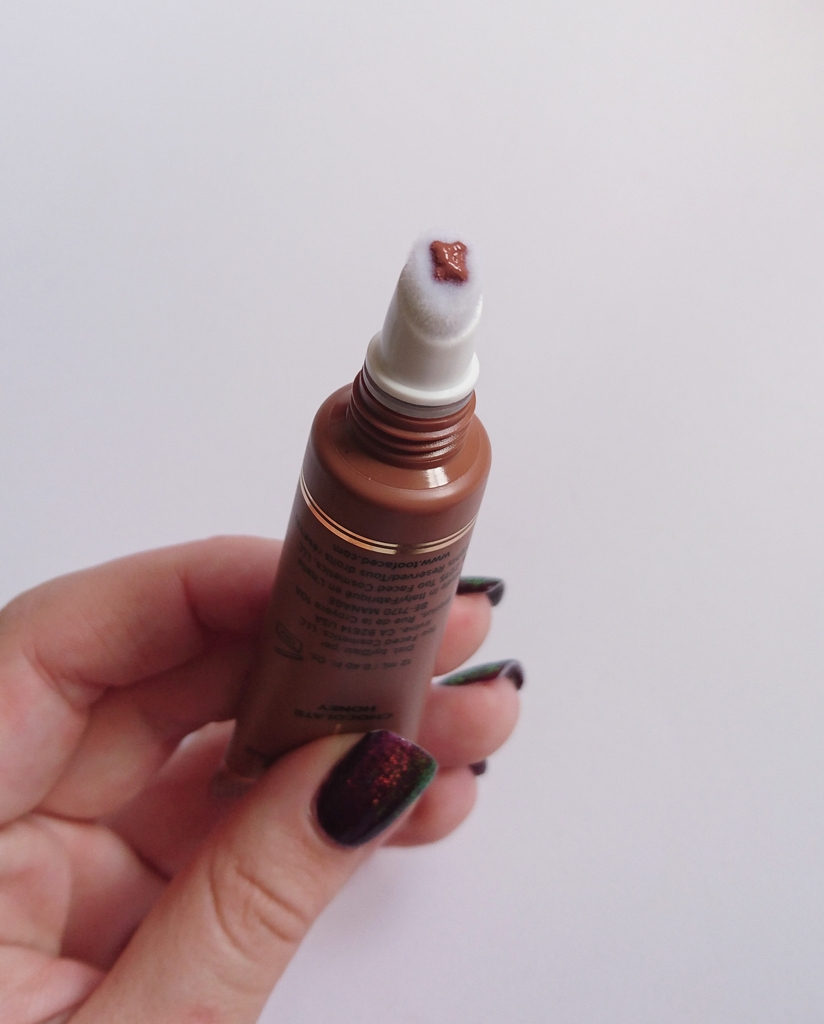 On to the juicy, creamy shades. They are fabulous. They are exactly what they claim to be. A longwearing lipstick, in a liquified form. They are not matte, they are not drying, they are not transfer proof, smudgeproof, waterproof or whatever-proof, but then again, they didn't claim to be. It's not their fault you don't know how to read. The applicator is quite easy, but can get a bit messy if you're not careful. Upon application, I have to say they wear nicely, comfortably and… intoxicating-ly on the lips (twist coming…).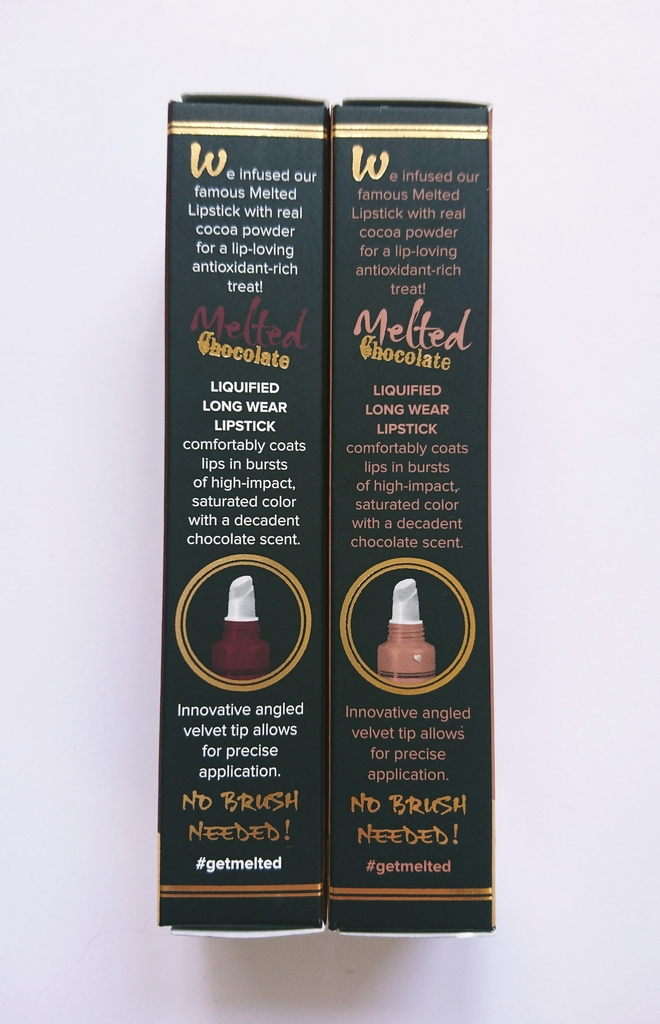 All 3 creamy shades are beautiful, in my opinion, but Chocolate Cherries takes the (black forest) cake {get it?}. It's trendy, it's deep, it's chocolaty. And now's the time for the FREAKIN AWESOME twist. They smell like chocolate. Rich, dark, decadent chocolate. I've heard lots of people say that the "Chocolate Bar" palettes smell like cocoa powder, but to me the palettes have a sweeter, more artificial cocoa scent. These ones are downright chocolate. Are we sure they're not just chocolate with food coloring? Hmmm… *conspiracy tin foil hat on*
The other thing we should touch on of course, is the amount of product you get. The Melted Chocolate Lipsticks cost $21 and offer you 12 ml/0,40 fl oz of goodness. Now, that's actually quite generous. For reference purposes let's go through some regular suspects and compare :
MAC Lipstick ($17) – 3 g/ 0,10 oz
MAC Lipglass ($15) – 4,8 g/ 0,17 oz
NYX Soft Matte Lip Cream ($6) – 6,5 g/0,23 oz
Anastasia Beverly Hills Liquid Lipstick ($21) – 3,2 g/0,11 oz (wow…)
ColourPop Ultra Matte Lip ($6) – 3,2 g/0,11 oz (at least it's $6)
Tarte Tarteist Lip Paint ($20) – 5,6 g/ 0,20 oz
OCC Lip Tar ($18) – 9,3 g/0,33 oz
As you can see, Too Faced spoils you with the shocking 12g no one else offers, that actually translates to $1,75 per gram. That's pretty cool if you ask me…
You definitely do not need all six, but at least give one of those a try. I would recommend "Chocolate Milkshake" if you err on the side of caution or "Chocolate Cherries" if you wanna rock that bold lip. That's all from me…
-xoxo- Macy
Photo Credit : Featured Image by Macy's ( http://www.macys.com)