The struggle is real. The struggle of finding a good primer, that is. I'm not gonna lie. I'm not the most picky person when it comes to primer. From what I've seen there are people out there that cannot find a suitable primer to save their lives. I do, however, try a lot. And when I find a new one, I'm always eager to try it out.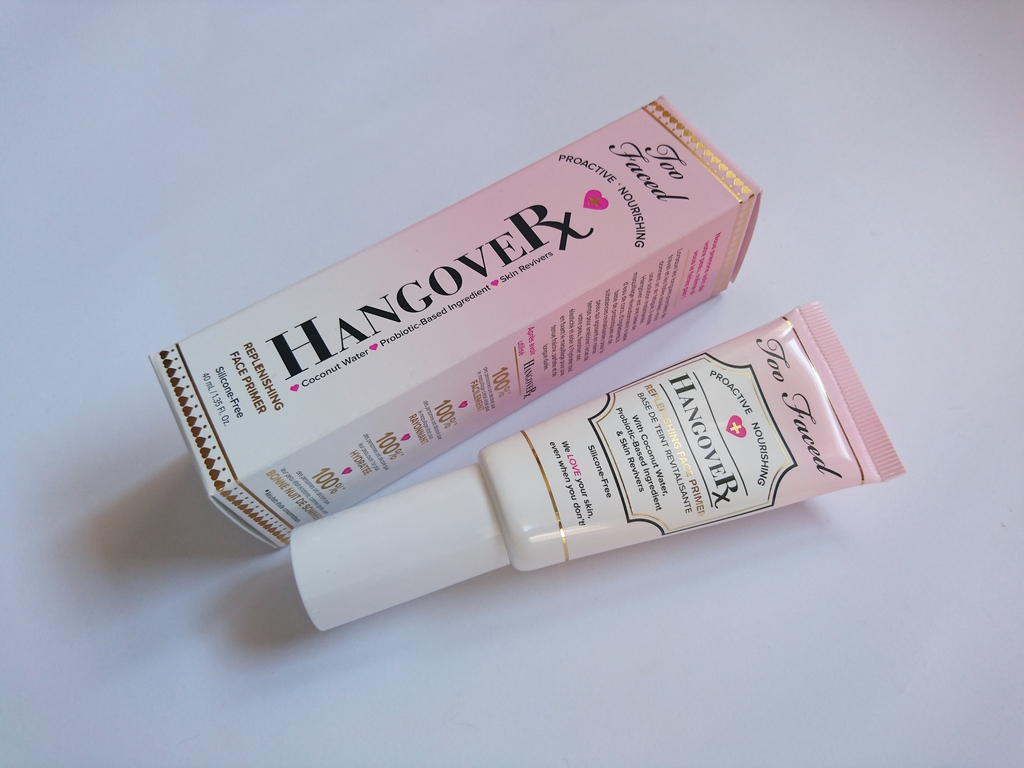 The Too Faced HangoveRx Primer recently arrived at my local Sephora, so I had to pick it up and give it go, of course. Too Faced is one of the brands closest to my heart, I've said this a million times.
The HangoveRx primer is a silicone-free, water based, nourishing primer that includes coconut water, probiotic based ingredients and "skin revivers", whatever that is. Before we go on, let's see what they claim it does.
"We LOVE your skin, even when you don't! When long days of work and late nights of play give you a beauty hangover, this is your instant cure. Hangover is a revolutionary makeup primer infused with coconut water, probiotic-based ingredient and skin revivers that work together to boost skin's radiance, promote elasticity and help hydrate while locking down makeup for fresher, longer and more flawless wear. "
Moreover, they share some of their "stats" with us on the bottle. Hmmm…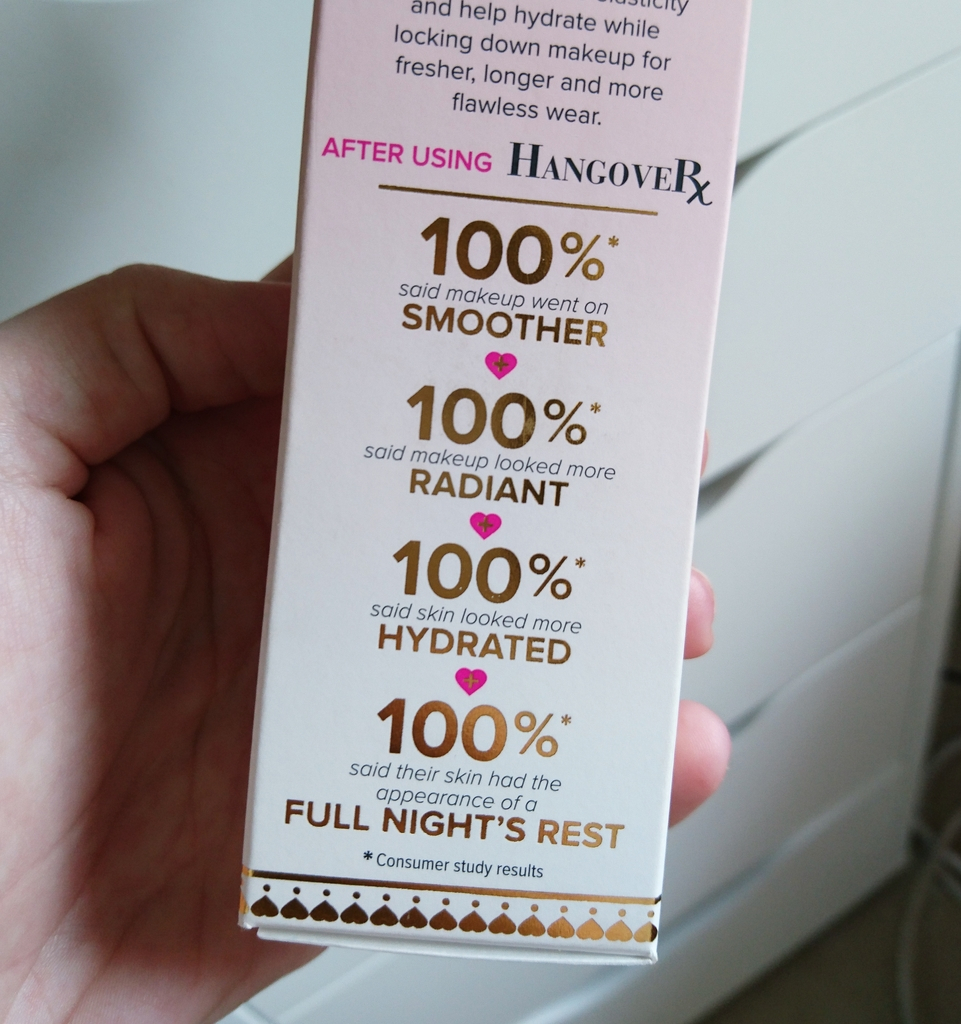 I will start by saying, I appreciate the pump in the bottle, even though I find the design a bit chunky. Air pumps are a great thing to look out for when shopping for makeup products. They ensure no air or bacteria comes in contact with your product, prolonging the shelf life of your makeup, thus keeping it sanitized and fresh. So +1 point there, Too Faced. The pump doesn't squirt out excessive product (*coughs* MAC Prolongwear Concealer *coughs*), which earns another point.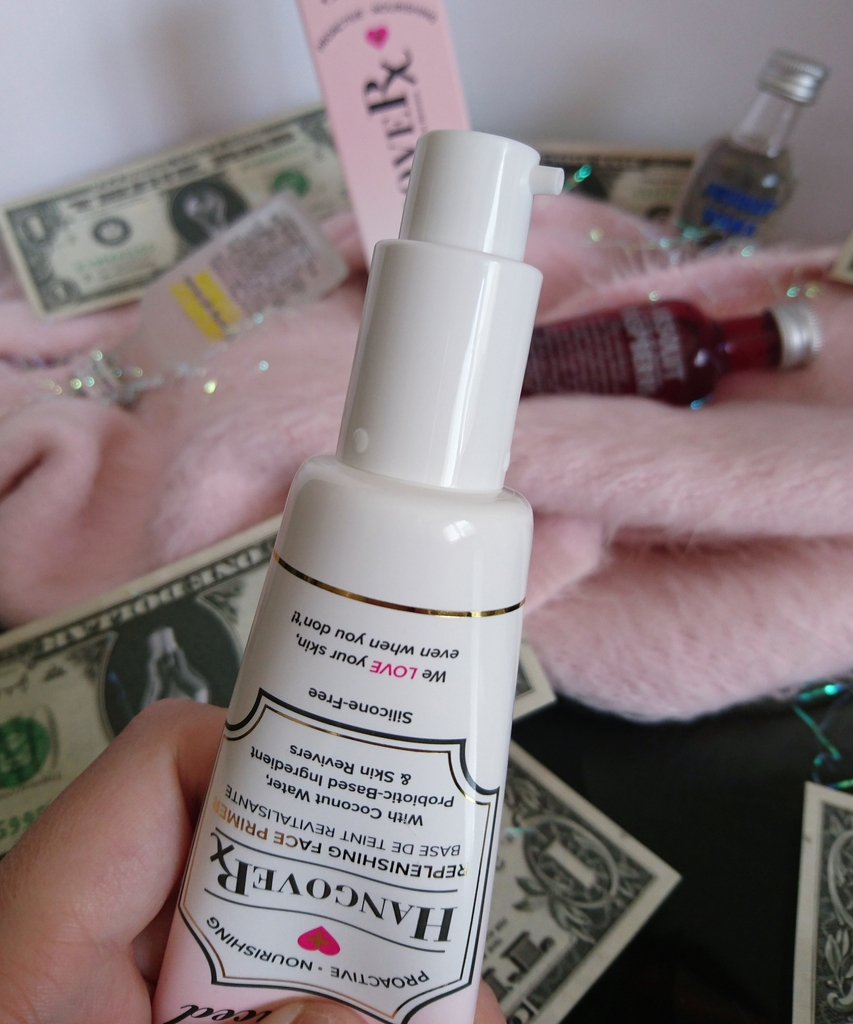 Consistency-wise, it feels like a rich cream. Rich the sense that is not watery, liquidy etc. It doesn't feel oily at all. It feels really comfortable on the skin, applies smoothly and gets absorbed almost instantly. You get the feeling of tackiness as it gets absorbed, which is due to the Glycerin in the product, but we will get to that and all the other ingredients in a minute.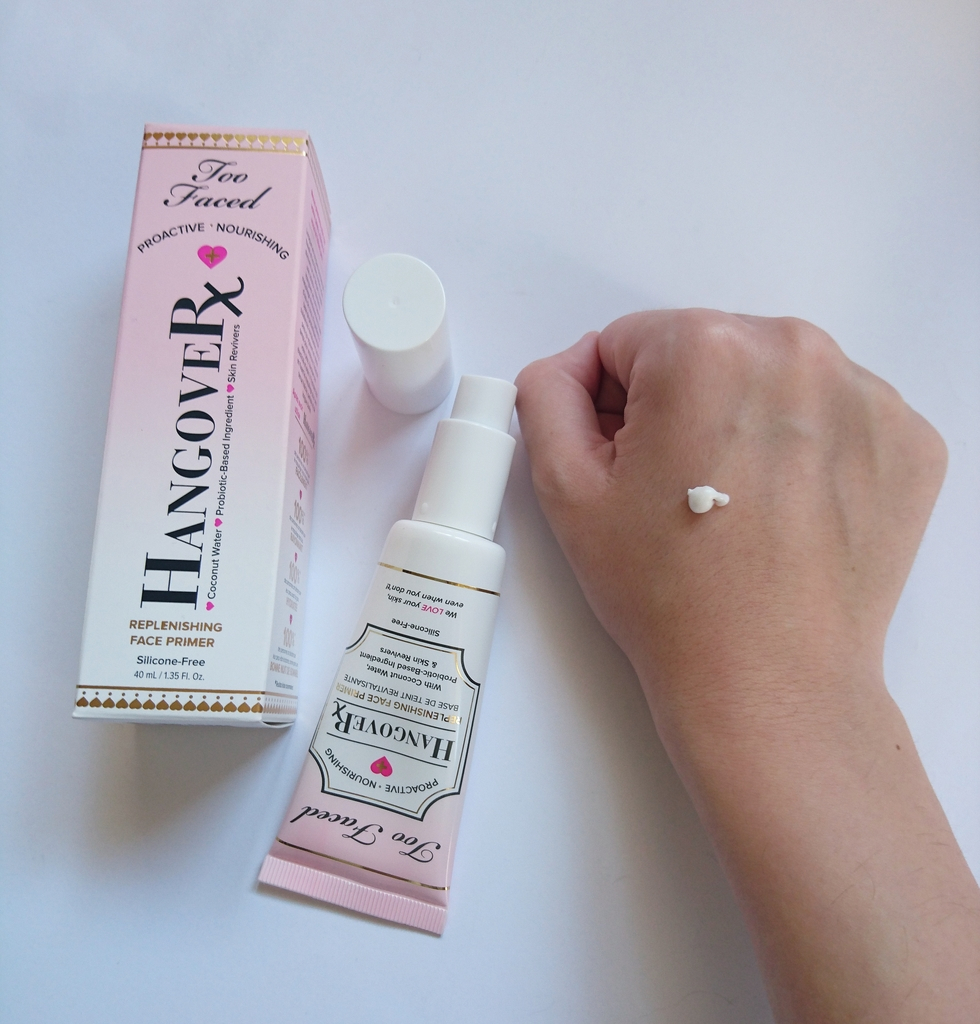 I will go as fas as saying that you can skip the moisturizer when using this primer. Especially if you're oily. It leaves the skin hydrated and smooth by itself. The makeup does glide on smooth and looks fresh and skin-like. I was really impressed. I may not have had a literal hangover when I tried it on, but if you follow me on insta, you know that this week had been really hard for me, so I needed all the help I could get with my makeup. And I did. It helped my dull skin look fresher, healthier and more nourished. +3 points, right there.
But the real treat is in the pudding. The Coconut pudding. They did it again, guys. I don't know who's in charge of scents in the Too Faced labs, but this person needs a raise. It smells like straight up coconut. Exactly like coconut. It is insane. I put it on, and get instantly teleported to a beach in Maui. Wouldn't it be awesome if the primer could do that? Whaaaah?
Let's take a closer look at the ingeredients, shall we?
"Aqua/Water/EAU, Lactobacillus/Salix Alba Bark Ferment Filtrate, Propanediol Dicaprylate, Propanediol, Ceteareth-6 Olivate, Olive Glycerides, Lactobacillus Ferment, Aluminum Starch Octenylsuccinate, Microcrystalline Cellulose, Hydrogenated Olive Oil, Polyacrylate Crosspolymer-6, Cellulose Gum, Olea Europaea (Olive) Fruit Oil, Pectin, Trisodium Ethylenediamine Disuccinate, Xanthan Gum, Olea Europaea (Olive) Oil Unsaponifiables, Cocos Nucifera (Coconut) Fruit Juice, Lauryl Alcohol Diphosphonic Acid, Pentylene Glycol, Glycerin, Lecithin, Magnesium Aluminum Silicate, Parfum/Fragrance, Lauric Acid, Tocopherol, Ascorbyl Palmitate, Citric Acid."
First and foremost, we should address the elefant in the room, the Lactobacillus Ferment. For those unfamiliar, this is a product resulting from the fermentation of the lactobacillus, a "friendly" type of bacteria that you can find living peacefully in our digestive system, urinary track and genital area without causing any trouble. And before you go "EEEEEW they put coochy-goo in the primer!!!", it is actually a biotechnologically originated product, so sit down. It is the "Probiotic-Based Ingredient" we saw in the description. Probiotics are live bacteria and yeasts that are good for your health, especially the digestive system. I don't know what they do when slathered on the face, but hey, couldn't hurt. We have all seen the masks with yoghurt, why should this be any different?
If you read carefully, you will see that there's Olea Europaea (Olive) Fruit Oil and its Unsaponifiables as well as Hydrogenated Olive Oil included in the listing. Don't rush into labelling them as liars for claiming the product is oil-free. When we talk about "oil-free" products in cosmetology, we usually refer to mineral oils that were used in abundance in the industry in the past and have been found guilty of clogging pores, aggrevating acne and leaving a greasy feeling on the skin. Water-based products are more often than not categorized as "oil-free", even though they might contain a small amount of oil (in this case plant-based). The Olive Glycerides included act as the nourishing, repairing, moisturizing and anti-aging agents (that work along side Propanediol that helps them get absorbed) in the "Skin Revivers" claim. Lovely.
Moving right along, we can find the culprit of the coconut scent, Cocos Nucifera (Coconut) Fruit Juice. Pure and simple. Doesn't get more original than that! Glycerin, which we saw in both the Nivea Aftershave Balm and the Nars Pro-Prime is what makes a primer long-wearing. Glycerin makes whatever you put on top of it, "stick". Plus, since it is a known humectant, it prevents the loss of water molecules from the skin (and products), locking in the moisture.
Going further down the list, we meet Lecithin. You might have heard of lecithin-C before, a form of liposomal vitamin C, as a dietary supplement. Lecithin and Hydrogenated Lecithin enhance the appearance of dry or damaged skin by reducing flaking and restoring suppleness. It also prevents certain ingredients from separating. Even though lecithin can be either derived from animal or plant tissue, it is most commonly found in sunflowers and soy. You can rest assured, the lecithin in this primer is plant-based since the product is cruelty free. Thumbs up for not hurting fur-friends!
Last but not least, we have Tocopherol, that goes by the street name "Vitamin E". Tocopherol can be isolated from vegatable oil and is a naturally occuring antioxidant and skin-conditioning agent.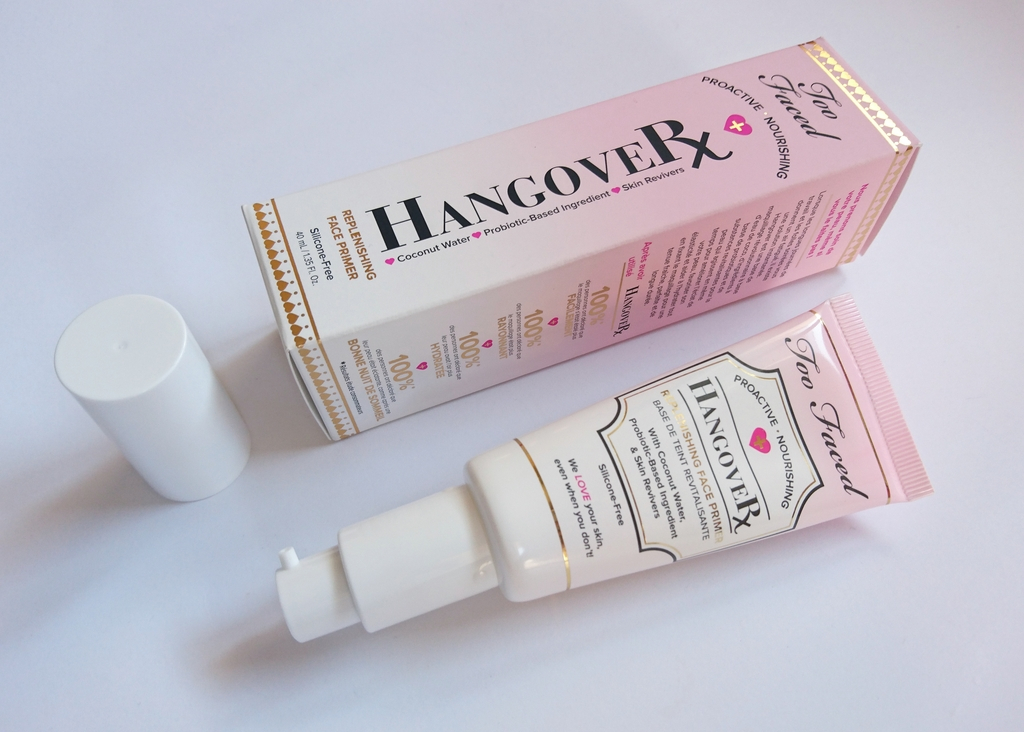 Basically, my point is, the ingredients of this primer are legit. Another thing I was pleasantly surprised about, was the fact that you get 40ml of product. Hooray! 10ml more than usual! Do they think we're too tired? Should we be offended?! I don't even care.
You can find the Too Faced HangoveRx at your local Sephora and online for $32. Go get it!
-xoxo- Macy