When I think of Tarte, I think of a tropical forest with giant bamboo plants and like freakin' toucans and huge colourful parrots flying around. And as I picture myself in that forest, sweating my ass off in the heat and humidity (my hair is inexplicable in this fantasy), the only foundation that I would imagine holding up is the Tarte Amazonian Clay Full Coverage Foundation 12-hour Makeup. See what I did there?
Tarte is a brand I would seriously abuse if I had direct access to it, but thank heavens for my sister overseas who manages to feed my addiction all the time. I have tried a few of their products so far but I am planning on getting more and more, until I have no more space to store them.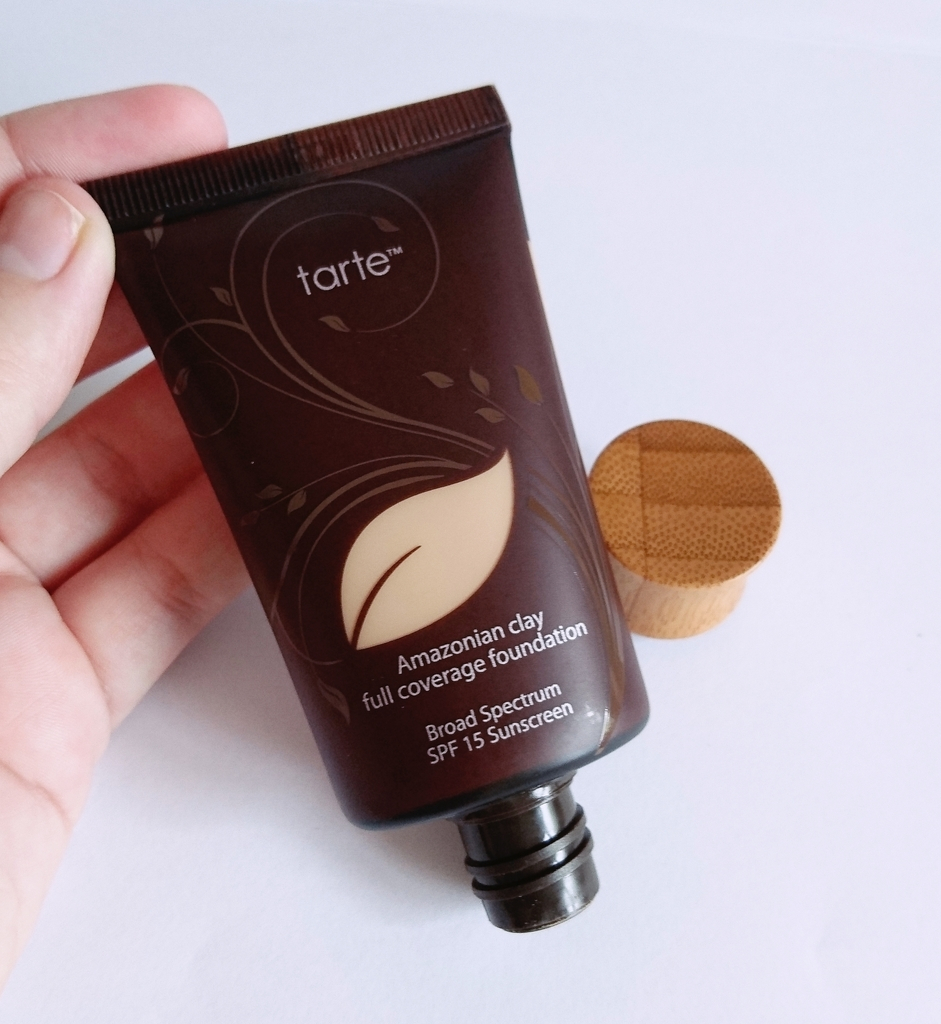 One of the most amazing things I had the privilege of trying out is their Amazonian Clay Full Coverage Foundation.
It comes in a squeezy tube with a wooden cap, and the info you don't really care for but honestly excites me is that the tube can stand on the cap. I love things that can stand. I don't want products that only work layed down. Stop being lazy, makeup products! Get your shit together!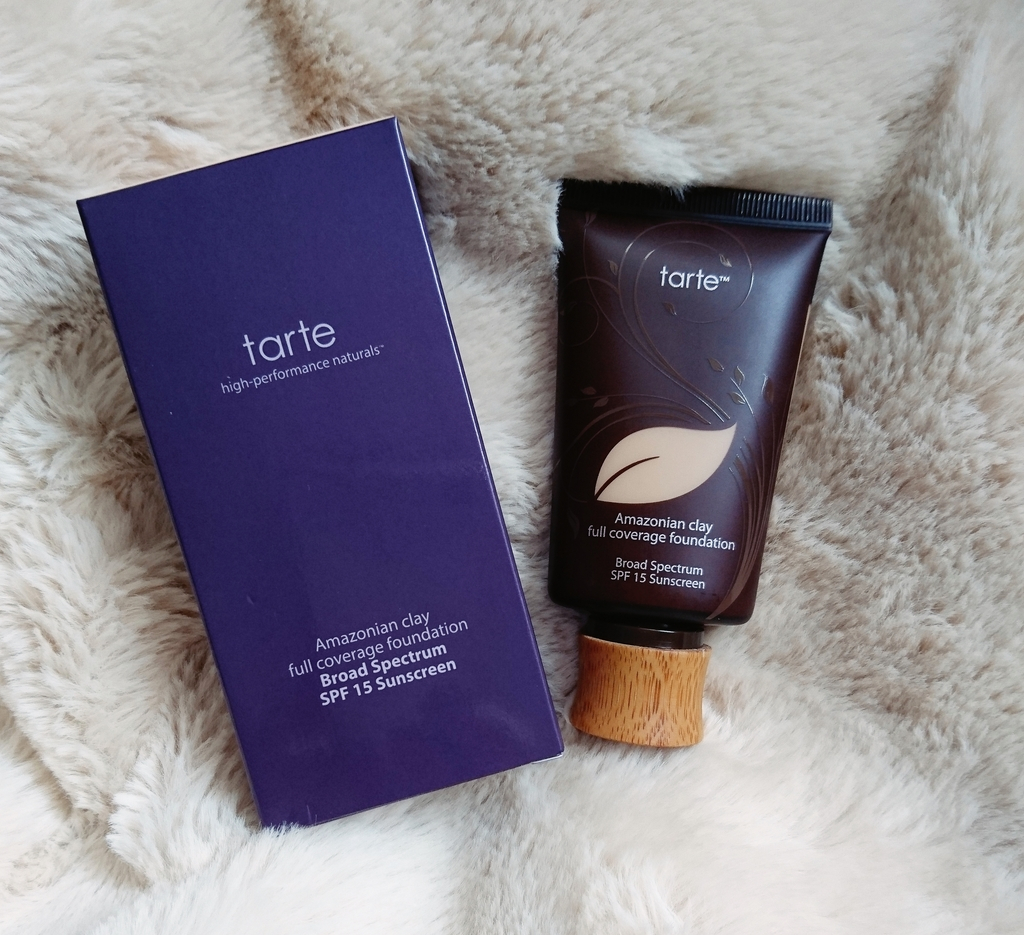 Another exciting thing for me, is that the otherwise obnoxiously underwhelming box the foundation comes in, has all the info you need on the back. Just like getting a box of Advil, you get all the "Drug Facts" when you turn it around. Now, you see, I don't live in the States. This was a bit of a culture shock for me, because over here, "drugs" means something else. God forbid there would actually be a literal "drugstore". Back to the foundation, though…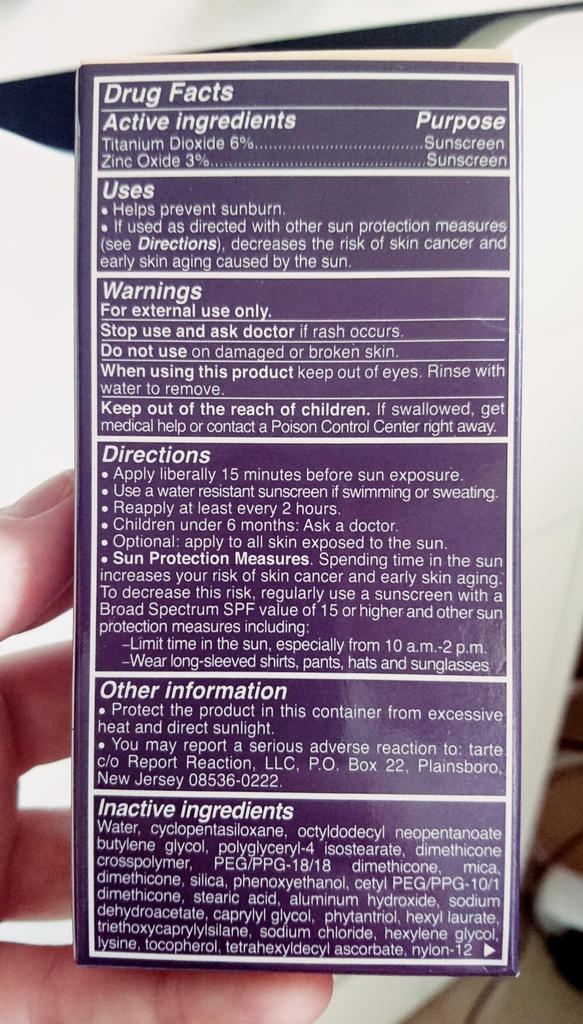 Along with the full list of both active and inactive ingredients you get some helpful Directions, Uses, Warnings and other info, such as where you can report a serious reaction to the product. Who you gonna call? GHOST BUSTERS! This is actually amazing. As a person with allergies and sensitivity to several compounds, I really appreciate this piece of information.
Put your reading glasses on, get your notepad and a pen and let's go through the ingredients.
"Active ingredients (all shades): Titanium dioxide 6%, zinc oxide 3%
Light sand (my shade) : Water, cyclopentasiloxane, octyldodecyl neopentanoate, butylene glycol, polyglyceryl-4 isostearate, dimethicone crosspolymer, PEG/PPG-18/18 dimethicone, mica, dimethicone, silica, phenoxyethanol, cetyl PEG/PPG-10/1 dimethicone, stearic acid, aluminum hydroxide, sodium dehydroacetate, caprylyl glycol,  phytantriol, hexyl laurate, triethoxycaprylylsilane, sodium chloride, hexylene glycol, lysine, tocopherol, tetrahexyldecyl ascorbate, nylon-12 fluorescent brightener 230 salt, polyvinylalcohol crosspolymer, kaolin, magnesium chloride, potassium chloride, zinc chloride, sodium hyaluronate, potassium sorbate, iron oxides."
They're good guys. They're good. I'm referring to the people of Tarte, of course. They took the time to distinguish between shades, the exact ingredients used to make each individual shade. For example, let's see a much darker shade. Don't really know why, they seem all the same to me, but I guess on closer inspection there will be subtle differences in the pigments used.
To start off, we can see that the first ingredient is, of course, water. The Amazonian Clay Full Coverage Foundation is a water-based, oil-free foundation. But we'll focus on something else. Well, well, well… What do we have here? Our old pal, dimethicone and the gang. Remember when we talked about the Porefessional and the MUFE Step1 Smoothing primers? Dimethicone is a member of the silicon family. It is used in cosmetics to give the products that velvet feel to the touch and make it glide on smoothly, filling in pores, fine lines and uneven texture. And this foundation actually does. Another member of the silicon family is the Triethoxycaprylylsilane you see further down the list. This cousin of dimethicone and silica (aka silicone dioxide) serves the purpose of binding and emulsifying. And what binds all those things together? Octyldodecyl neopentanoate, of course. This emolient, as claimed by L'Oreal, "is an excellent agent for compatibilizing silicone-containing compounds with each other and/or silicone-containing compounds with hydrocarbon compounds".

We have also seen before the  Titanium dioxide and Zinc oxide. Whenever you see those two, there's only one thing you should think of. Sunscreen. Fun fact, the Octyldodecyl Neopentanoate we saw before actually has the ability to give the SPF potential a boost, but noone knows why. Indeed, the foundation offers a quite well-thought SPF of 15. Why well-thought, you ask? SPF15  is enough to prevent some amount of sun damage, but not high enough to interfere with flash photography. 10 points for Gryffindor!
Ever wondered how they make a foundation full coverage? Pigments of course (in the form of iron oxides), but what else? Aluminum hydroxide is commonly used in cosmetics as an opacifying and coloring agent. It also acts an an absorbent and skin protectant. Good guy aluminum hydroxide. Ok, so what makes it matte? That would be kaolin. Kaolin is a natural mineral (also known as china clay) that has the ability to absorb fats (oil) from the skin while improving the appearance of enlarged pores. But what makes it thick? Because this foundation sure is thick. That would be the work of  sodium chloride, or as you may have heard of it 'table salt'. Mmm, delicious.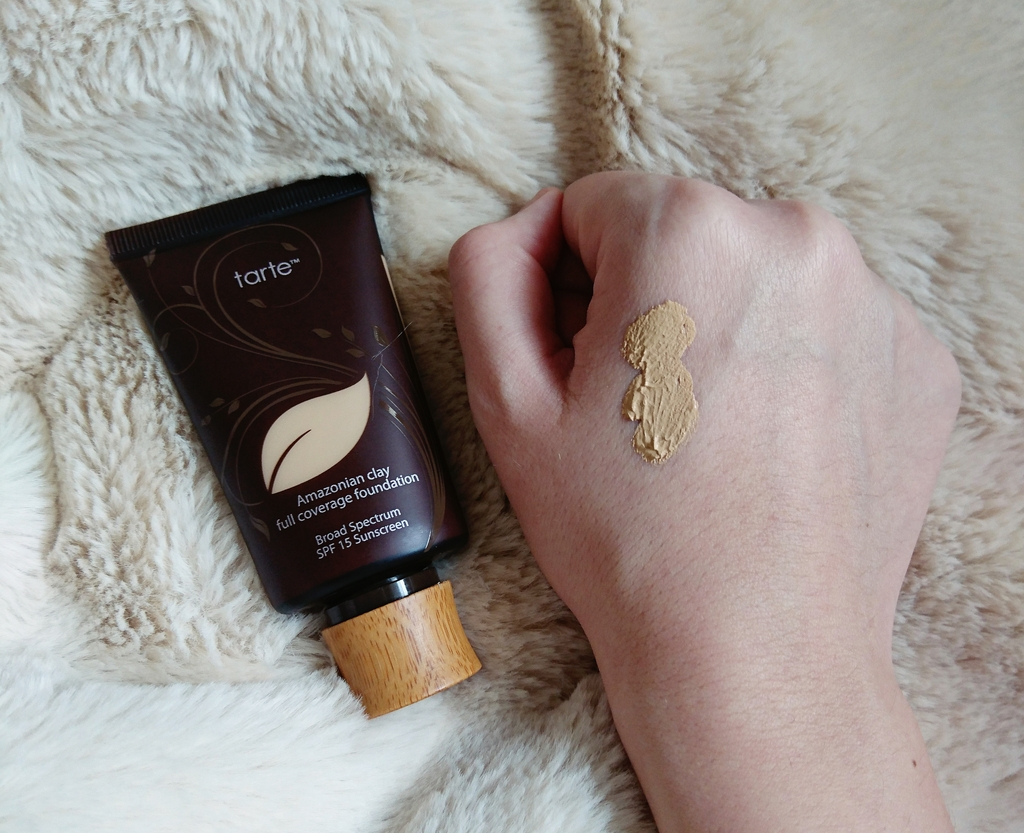 The other 'salt' on the list is Nylon-12 fluorescent brightener 230 salt (nothing to do with table salt) that goes hand in hand with Polyvinylalcohol crosspolymer. This duo, that likes to call itself LipoLight® OAP-PVA is a unique, patented luminescent ingredient that emits and diffuses visible light to dramatically reduce the appearance of skin imperfections whilst providing a radiant result (read more here). Impressive…
Stearic acid and polyglyceryl-4 isostearate act as emulsifiers (i.e. promote dispersion of the phase in which they do not dissolve very well, don't forget we have fat organic molecules in a water solution). Sodium dehydroacetate,Caprylyl glycol, potassium sorbate and zinc chloride act as preservatives due to their antimicrobial properties along with the most famous antioxidant, tocopherol (Vitamin E).  Another vitamin you can find in this palooza is tetrahexyldecyl ascorbate, also known as pro-Vitamin C. Vitamin C is really cool. It increases collagen levels, reduces melanin production, brightens skin and repairs the effects of UV exposure and other environmental damage. Phytantriol, cyclopentasiloxane, lysine and sodium hyaluronate condition the skin, while butylene glycol, magnesium chloride, potassium chloride and hexylene glycol take care of the viscosity.
Pheeew…That was a lot.
In a nutshell. This foundation is high-coverage, not cakey when applied correctly (I suggest a beautyblender), matte, lasts all day AND (here's the brilliant twist) comes with 50ml (1,7 oz) for $39. That's pretty awesome if you ask me. Plus it comes in 25 shades. Not too hard to find a match there, eh? I wouldn't recommend it for dry skintones, though, because it might cling on any dry spots on your face.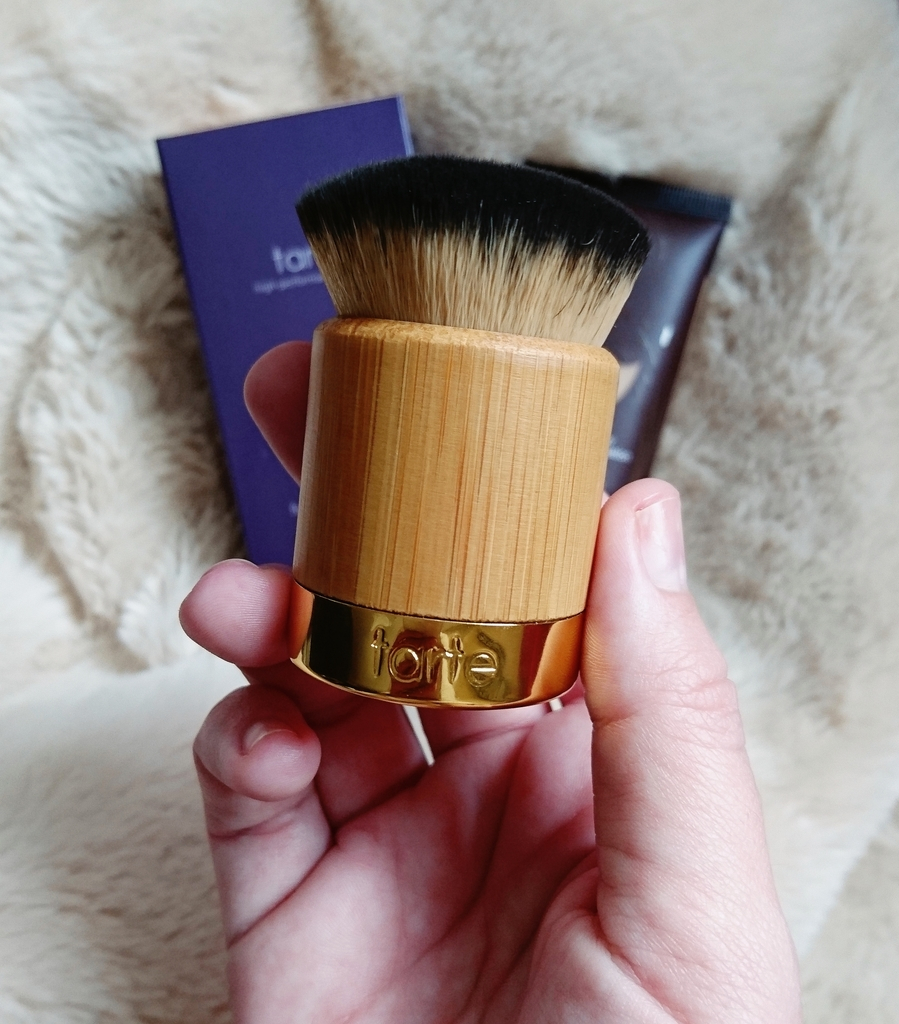 The other thing I got to try and am now inseparable with is the Airbuki Bamboo Powder Foundation Brush. Holy macaroni, this is perfect. Where do I start? The name? Is there a better name for a brush in the makeup industry than "Airbuki"? No. There isn't. The size? It is short and fat and tiny. The bristles? There are a million of them densely packed in an awesome kabuki form. The design? It is wooden with a golden bottom. Enough said. It is a product of pure beauty.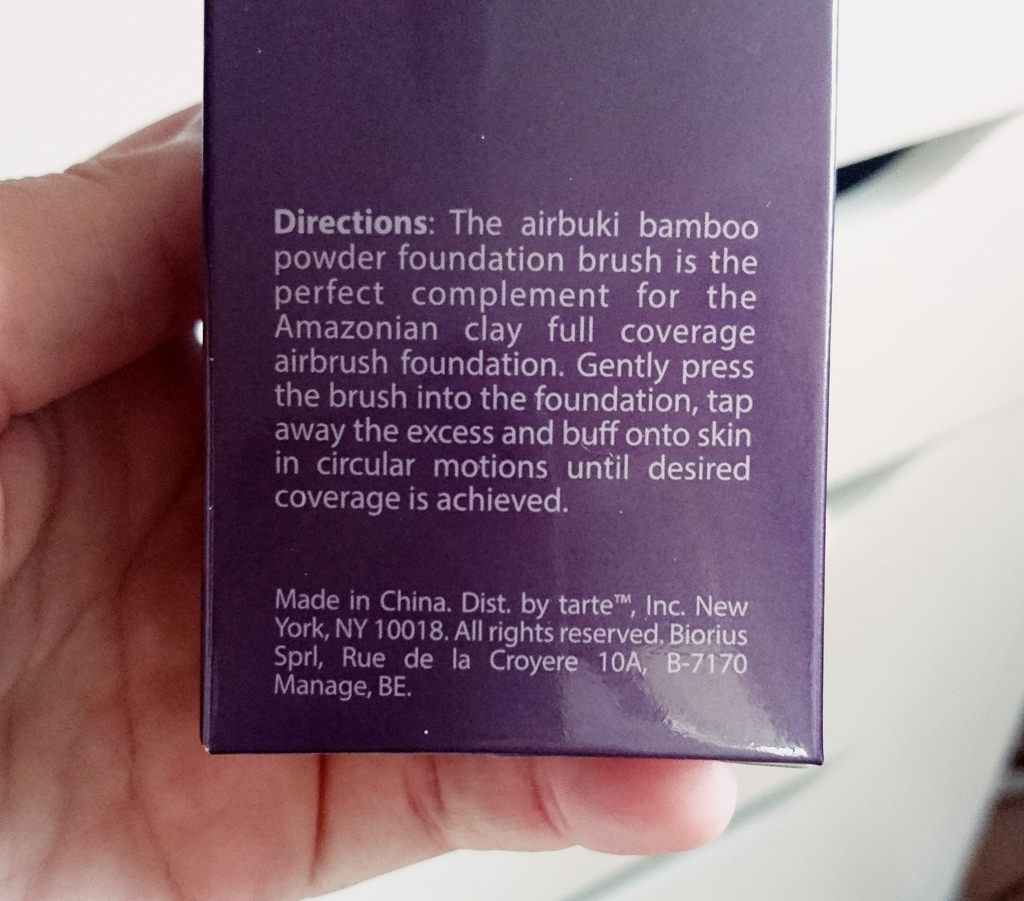 And it performs just as beautifully as it looks. It is an excellent powder foundation buffer BUT, you know damn well I don't play by rules, so I applied my liquid foundation with it. HOLY MACARONI (x2)!!! I have never seen my foundation look better in my life (used it with all my YSL foundations)! And that says a lot coming from a person that married her beautyblender in a romantic ceremony by the beach years ago. If you own it already, please please please give it a go and you'll thank me later. It manages to push the product into the skin in a way that leaves a natural finish while covering everything. I have no words. I knew I would like it, I didn't expect this infatuation with it. I'm cheating on my beautyblender and it feels AMAZING!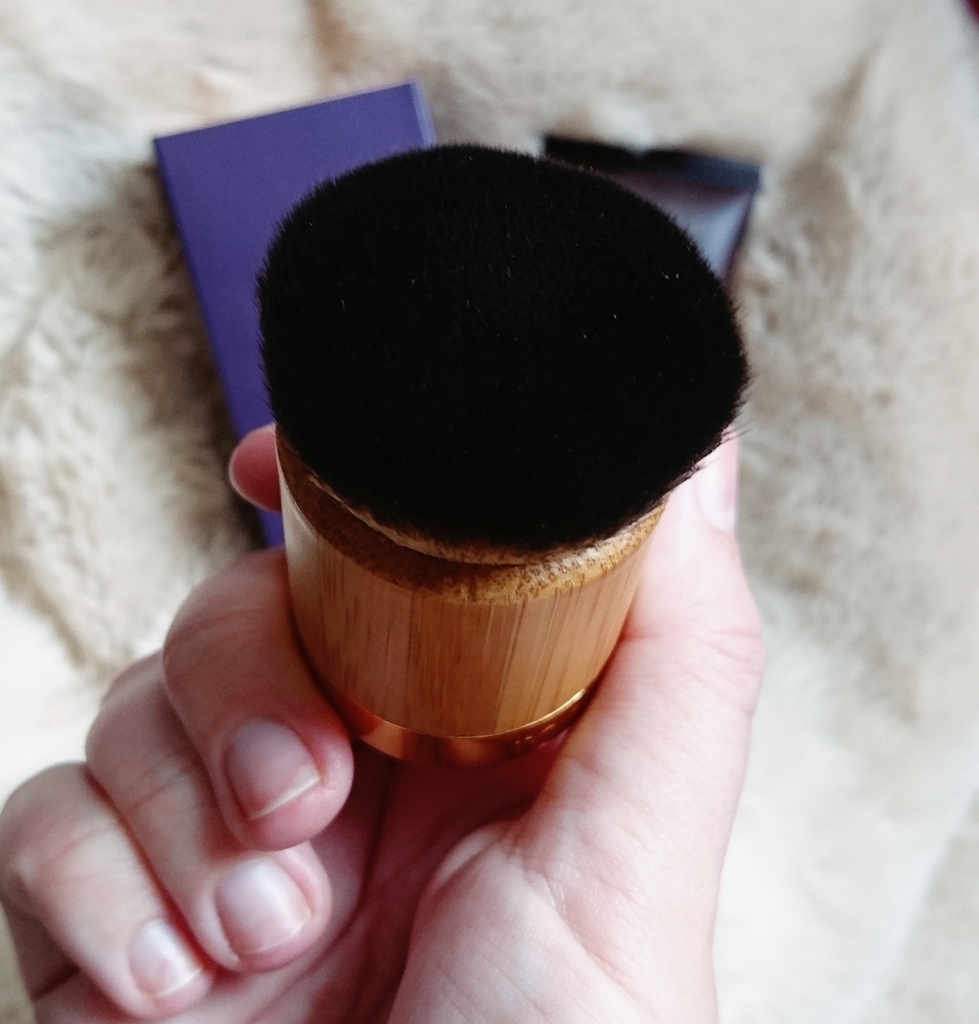 The Airbuki costs $28 and it is worth every last cent. You can find Tarte products at Sephora and Tarte's official website. If you're not up for paying that much ,I suggest you wait for the Tarte Friends & Family sale. Then you can get it guilt-free. I have no regrets…
-xoxo- Macy