We are in the heart of summer my dears…Corona has us all messed up, but rest assured, summer is here. And what does summer really mean? Flip flops, chilled watermelon, coconut scented sunscreen…I have a question for you though. Are you really doing summer if you haven't busted out the body glow? No. You're doing summer ALL WRONG. Let's fix that.
---
When Fenty Beauty came out with the Body Lava, I distinctly remember everyone losing their shit. Zero chill. No one had a single ounce of chill. I love to glow as much as the next guy, so of course, I broke the bank and bought not only one, but 2 Body Lavas. So I was glowy and shimmery and glittery and happy.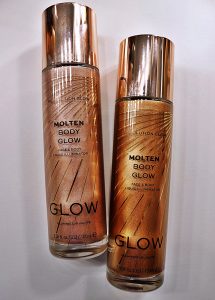 This year, everyone's favourite dupe brand, aka Makeup Revolution, decided to introduce their version of the Body Illuminator, the Glow Molten Body Liquid Illuminator. For everyone patiently waiting for a more affordable option, bells started ringing and there was a choir chanting Hallelujah in the distance.
Along with the body illuminators they also launched 2 accompanying body brushes that can….trigger a dejavu to anyone with basic knowledge of what is going on in the makeup industry. I'm not saying they copied the design of two other makeup companies, but they did. I'm just not saying it.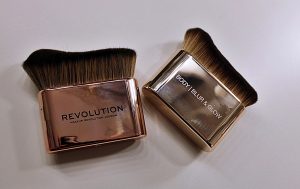 I will start with the brushes because this is almost a slap in the face for some. So we have the Glow Body Blending Brush (£8) which if I had to make a wild guess, was inspired by the Huda Beauty Body Blur and Glow brush (£28). The most insulting thing of all is not that they blatantly ripped off the design of this brush. It is the fact that they managed to make it better. I'm crying laughing writing this, just so you know.
The Makeup Revolution version is fatter, fluffier, softer and less dense. It feels much nicer massaging the product onto the skin, and the fact that it's not as narrow as its high end twin makes it much faster during application.  It does shed a bit in the beginning, but for a whopping £20 price difference, I can overlook that. Not only that, there's a deal on the Makeup Revolution website if you combine a Body Brush with any Body Illuminator or Body Oil you get 20% off. And you know how I love a good deal.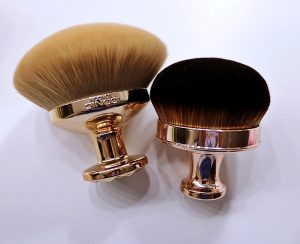 The other brush is more like a cousin than a twin, thank God. Let's compare the Revolution Glow Shimmer Oil Buffing Brush (£10) to the Iconic London Pro Puff (£35). If we set aside the shape of the grip and the general cut of the brush hairs, they are quite different. The Iconic brush is much much bigger, significantly less dense, allowing more movement of the hairs that are longer as well. The Revolution one is way more dense, which is not necessarily a con, especially if you consider that it is designed to apply their Shimmering Body Oil with. In order for the oil not to sip into the brush, the design had to be quite stiff. Nonetheless, it's an interesting and useful brush. All in all, the Iconic Pro Puff is much more luxurious and fancy. A lovely addition to your vanity.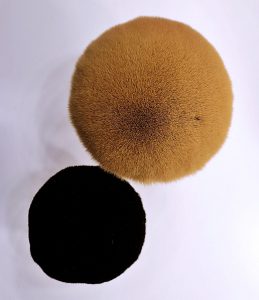 Note 1 : The Revolution Glow Radiance Shimmer Oil is not even worth reviewing. Pour some fine glitter into a bottle of baby oil you have laying around, you'll make yourself a better shimmer oil.
Note 2 : The elephant in the room is that the Iconic Pro Puff handle looks like a butt plug. It had to be addressed…
Moving right along…
As far as the Glow Molten Body Liquid Illuminators (£15) are concerned I picked up 2 out of the 3 available, in order to compare to the Fenty ones already in my collection.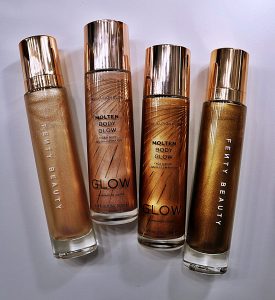 Formula-wise, I really enjoy what Makeup Revolution has managed to create. The have nailed the viscosity of the product, not too runny but not too thick. The Fenty Beauty Body Lava (£46) is much more viscous (she real thicc). There are no chunky glitter particles, just really fine metallic shimmer that can be built up to Tin Man levels if you wish (please don't…). The Body Lavas are quite different to that. They seem to have an almost clear gel base formula in which smaller as well as bigger glitter particles are dispersed. How does that affect you? You can get away with wearing the darkest Body Lava even if you are quite fair in complexion. The Revolution ones leave behind more color, so if you are fair, I suggest you pick up the fairest shade.
In terms of scent OH MY SWEET JESUS they have hit the nail on the head! Coconut and pineapple with a hint of vanilla. If this ain't summer, I don't know what is. To me this scent is way up there with the Sol de Janeiro Bum Bum Cream scent. Makeup Revolution, if you are reading this, RELEASE THIS IN A PERFUME VERSION NOW. Thank you in advance. For the record, the Body Lavas smell good too. Like sweet vanilla candy…
The most important difference between the 2 formulas is the dry down. The Makeup Revolution dries down to a non-sticky finish that does rub a bit into clothes, but doesn't really move much more than that. On the other hand, the Body Lavas are a bit sticky. If you apply a lot, then they are lot stickier. So keep that in mind.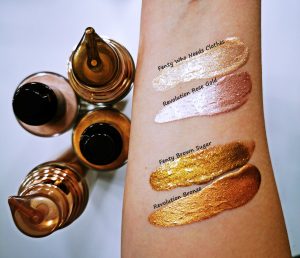 Breaking the price down, Fenty only provides you with 90ml of product for £46 (cost per ml is 0,51p) whereas Revolution generously gives us 100ml for only £15 (cost per ml 0,15). You can combo with one of the brushes and still spend less than half the price of one Body Lava. Crazy…
The truth of the matter is, the Revolution Glow Molten thingies are much more comparable to the Huda Beauty body highlighters, but I am going to be honest with you. I don't like them at all. I hate the packaging, it's too bulky and ugly, plus I hear that they are really heavily scented "like a bouquet of white florals" and that to me translates to "funeral". I didn't want to buy any of them, please forgive me like you did Bryan Adams back in 1993…
Till next time…
xoxo,
Macy