I have been waiting for quite some time now to review this palette, because…drama. Tati is a beauty 'guru' I have been following for years and she had earned my trust when it comes to reviewing makeup, simply because she tries EVERYTHING. Drugstore, high end, indie. You name it, she has used it. So when she announced she would be coming out with her own palette, I got really excited because I immediately assumed she would have done her due diligence and created something really outstanding as far as quality and innovation was concerned.
Up until recently, Tati was a 'lawful neutral' when it comes to influencer drama and gossip, and I truly appreciated that about her. I am using this as a disclaimer, this review has not been colored in any way by the Dramagedon, all opinions are non-biased and raw, as per usual. So, vamos.
---
I have had this palette for over 6 months now, so I have given it the time to shine and prove itself. This is not a rushed review, clearly. But for as long as I have it in my posession I get questions about it, so it is high time we put the ol' question "is this palette even worth it?" to rest.
Let me start by commenting on the packaging. Really minimal, chic and luxurious. It's a hefty palette with a great size mirror that does not distort your image. The soft matte touch is aesthetically pleasing, until you start using it on the reg. Then it's just disgusting. If you have Nars compacts in your collection, you are familiar.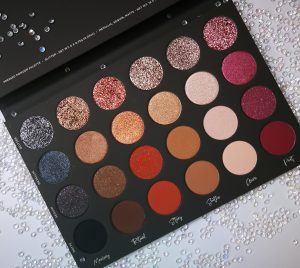 Textured Neutrals Vol.1, a name we have only heard of and is nowhere to be found on the actual packaging, is a 24-pan 'eyeshadow' palette that includes 4 different finishes (Matte, Sequin, Metallic and Glitter) and 6 different color families (Memory, Ritual, Story, Soothe, Aura and Poet). Let's start with the finishes…
Matte is pretty much self-explanatory. No shimmer, shine or sheen (sorry, Charlie).
Sequin is a matte and micro-glitter hybrid. We have a matte base shade "infused" with teeny tiny micro-glitters of different undertones and shifts. There was a whole conundrum about this formula being really unique and revolutionary, but these types of shadows have been around since I can remember buying makeup, which is over 17 years (good Lord…).
Metallic is pretty common as well. High shine, really reflective. (yeah, we'll see…)
Glitter was not that commonly pressed into palettes, for a good reason too. Glitter more often that not, is not eye safe. There is, in a fact a tiny asterisk with a warning in the back of the sleeve of the palette (that you most likely will throw out) which states that the Glitter shades are "not intended for use in the immediate eye area", unless  you want to scratch your corneas that is.
How about the 'color families'?
Memory is the darkest group, ranging from pitch black to carbon grey and grey-silver glitter.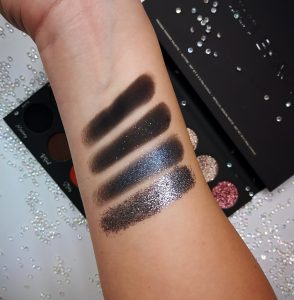 Ritual is mid-tone neutral-ish brown group, with a bronze metallic and glitter.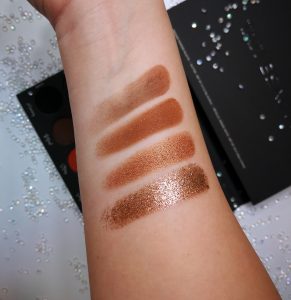 Story is the orange and peach group.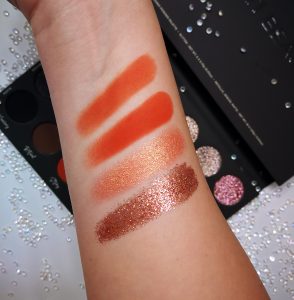 Soothe is the beige-nude family.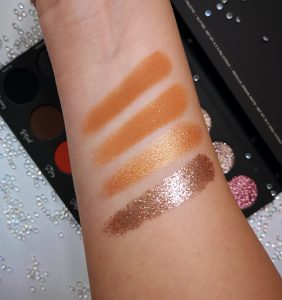 Aura is the cream color group, with a color-shifting glitter.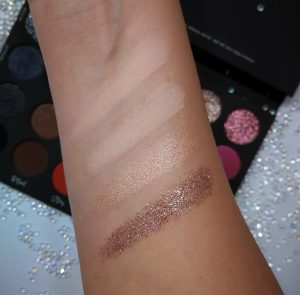 Poet is the cranberry group, the most interesting if you ask me. The Sequin Poet has blue micro-glitters and the Metallic Poet is a peach-pink duochrome.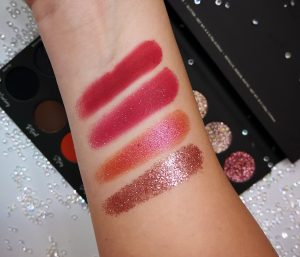 Let's talk formula.
The mattes are quite easy to use. They blend nicely and can be layered with not much effort. All except for one. There is always a dud in almost every palette, sadly in this one it's Matte Ritual, a really useful shade. It's quite hard to blend and it applies patchy. It's a shame, because it's the 'let's put that in the crease' shade of the palette.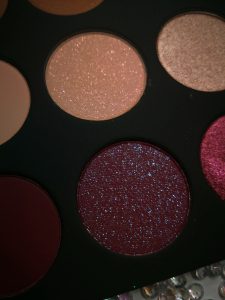 The sequins, I am quite perplexed about. They are pretty, but the micro-glitters fly off if you use a fluffy brush to apply them. They also fly off if you blow on the swatch of one. So I don't quite get the need for a sequin formula. I mean, it looks good in the palette and if you pat it on the lid. But don't expect the effect to stick around for long…
The metallics are really nice and buttery. My only problem with them is that the formula is not consistent. Metallic Memory and Metallic Story are way more metallic than the rest. Metallic Poet, although beautiful is the hardest to build up to full opacity.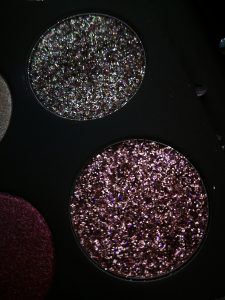 As for the glitters, I honestly do not get why they are in the palette if they are not eye safe. Granted, it's a nice pressed glitter formula, not too chunky (unlike Colourpop's), but still. Why put something in an eyeshadow palette that if I weren't who I am I could have easily misinterpreted the proper use of?
In case you are unfamiliar with what glitter is, glitter is composed by tiny fragments of reflective plastic. Cosmetic grade eye-safe glitter is formulated in a way that allows the edges of those fragments to be not as sharp. The reason is, you don't want ANYTHING with sharp plastic edges anywhere near your eye. The materials and dyes used are required to be non-toxic, unlike craft glitter for example. Craft glitter can include particles of glass or metal. Yikes . Please be very mindful of this. Also, just a PSA, non-biodegradable glitter is a nightmare for the environment. Imagine tiny pieces of plastic ending up in landfills and the ocean with no possible way to collect them. No bueno.
All in all, the palette is good. It's not exceptional. But it is a good quality palette. Could it be better? Sure. Did Jaclyn Hill show us it could be way way worse? Definitely. I don't particularly agree with the choice to call the palette "Neutrals", as it consists of mostly warmer tones. I do appreciate the effort of coming out with a palette on your own, though, even if I, the consumer, have to pay the price for it.
Speaking of the price, the Textured Neutrals Vol.1 retails for $48. If you live in the US, adding tax to that brings the pricetag over $50. If you just want the palette, the shipping will cost you at least $4,95 (or $11,95 if you are in a hurry). So, a bit under $60. International shipping is $9,95, but always keep in mind there will be import charges once it arrives.
That's quite a lot, if you ask me. What do you think?
xoxo,
Macy