Thank the higher powers for drugstore makeup! Taking a trip to the mall has never been so fun before.
H&M is one of the biggest corporations in clothing and fashion (let's not forget that their recent colaboration was with Balmain) and it had been making efforts to branch out and add makeup and beauty products to her arsenal.
I do admit, I have been shopping their older versions of body mists and perfumes, because they were always too cute and too affordable. But, recently, they decided to step up their game and launch a serious line of cosmetics, ranging from lipsticks to…solid perfume.
If you follow me on instagram (which by the way, if you're not I have no idea how you came across my blog) I went a bit crazy while at H&M and ended up with this…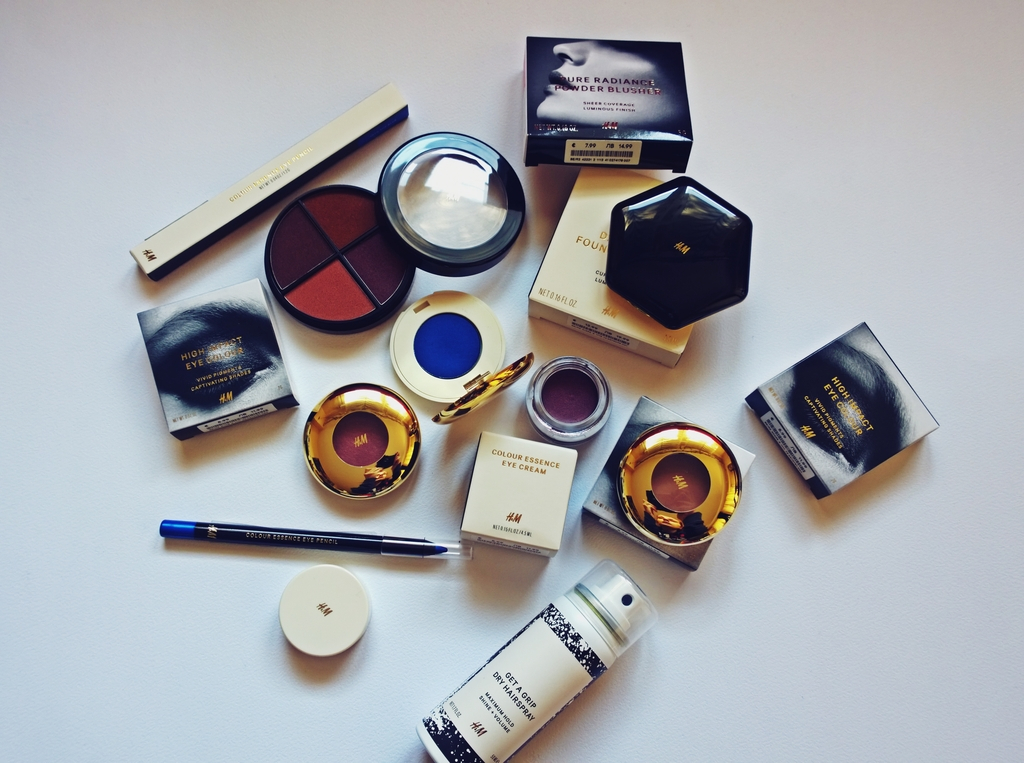 It's ok though… I used some of my trusty 15% off coupons (check out H&M's policy on recycling old clothes here) and the total was under 50€ for a whole bunch of goodies.
I will start the makeup tour with the most affordable of the lot, the pencil eyeliner. I chose a bright blue one, because I really enjoy the contrast between a bright blue liner  and brown eyes. I don't have brown eyes, but many people do. It works on my hazel eyes too, I checked.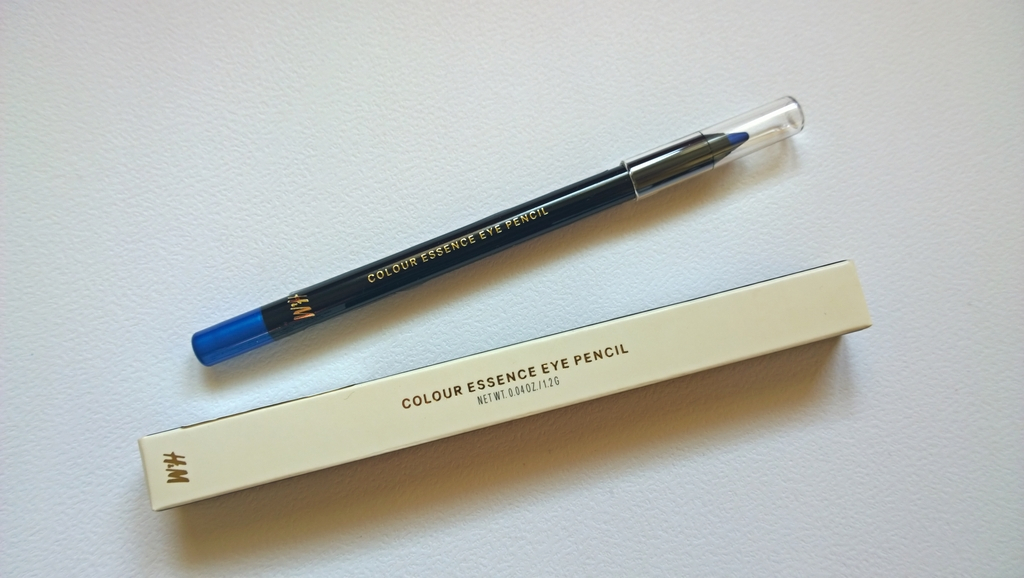 The Colour Essence Eye Pencil is very smooth, it doesn't tug on the eyes, it glides easily and you'll be happy to hear that it stays on the waterline beautifully. It costs 4,99€, which is very reasonable. The shade I got was "Into the Blue" (wasn't that a movie?)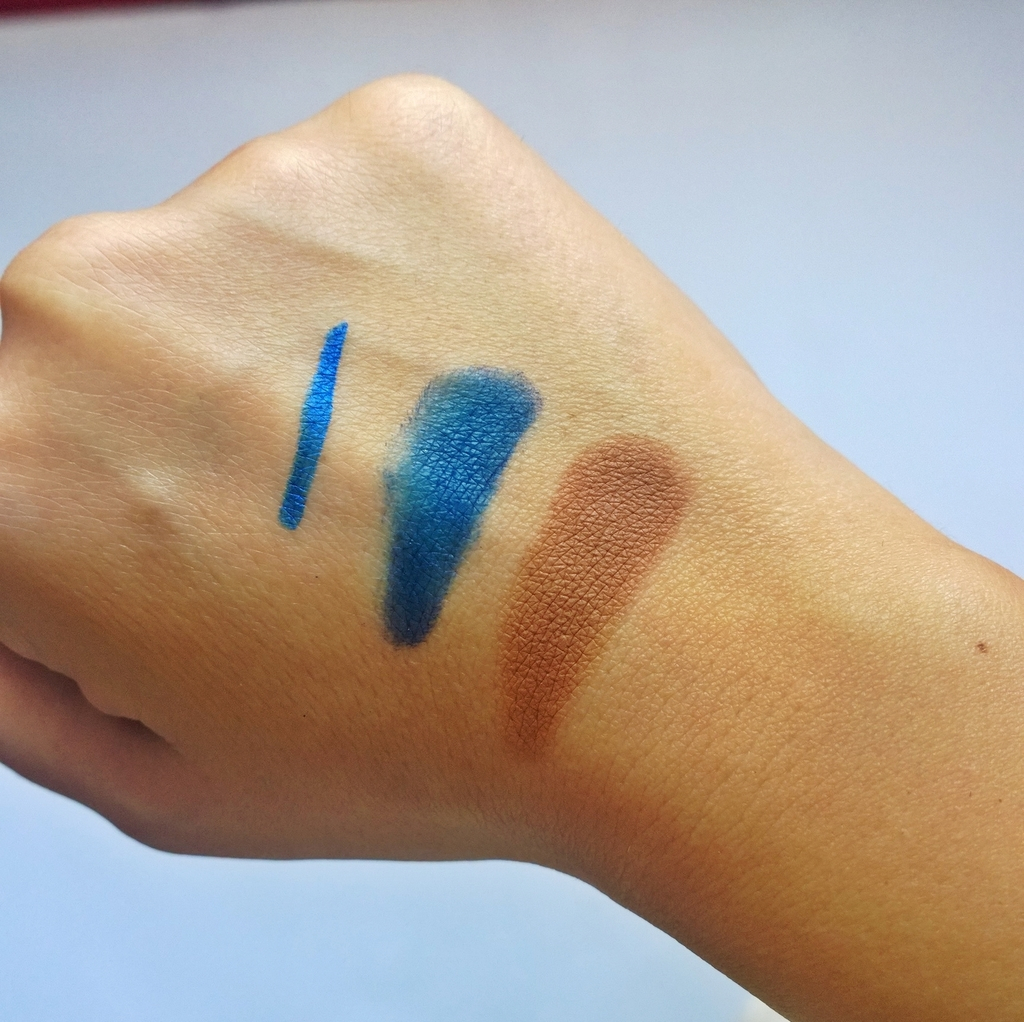 Next up, the shadows. Oh,man. The selection was amazing! It took me forever to choose between the stunning shades that were before me. From true mattes, to pearlized and extremely shimmery metallics there's definitely a shade for you.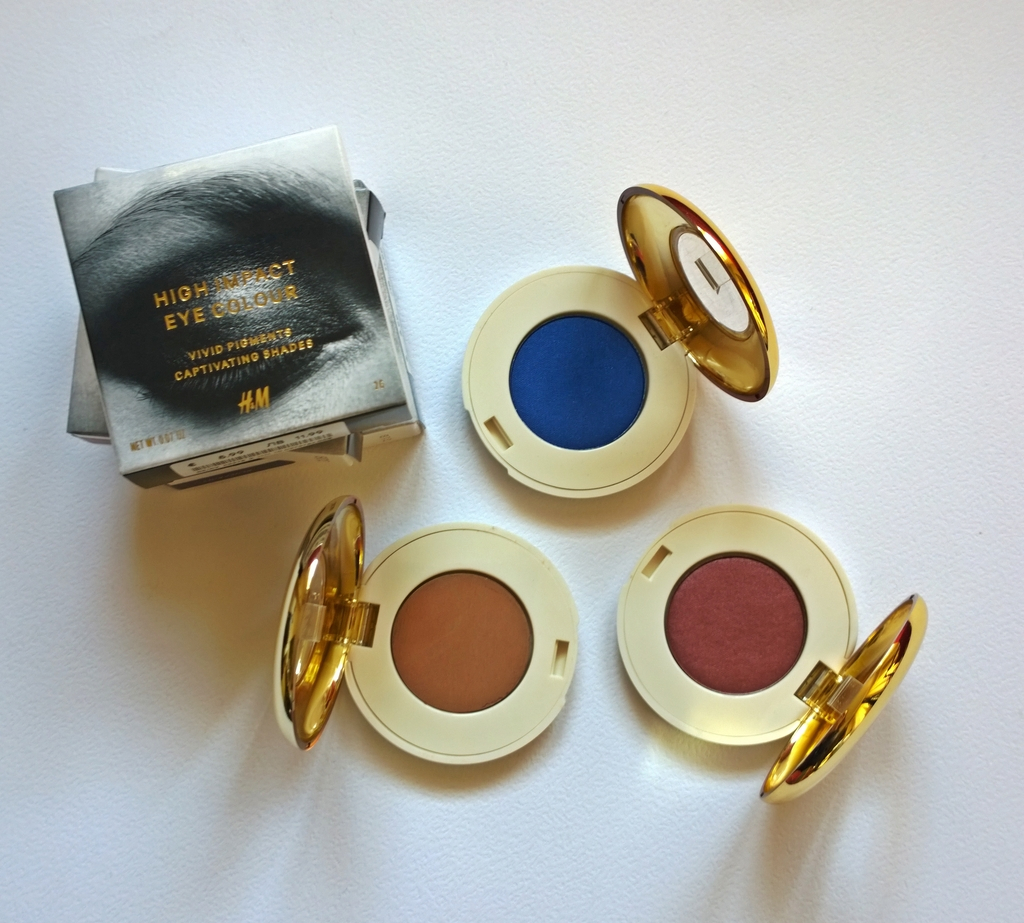 Since I was planning on creating a certain look, I chose a cobalt blue ("Blueprint") with a satin finish and a matte brown with warm undertones ("Gingerbread") for the crease. And then I saw it…it was too good to be true. "Sahara Dawn" was perfect. It was everything you need for fall. Think of MAC's "Cranberry" or Maybelline's Color Tattoo in "Pomegranate Punk". 'Mine!', I screamed internally and threw it in my shopping bag. Since the High Impact Eye Colour shadows retail for 5,99€ a pop, I figured 3 of them wouldn't be as bad.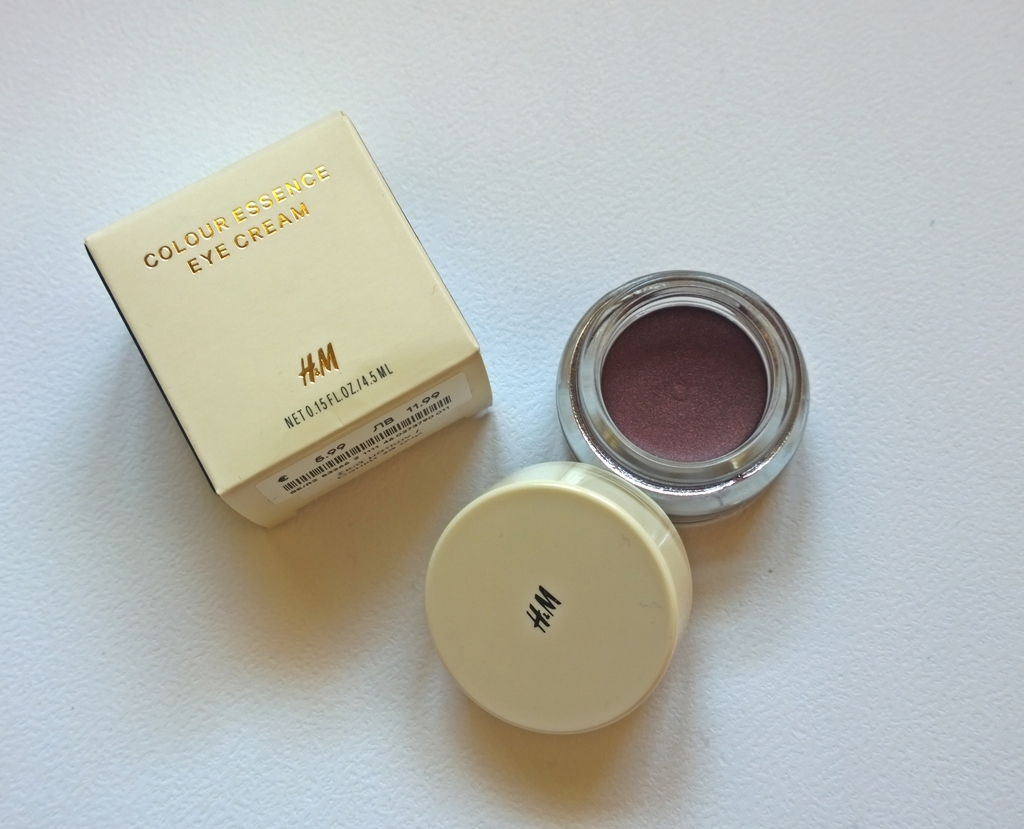 Turning the corner, I noticed a cream eyeshadow that was speaking to both me and "Sahara Dawn" that was already in the bag. Sahara said "I'd tap that…" so in she went. Her name is "Gentlewoman" and she costs 5,99€. They are now engaged and planning their wedding in the Hamptons. Aw…good for them. I love a good romance.
Then, I realised that I had spent too much time and money on eyes, neglecting the face. So, what would Macy buy OF COURSE?! Blush.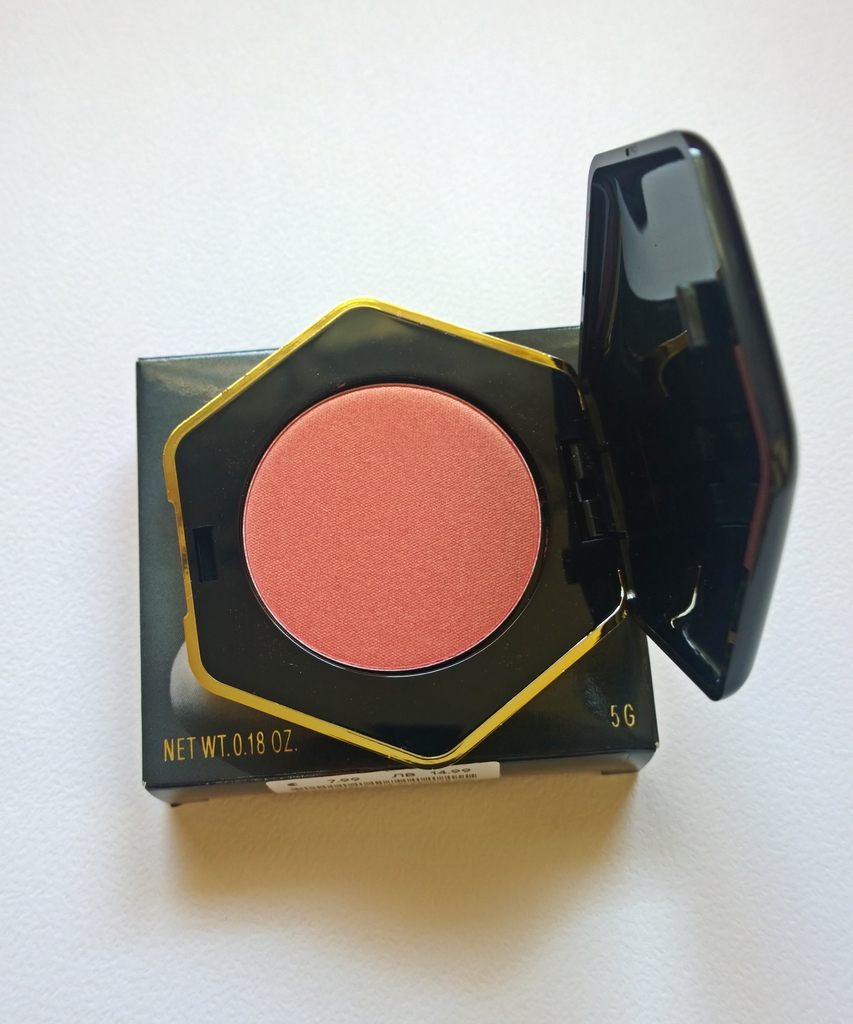 Not any blush, though. A blush shade she already has 20 of already. BUT, being so stupid I actually found some dupes for you guys, so yay! Digging through my makeup collection, which is ever-growing, this magical picture was created…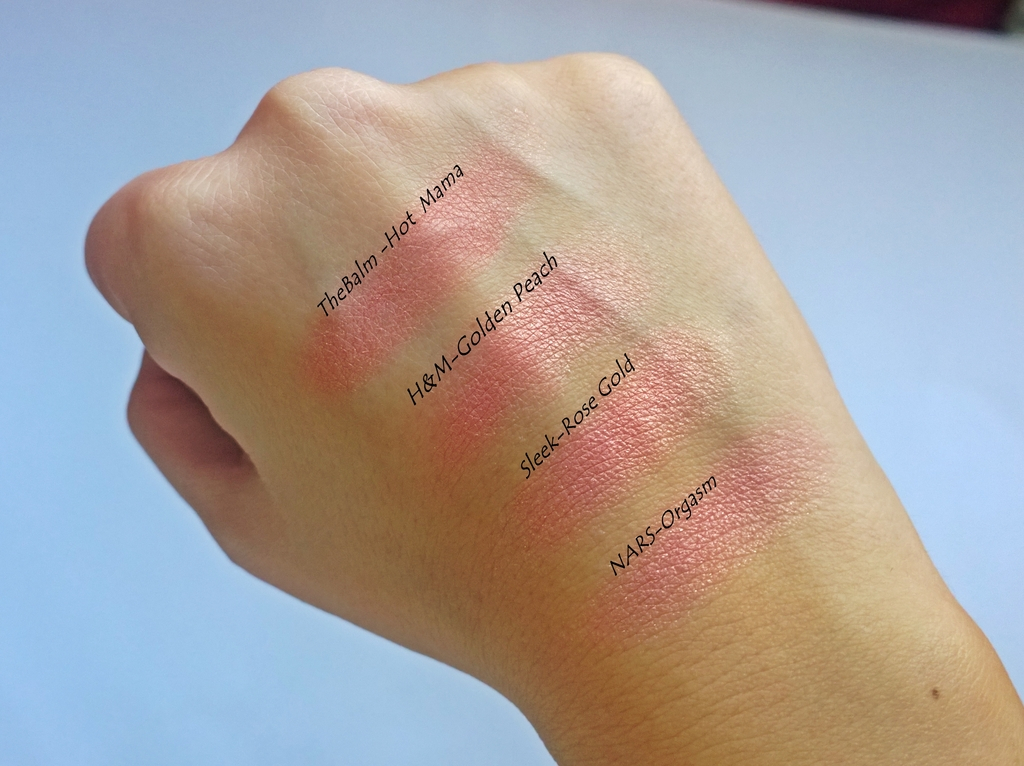 Isn't the makeup industry funny? Aren't we all so stupid? Yes and yes. The Pure Radiance Powder Blushes cost 7,99€ a piece. Pretty good, indeed. There are also many matte blushes to choose from, as well as cream blushes to.
Last, but not least by any means, a real diamond in the rough. Something I would never have expected to find.
A foundation quad for darker complexions.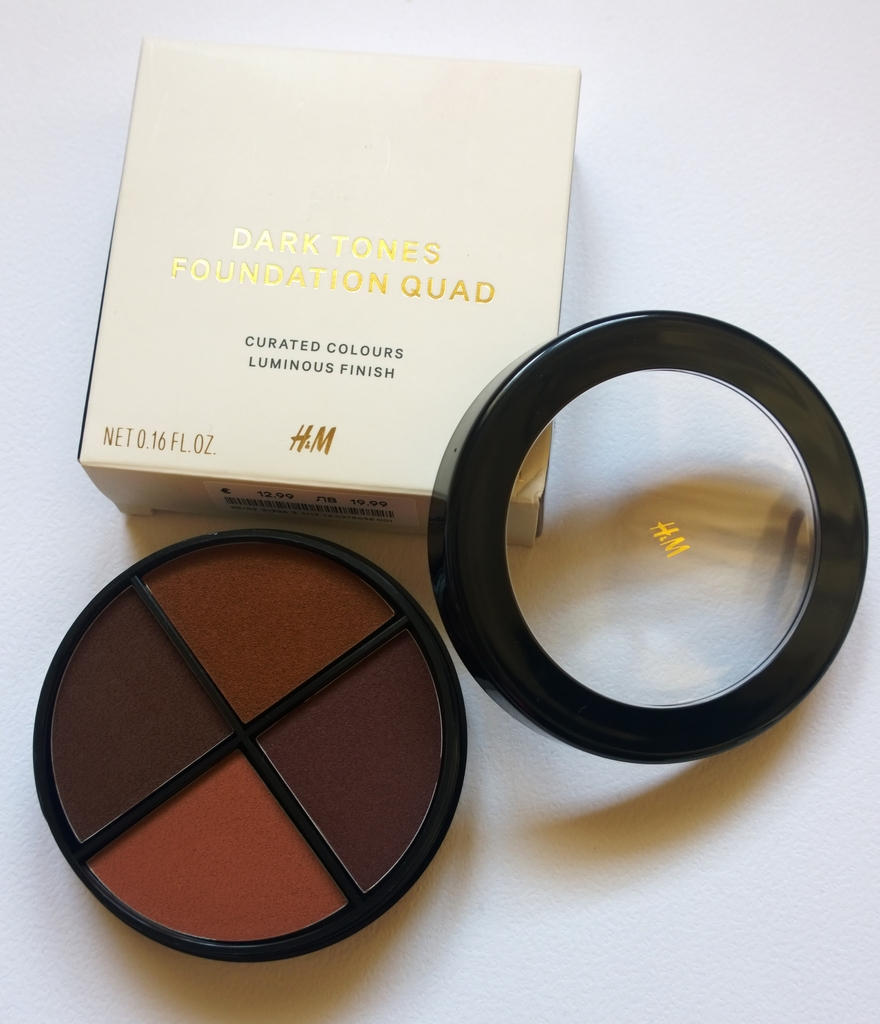 WHAT?! Do you have any idea how hard it is to find foundations for darker skintones in Greece? It is nearly impossible! Look at that!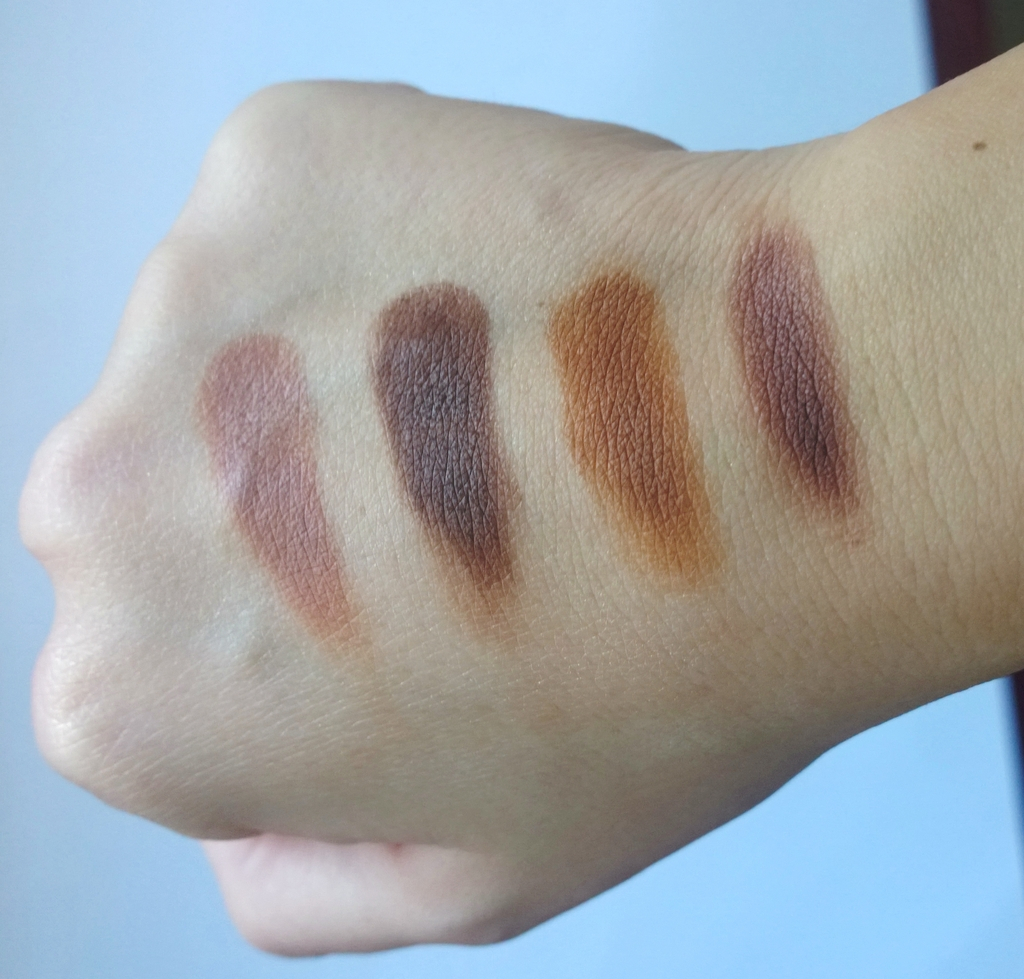 It makes for an awesome cream contour kit too. For 12,99€, that's the kind of deal I want to see!
At this point, I should mention some other things that you should keep an eye out for while shopping at H&M.
First and foremost, the brushes. They have excellent quality brushes, at very reasonable prices.  In fact, I bought their double sided eyebrow brush and I have been using it non-stop since that day. It has a spooley on one end and a angled brush on the other. My Anastasia Beverly Hills Brow Pomade and it have become best buddies. The only reason it's not included in these pictures is that it is hardly ever cleaned, it's used constantly. They also carry a brush cleaning spray! How cool is that?
The selection of lip products is vast. Lip scrubs, lip butters, lip balms, lipsticks, lipglosses…the list goes on.
Liquid foundations, powders, primers, you name it. I didn't see a highlighter, though. We found the glitch…
There is also an huge range of products for hair and body. Body scrubs, body lotions and body butters, perfumes, shampoos, hairsprays etc etc. And of course, an abundance of makeup bags. One for every need. From tiny ones, to huge ass ones.
So, the billion dollar question. Is it any good?
Well, I put them to the test, and painted my face like this…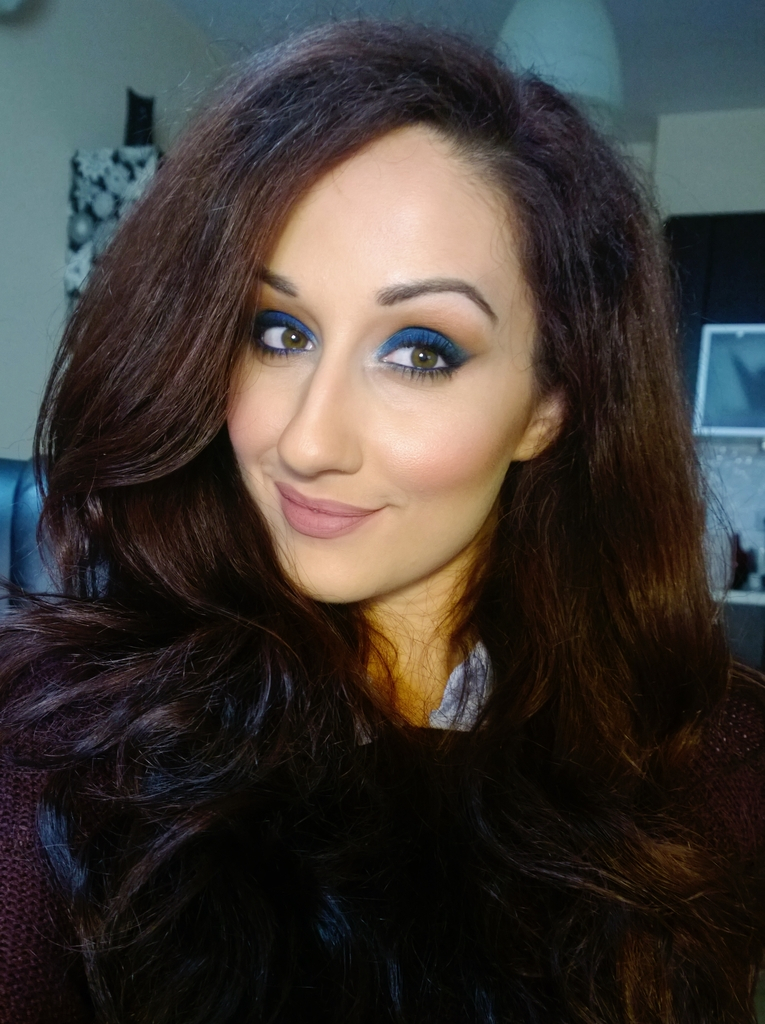 And I have to say…hell yeah, they're awesome! The pigmentation is insane, the application is good, the staying power is great. The prices are low. They pass! I am planning on getting more, rest assured.
Are you getting anything? Or have you already…?