It's the most wonderful time of the year… The time when Sephora stocks all the holiday palettes in time for Christmas. This year, Too Faced and MUFE take the cake. They created the cutest, most girly sets for sure.
Sadly, my Sephora didn't carry the 15 Artist Shadow Palette , I would have bought it in a heartbeat, but they did carry the other two limited edition sets by MUFE. It's hot pink, it's sparkly, I must have it. It's orange, it's sparkly, I must get it for my Dani ( check her out here ).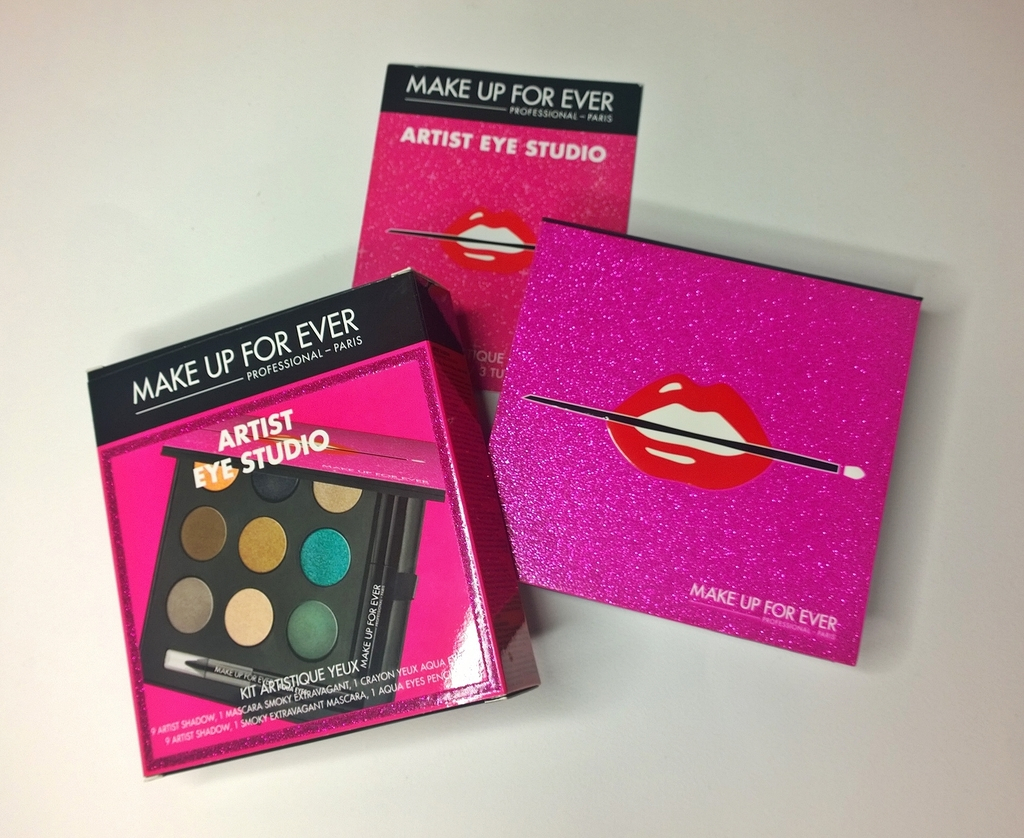 The MUFE Artist Eye Studio is a really interesting kit, consisting of a 9-piece eyeshadow palette, a mini  Smoky Extravagant Mascara and a mini Aqua Eyes Waterproof Eyeliner Pencil in black. Just to get them out of the way, so that we can focus on the juicy stuff i.e. the shadows, here these two travel babies are.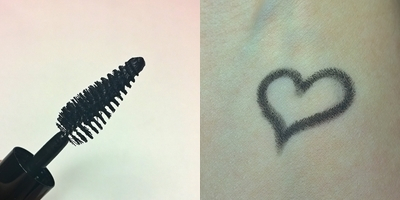 The pencil is good, the mascara is decent, nobody really cares, moving on…
Now to the good stuff. The shadows. Having never owned any MUFE shadows, and knowing how expensive they are, I got really pumped when I saw that I could get the chance to try out a few of their most popular shades for the cost of… well two regular sized ones from the brand. The selection is good, safe and useful. By useful, I mean they are the shades you will find yourself using again and again on a day-to-day basis.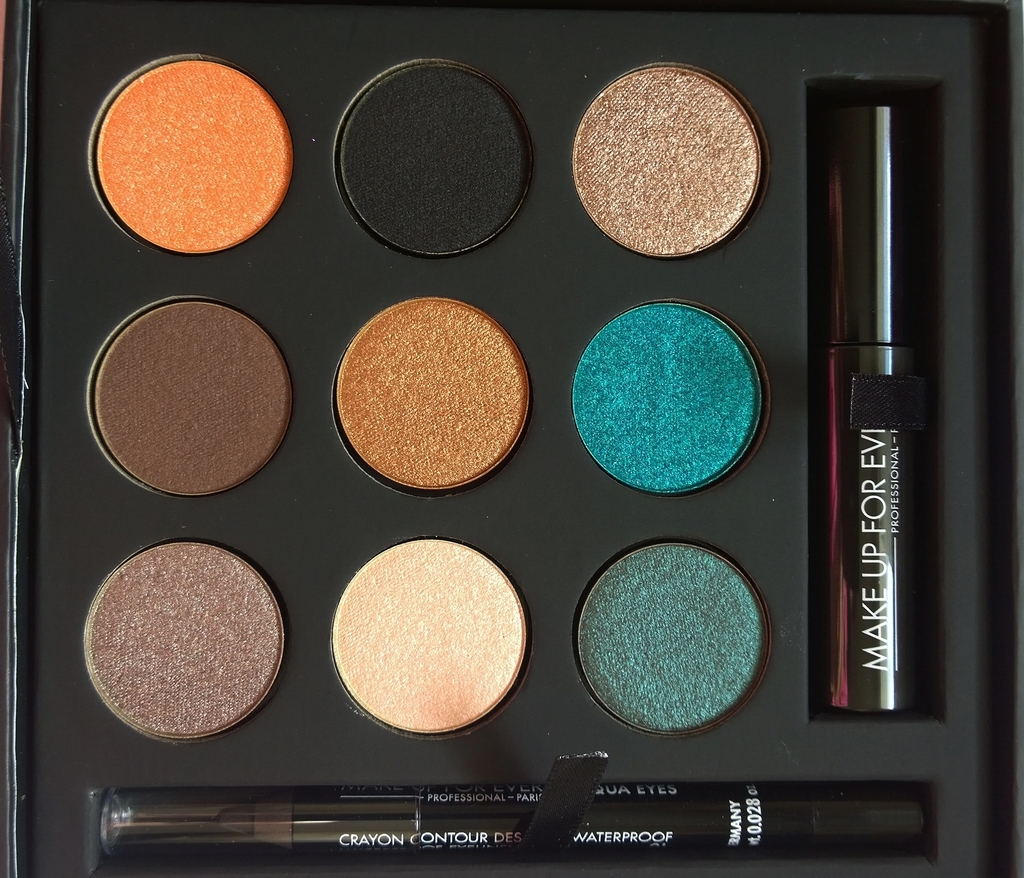 There is a little instructional manual that comes with this set and provides you with three separate "unique" eye makeup looks that can be achieved with this gorgeous palette, diving it vertically in 3 columns. "Urban Sunset", "Boudoir" and "Riviera"… I am a rebel, so I will be swatching and dividing horizontally. I don't play by your rules MUFE, I will do whatever I please! #fuckthepolice

First thing you will notice it that the matte to shimmer ratio is a bit off. Out of the lot, only two have a matte finish, but at least they are the two you would need to be matte. The brown and the black. And what a black…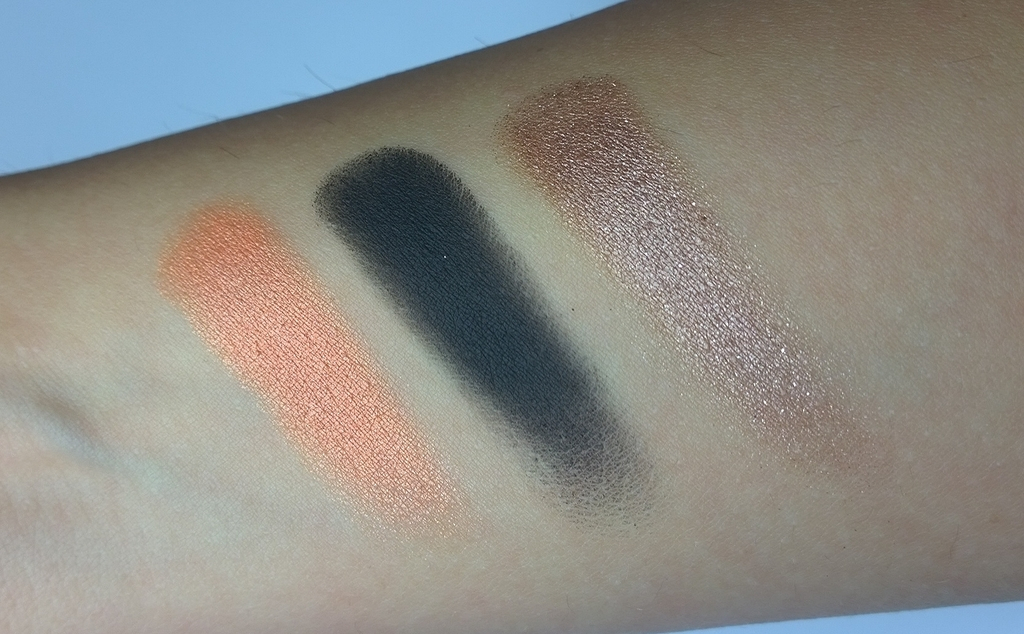 At the top row, where the wow-black lives, you get a peach and a taupy beige. And at this point I'm gonna pause and explain some things. MUFE has a way of "naming" their eyeshadows, much like Inglot, that is very "professional" and not at all practical. While the beginning of the code of each shadow determines the finish, the numbers are impossible to remember and impossible to find on the Sephora website where I had to dig through to get the actual name, since they were nowhere to be found on the box, the actual palette or the pamphlet that comes with it.
The letter-finish correlation reads as follows :
M : Matte
S : Satin
I : Iridescent
ME : Mettalic
D : Diamond
"But Macy, the black's code says it's satin, not a matte. " Don't worry my little ray of sunshine, it comes out matte. Swatches don't lie! Moving on…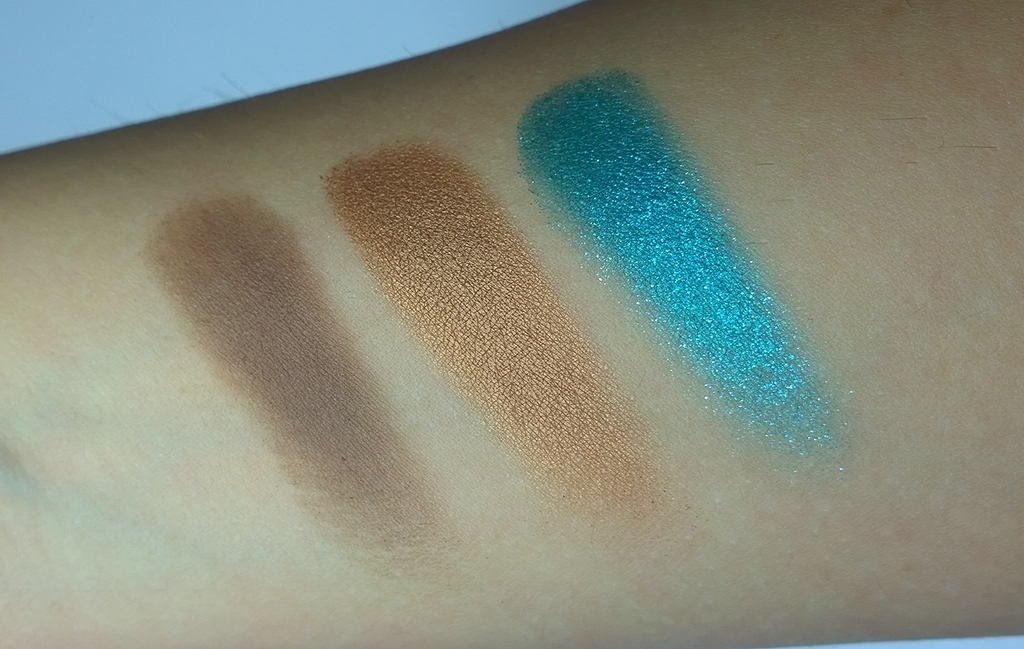 The second row is what I call my go-to summer look with a pop of color. I go for this look often in the summer time. Reminds me of the beach and cocktails. Sigh… You've got the matte (IT'S MATTE, SHUT UP!) brown as a transition shade, you've got the bronzy gold for your lid and the pop of color for your lower lashline. BOOM! Ready to par-tay!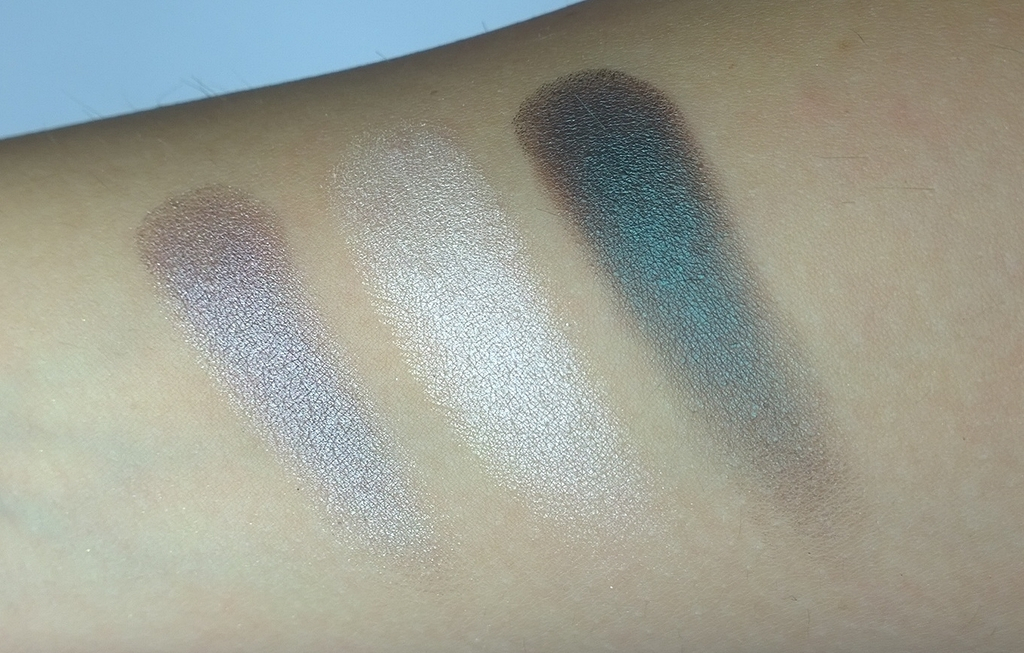 Third row and things are getting chilly. You know…cause of the cool toned shades….get it? I swear I'm funny in real life! Smh…
You've got your taupy silver, your highlight shade and the infamous duochrome that inspired the duochrome craze that has unleashed today. If this was Christianity, this shade would be Adam. Every other just came after.
Playing with this palette for quite a while now, I can say that I really really like it. It has a learning curve but once you get to know the way these shadows work, you'll get hooked. The pigmentation is insane, resembling that of a pressed pigment more than a regular eyeshadow. They feel creamy and luxurious and have minimal fallout. The shade selection is good, so much so you can say that it is a well-rounded palette.
There are a few things I don't like. First of, it is limited edition. Which means, that by the time you read this it may already be gone. Secondly, it is heavy and a bit bulky. As beautiful as it may be, this belongs at home not in a makeup bag. Lastly, the "names" of the shadows should AT LEAST be somewhere in the box. I cannot answer to "OMG your eye shadow is stunning! What is it???" with "Thanks, it's D-562". I'm not R2D2 (insert contemporary Star Wars reference here)!!!
Other than that, I love it. It retails for 52,90€ (I couldn't find it on sephora.com to give you the price in dollars). I believe thatfor the price you're getting quite a lot of Make Up Forever.
Do you think it's worth it?