As women, or should I say as grown up girls, we are drawn to cute things. From baby kittens to cute nail polish bottles, the whole reaction in your brain is the same. Much like the baby schema (traits that trick people into thinking you want to procreate to make something cute), a chemical path is prompted :
"Seeing them will activate the mesocorticolimbic system, which gives a feeling of euphoria similar to that of opioid use. By activating glutamate receptors in the brain that trigger an anticipatory sense of reward and enjoyment, we are compelled to seek more of the cute things we encounter, whether that means holding, cuddling or cooing over them" (read more here.)
…so basically, drugs.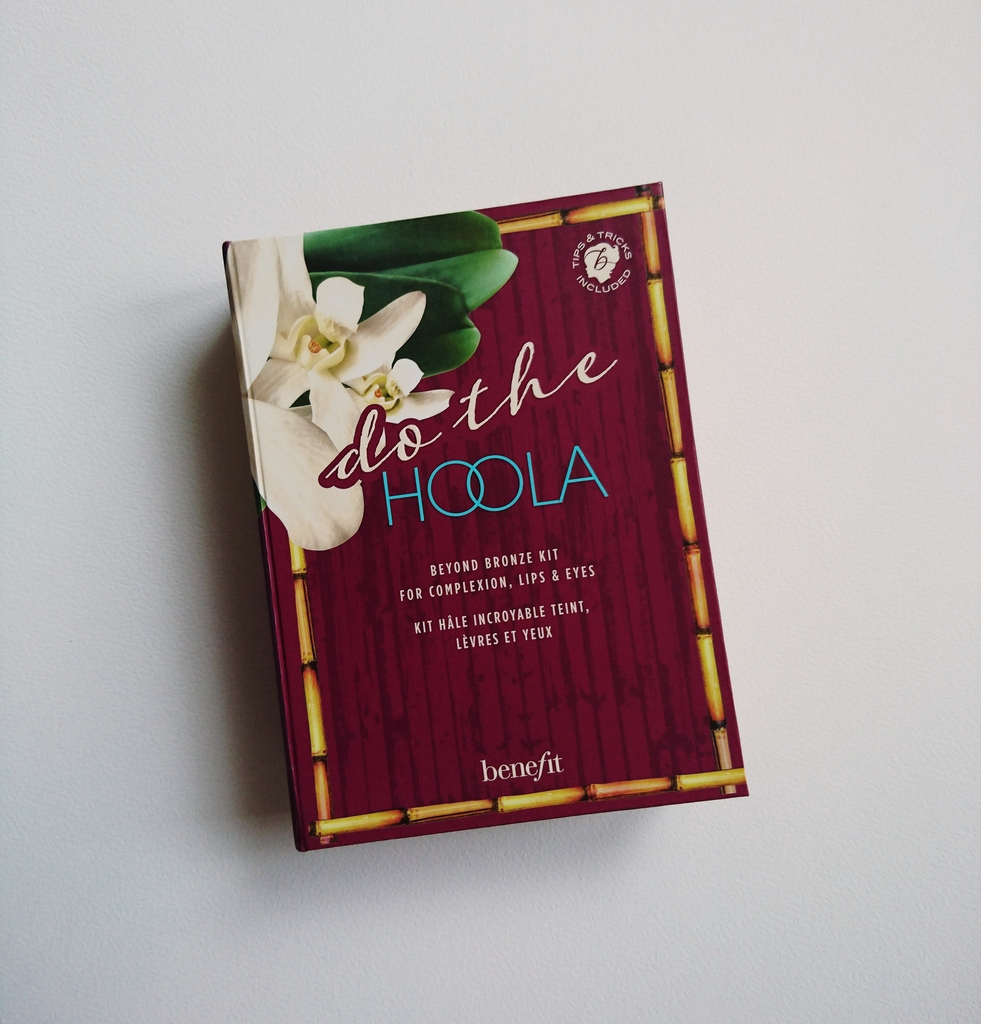 Clever companies have taken advantage of that pattern to make you gravitate towards their products. I am naming names. Benefit is the number one culprit in this category, followed closely by Too Faced.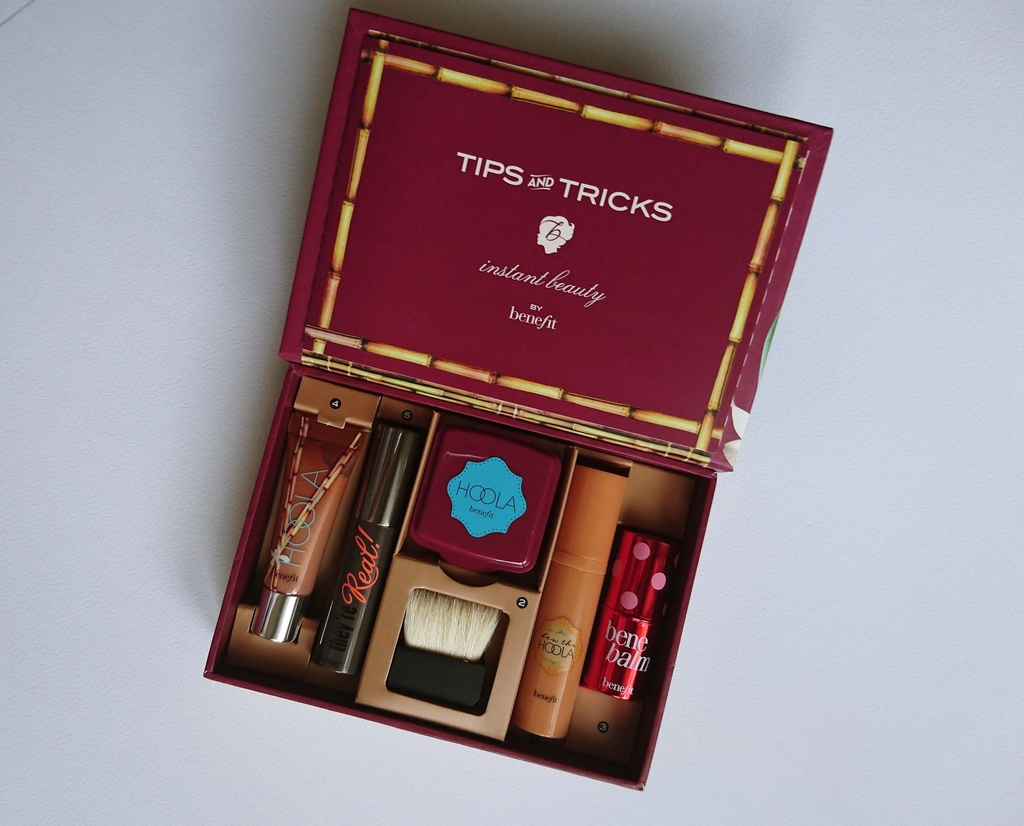 The thing under focus today is Benefit's Kits, that manage to combine cute packaging and tiny products to make you "awwww" and buy them. Guilty. I fell for it, mostly because I wanted to review the it, and I wanted to try the new product that was included in the "Do the Hoola" kit, and answers to "Dew the Hoola".
The kit comes with 5 mini products and a teeny brush. What is this? Makeup for ants???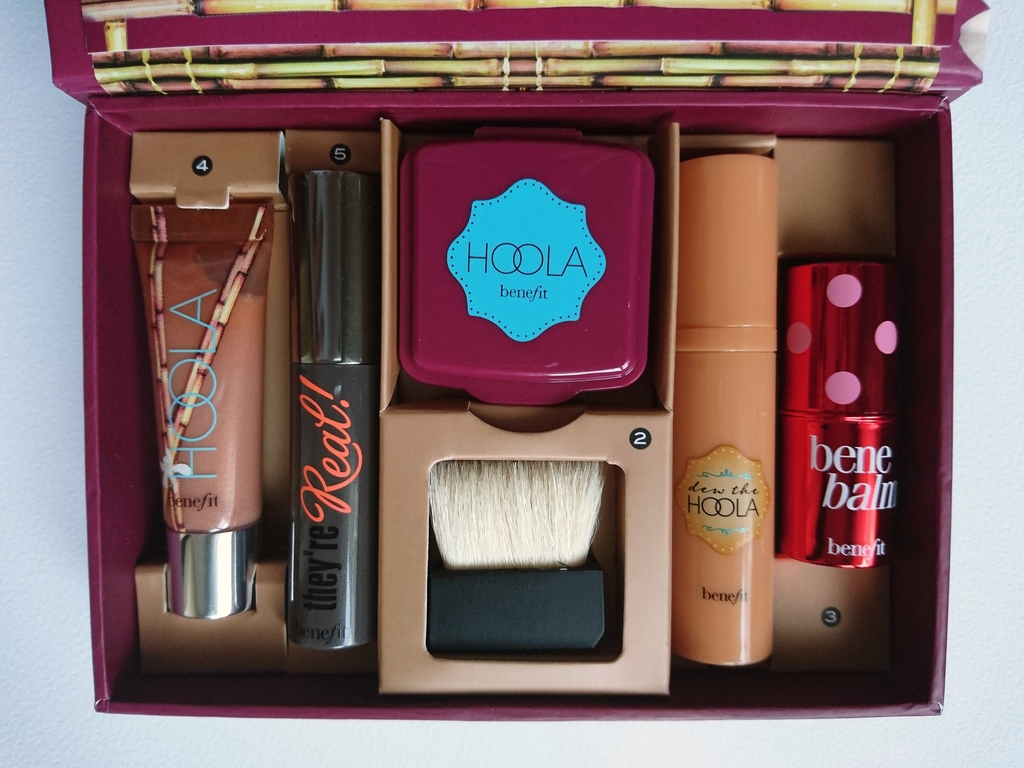 I'm not gonna lie, mini products are great to try out and travel with. They have saved my makeup bag (and pro kit) multiple times. But the ultimate question in every makeup dilemma is "is it worth the money?". Let's see…
We get a mini (3g/0,1 oz)"They're Real! Mascara", that I don't even care for. It does nothing for my lashes and is a bitch and half to take off. I know people love it, because it holds a curl and survives humidity and what not, but I need my mascara to make my lashes full, sumptuous and sexy. And this doesn't do any of that. Plus, personally, I despise mascaras that make my lashes rock hard and "crispy". It makes me want to tear them off immediately. Something that you will have to do, if you don't own waterproof makeup remover or the specially designed "They're Real Remover". Hint! If a product needs another product along with it to work properly, don't buy it. To be honest, the whole "They're Real!" line from Benefit is a huge disappointment.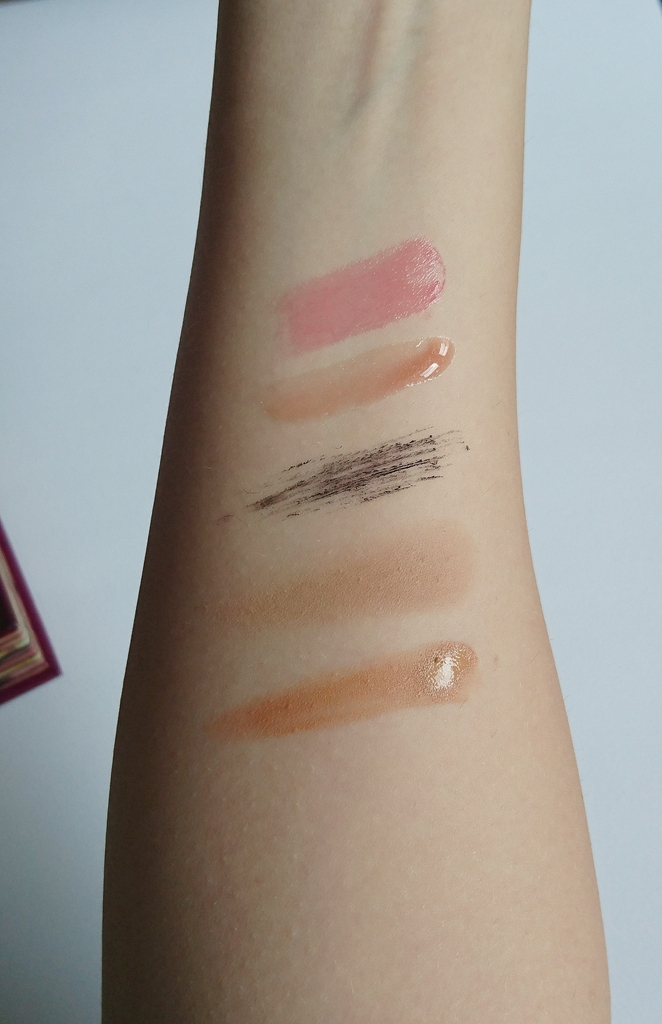 Next up a mini (6,5ml/0,22 oz) "Hoola Ultra Plush Lip Gloss". Many people don't know that Benefit makes lip glosses that correspond to their box powders, but they do. And they are awesome! They come in a squeezy tube, that brings me back to my 5-year old self (you know what I'm talking about, and you used it too!). The formula is great. It's not sticky, it's moisturizing and comfortable on the lips, plus the smell is soooo good. It's fruity and lovely. Really takes you back to a more carefree time. The shade is fool-proof too, a nude peachy beige with tiny gold shimmer that is barely noticeable. You get a good amount too. Consider that a MAC lipglass contains 4,8g (0,17 oz) in its full size bottle, or a Rimmel Apocalips 5,5ml (0,18 oz). Thumbs up!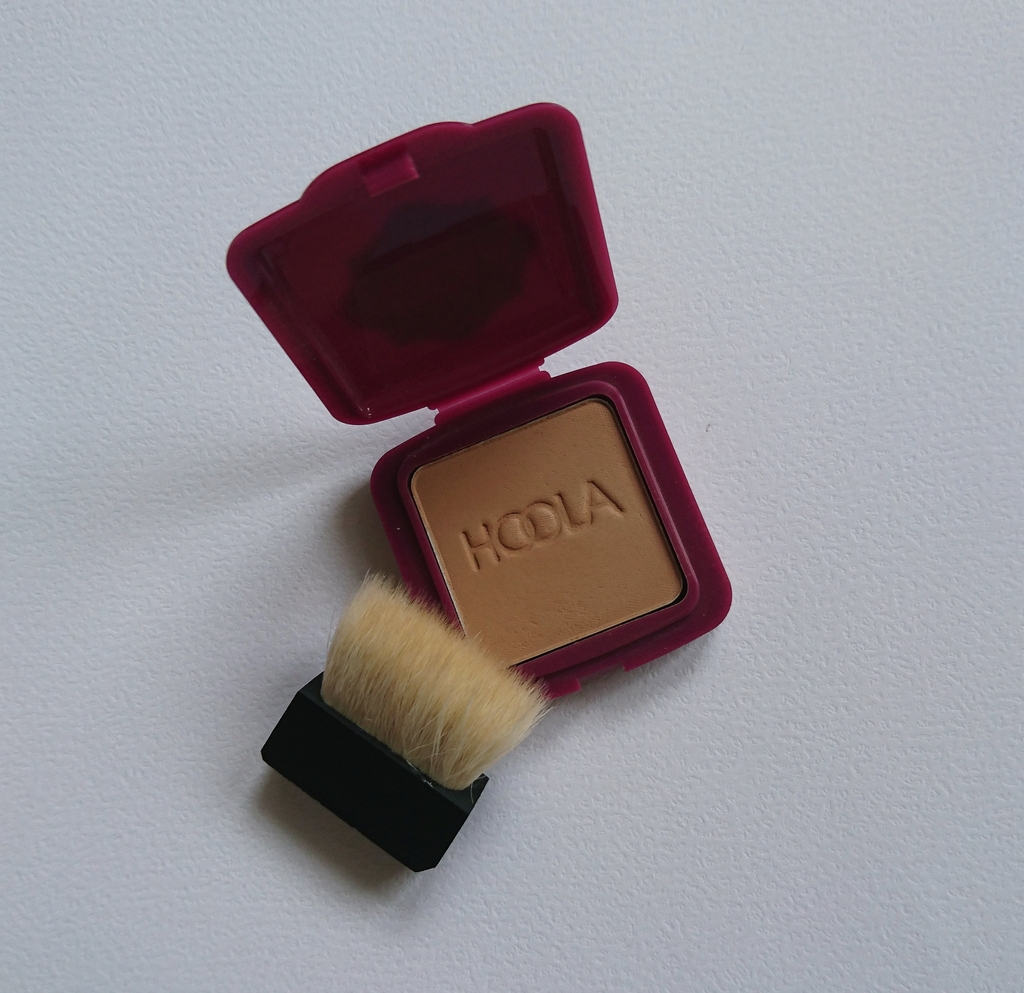 We also get a mini (3 g/o,1 oz) "Hoola Matte Bronzer" and its teeny brush. Hoola is one of the most popular bronzers among the makeup community, and you cannot blame them. It is a very good product. Let's not forget that before everyone, and I mean everyone, came out with contour kits and contour powders it was a real struggle to find a good matte cool-toned shade to contour with. And Hoola is really interesting because, in a weird way, it works for a very wide range of skintones. Don't ask me why, it does. The great thing about the Hoola in this kit is that it comes in an individual mini package that you can pop in your overnight/weekend/travel makeup bag and call it a day. The teeny brush it comes with may not be ideal for cheek contour, but it's great for nose jobs on the go. They both get a thumbs up.
Before we move on to the rest, I should point out that the kit comes with "Tips and Tricks" that conveniently also cover the mirror. IF I had read the tips and tricks before pumping the next item, you bet your sweet little hiney, this kit would have gone back to Sephora…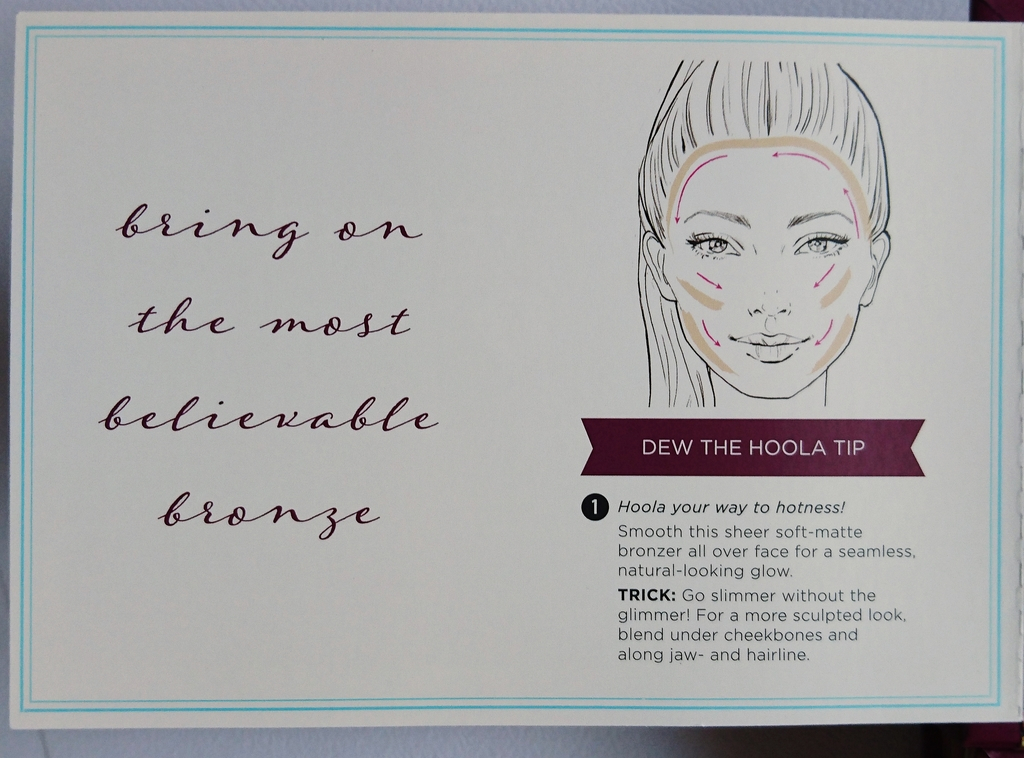 Now for the mini (7ml/0,23 fl. oz) "Dew the Hoola" , the reason I bought this whole kit. You would think that something that has the word "Dew" in the title, would actually be dewy. Aka, shimmery, pearly, sparkly or something. Well, no. It is matte. What? How? Then why is it Dew the Hoola? The original Hoola was matte to begin with! Sadly, when I bought the kit, "Dew the Hoola" could exclusively be found in this box, and the regular full size ($28) was not available. If it was, and I could see the tester, I wouldn't have bought it. And I wouldn't be writing this review. I may have even become an austronaut, who knows…But the real problem isn't really the finish. It's the shade. It comes in a really weird orangy shade that frankly, I want nothing to do with. It is not dark enough to be used by medium to dark skintones that could actually pull off the orange tint, so what are we doing here?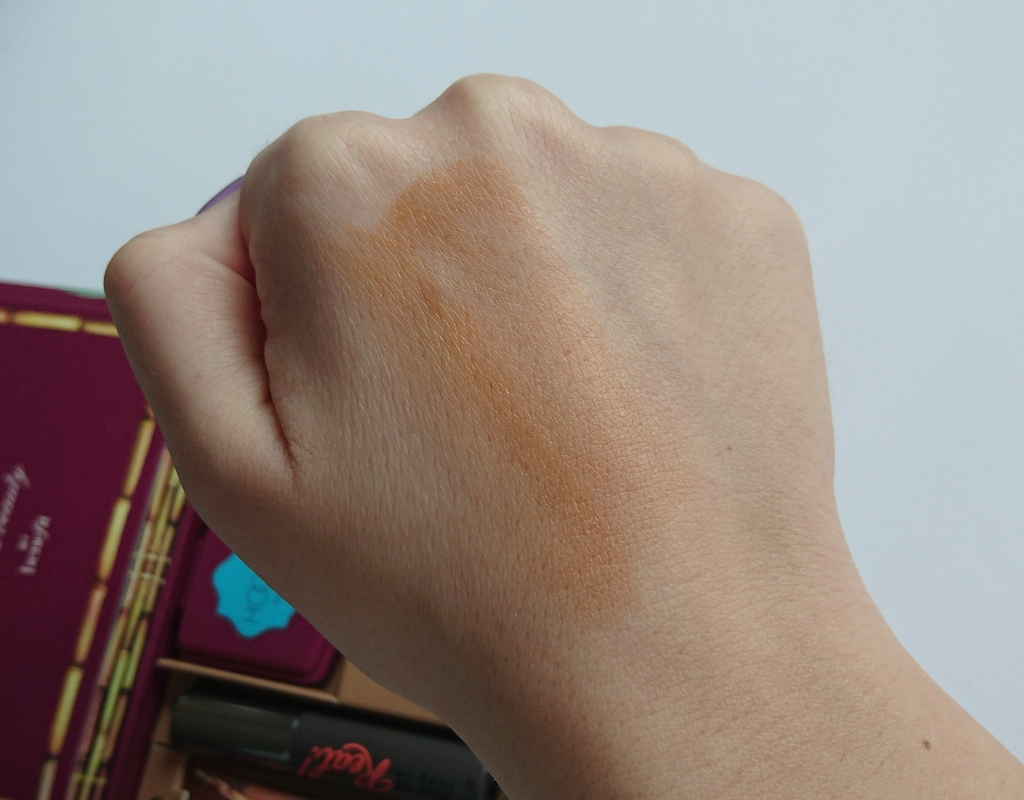 I did take the liberty to find a couple (both high-end and drugstore) alternatives to Dew the Hoola, that perform better and are much easier to use. I have compared them in an in-depth review in the past (click here). The one is the Bourjois Bronzing Primer (that smells like chocolate mmm) and the other is the Chanel Bronze Universel.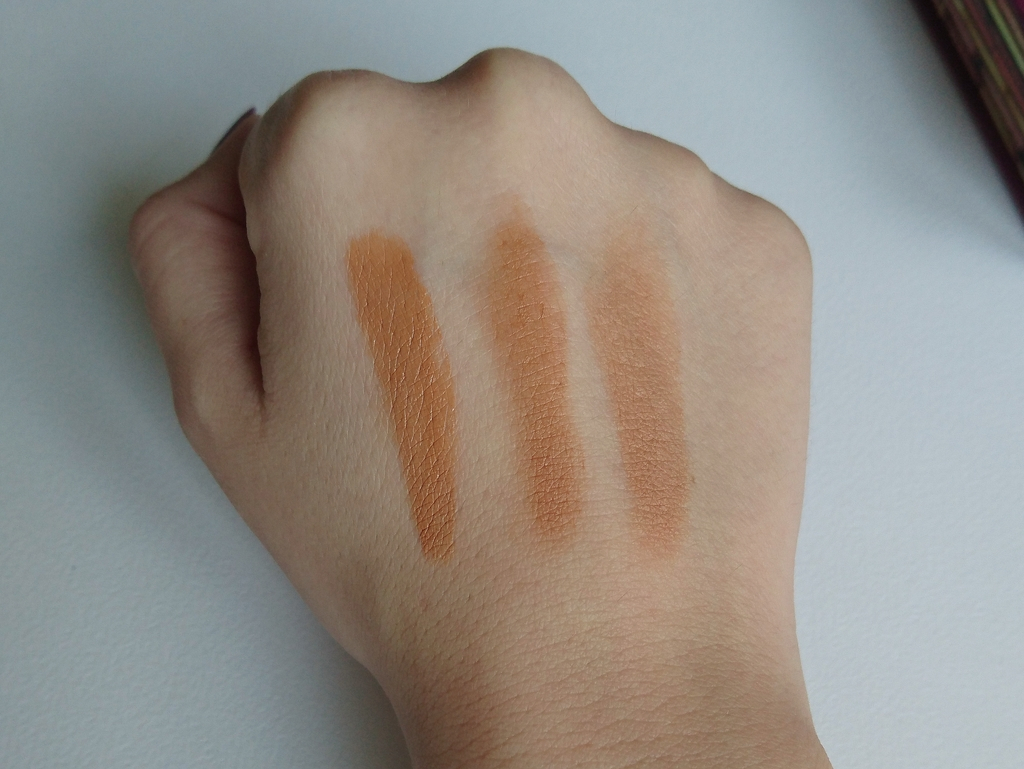 Last but not least, there's the mini (1,4 g/ 0.05 oz) Benebalm.  How cute is that?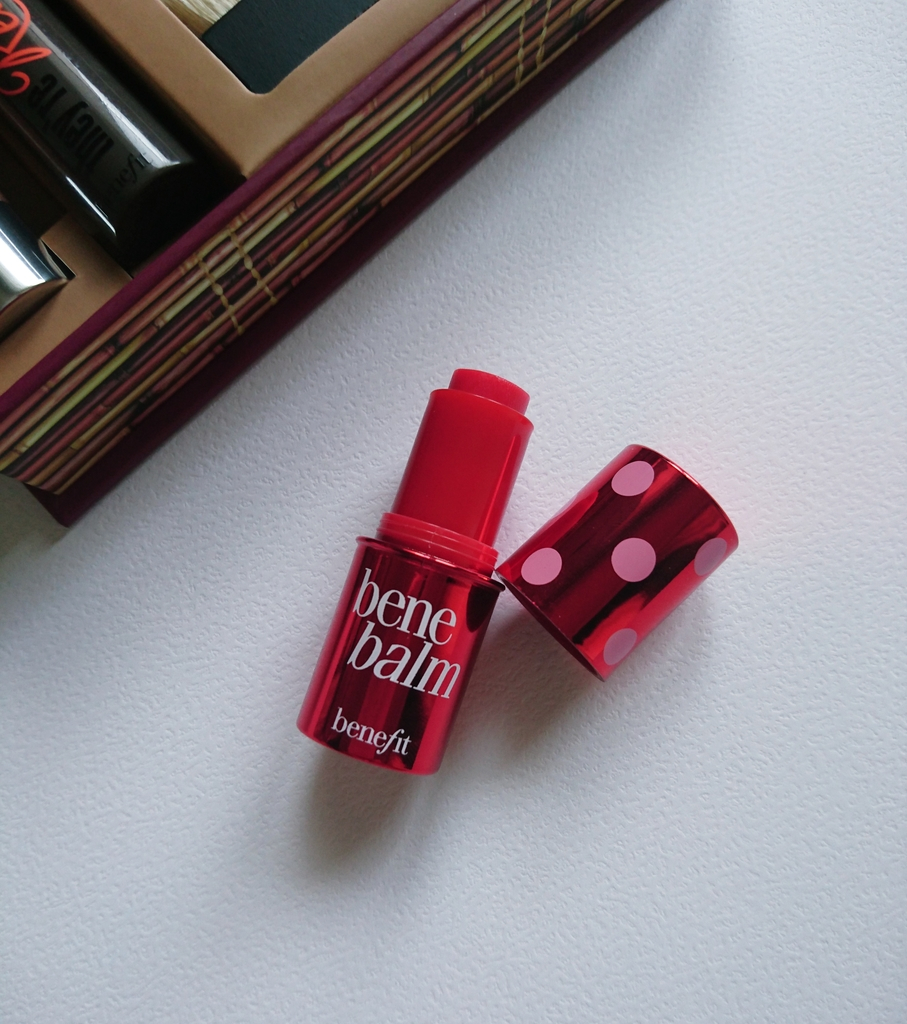 Sadly, I cannot say anything good about this product, because I wasn't able to use it. It smells so pungently of roses, that I can't even open it without getting a headache. So putting it under my nose for an entire day was impossible. It gets a thumbs down by default, but if you enjoy the smell of roses, I think you'll love it.
To get to the point, is this kit worth buying? Well,no. That's just my opinion. It retails for $34 (or 37,90€), and for that amount of money you can get a bunch of great full-size drugstore products that perform better or a couple of great highend. If you are a Benefit fan (and you feel offended) here are some other kits from the brand to check out :
The Bronze of Champions Kit ($32) :
Mini (2,3 g/0.08 oz ) "Watt's Up!" Soft Focus Highlighter, mini (3,25g/0.11 oz) "Creaseless Cream Shadow" in 'Bikini-Tini', mini (1,1 g/0.04 oz) "Longwear Powder Shadow" in 'Thanks A Latte', mini (3 g/0.1 oz) "Hoola" Bronzing Powder & Brush, mini (6,5 ml/0.22 oz) "Ultra Plush Lip Gloss" in 'Hoola' and mini (3 g/0.1 oz) "They're Real!" Mascara. -Opt for this one instead of "Do the Hoola", it's a better value for money-
Operation Pore-Proof Kit ($34) :
Mini (4,4 ml/0.15 oz) Shy Beam, mini (7 ml/0.25 oz) The POREfessional primer, mini (1,5 g/0.05 oz) The POREfessional: license to blot stick,  mini (1,5g/0.05 oz) The POREfessional: agent zero shine powder and mini (7 g/0.25 oz) Dr. feelgood balm
Feelin' Dandy Lip & Cheek Kit ($28) :
Mini (3,8ml/0.13 oz) "Posietint", mini (3g/0.1 oz) "Dandelion" Blush and brush, mini (3,8 ml/0.13 oz) "High Beam" Illuminator, mini (6,5ml/0.22 oz) "Ultra Plush" Dandelion Lip Gloss
Sugarlicious Lip & Cheek Kit ($28) :
Mini (3,8ml/0.13 oz) "Benetint", mini (3g/0.1 oz) "Sugarbomb" Blush and brush, mini (3,8 ml/0.13 oz) "High Beam" Illuminator, mini (6,5ml/0.22 oz) "Ultra Plush" Sugarbomb Lip Gloss
Rockitude Lip & Cheek Kit ($28) :
Mini (3,8ml/0.13 oz) "Benetint", mini (3g/0.1 oz) "Rockateur" Blush and brush, mini (3,8 ml/0.13 oz) "High Beam" Illuminator, mini (6,5ml/0.22 oz) "Ultra Plush" Lip Gloss in 'Rockateur'
There are also several eye palette/kits available, but I cannot vouche for those, because I haven't tried their eye products enought to form an opinion. Whichever you choose, please give it good thought. These kits are quite pricey for what they offer, and you always run the risk of not liking a good percentage of the box.
Hope this helped a bit!
-xoxo- Macy