Centuries ago, people would write poems and sonnets about what they loved, in order to solidify their ever consuming feelings about their object of desire. In times like these, that everything plays out behind (and simultaneously in front of) a computer or smartphone screen, it is only appropriate that I dedicate an entire post to my one and only, the Bobbi Brown Vitamin Enriched Face Base.
---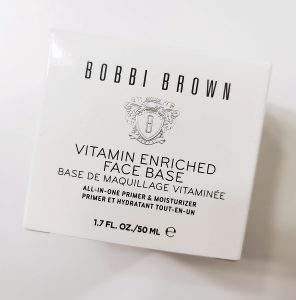 Imagine your grandkids asking you "nana, how did you and papa meet?" and dreading to answer "on Tinder, dear". That's exactly the deep rooted shame I am feeling about how I crossed paths with this cream. Because, even though I am reluctant to admit it, I was pushed into purchasing it by watching numerous Jeffree Star videos, where he used to apply it with his signature method; dipping his Beauty Blender in the jar and going ham on his face.
I know what you're thinking. Macy, how could you, a borderline germaphobe, possibly not get triggered by the notion of someone contaminating a jar of face cream so provocatively? Look, if you're not using it on multiple people, aka clients as a professional makeup artist, do you. Wanna spit in it too? By all means. You're gross, but that doesn't affect me personally.
I feel obligated to disclose that even for my personal jar of Face Base, I always use a metallic spatula to get the amount I need out. When I've reached the point of no return though, meaning the bottom of the jar where it is physically impossible to get any more product out, I too dip my sponge JS style and soak up the last gram of cream that's stuck on the walls.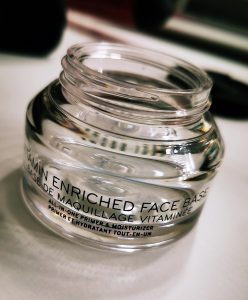 And trust me, considering the price tag plus the sheer awesomeness of this product you wouldn't want to waste any. Not even a drop. Let me explain how a cream grows to become a holy grail.
I, myself, contrary to what consumerism and capitalism will have you believe, think that primer is not a necessary step in everybody's makeup routine per se. Honestly, if you don't have any particular needs (i.e. texture in the form of scars, enlarged pores or an abundance of fine lines), chances are you won't benefit significantly from applying a primer under your foundation, provided that you use the appropriate moisturizer and your foundation is one that suits your skin. I recently heard a fellow MUA trying to push the narrative that "if your foundation changes color after you apply it, you need to use a primer". That is a common misconception, perpetuated greatly by "professionals" (I use the term loosely) that work in retail. Allow me a small detour, if you will, just to clarify a few things.
If your foundation "oxidizes" while wearing it throughout the day, you might :
a) not have a properly balanced skincare routine (omitting a toner for example, very common mistake), leaving your skin with an undesirable pH level, on which the pigments in the foundation do not work properly.
b) be using skincare products that are not compatible with makeup application (it happens, not everything is meant to work under makeup, making it change shade or slide all over)
c) have chosen a really shitty foundation (ouch)
~Just a disclaimer. You need to expect liquid foundations that dry down to a matte, powder-like finish to darken a bit (half a shade, or a tad more) as they set. This doesn't fall into the categories mentioned above.~
Detour over. Now, the BB Vitamin Enriched Face Base, actually has a lot to do with everything I just said. It is one of the few products that can be worn alone under makeup, creating an ideal canvas for application of either liquid, cream or powder foundation.
Although the viscosity (thickness, she real thicc) of this "whipped soufflé" cream can be very intimidating to people that are used to a lightweight water-like formula, its absorption is miraculous. I have been using it on myself (in every version of my skin possible, from severely dehydrated hell to combination purgatory) and my clients for years now and I can be called to testify UNDER OATH about how amazingly this product performs on a variety of skin types.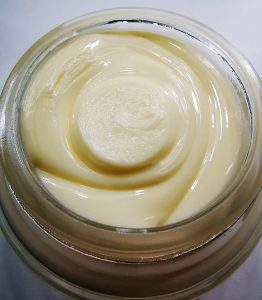 It doesn't feel greasy or sticky. It just leaves the skin feeling supple, radiant and 100% ready to take on a full day of wearing makeup. It doesn't leave a film on the skin, either. That is one of my biggest pet peeves, when it comes to face creams or serums. I cannot stand feeling there is a layer of something on me. Grosses me out. This cream just becomes one with the skin, whilst providing a refreshing shot of hydration and energy. And your skin just drinks it up.
The smell of the Face Base deserves a paragraph of its own. And this may be deal breaker for some, but I have only gotten positive feedback on the job. The most common response to me applying it on a client is "mmmhh, that smells so good, what is that?!". In case you have never been in the vicinity of a Face Base, it has an unbelievably invigorating scent of fresh citrus. To me, it's enough to wake me up in the morning.
I have created a habit of applying it on my clients' faces using a Sephora PRO Contour Kabuki 82 brush, almost in a ritualistic way, massaging it into their skin for a minute until it absorbs. This has proven to be really effective when it comes to calming even the most stressed brides down…
If we have to dive deeper into the ingredients of this cream, you will be pleasantly surprised to know that it is a water-based cream that includes Sodium Hyaluronate (a more effective and more compatible to the skin version of hyaluronic acid) and its mighty sidekick Panthenol. Those two are incredible humectants, meaning they attract and lock in moisture. Numerous plant and fruit extracts, along with Vitamin C and E, provide your skin with much needed antioxidants. I mean…what more do you need?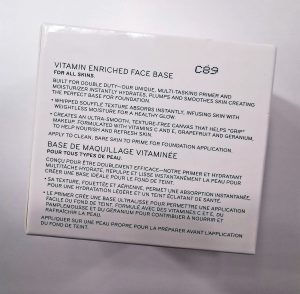 In order to be fair, I need to mention that the only ingredient I do not necessarily like on the list, is linalool. It's a synthetic fragrance used in many cosmetics, and it can be a potent skin sensitizer to people with sensitive skin. If we could make that go away, that'd be great Bobbi Brown. Thanks.
The Vitamin Enriched Face Base used to be available in a 50ml/1.7fl.oz luxurious little jar, with a black lid embossed with Bobbi Brown's 'seal'. Very chic. As the popularity of this cream skyrocketed, the need for something bigger arose, so as of last wear it is also available in a 100ml/3,4fl.oz as well. It used to be advertised as "limited edition" but I can still find it on numerous retailers, so they might have decided to add it to their permanent line.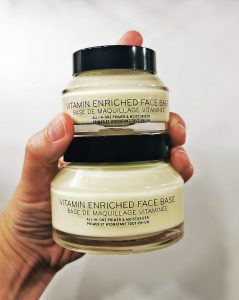 "Talk is cheap. Show me the money."
In case you're interested, and you should be by now, the 50ml jar of the Face Base will make a 58€/$60 dent in your bank account, whereas the 100ml will cost you around 86€/$90. And it's worth every single penny…
Oh Face Base, oh Face Base,
you'll never leave my makeup case.
You have brightened my days, 
with your multi-tasking ways. 
You're a primer, you're a friend,
you're the reason I can blend.
You give moisture, you're my muse,
you're the only cream I'll use. 
I feel safe when you're applied,
please don't ever leave my side.
This is how much I love it.
xoxo,
Macy