Although we don't openly admit it, we all play favorites when it comes to makeup brands. I can only speak for myself when I say that Becca was one of the brands that excited me from the first moment I saw Jaclyn Hill apply a Shimmering Skin Perfector and absolutely rave about it. Come to think of it, I was really gullible back then, and Jaclyn was my favorite 'guru' (oh, how times change…) so everything she said was gospel to me.
I do not regret this particular influence she had on me, nor the one Jeffree did (see yesterday's post here), because Becca is so close to my heart, or at least was… I have a conspiracy theory that companies significantly deteriorate in quality and uniqueness once the come under the Estee Lauder umbrella, and I have so many examples that prove this. Just take a look at Bobbi Brown, Too Faced and Becca to name a few. They used to come out with really exciting launches and products that gained cult favourite status in a matter of months. But once they succumbed to mama EL, everything they put out is so meh…
That's exactly the reason I was chuffed to bits when I saw they had launched the new (limited edition) Shimmering Skin Perfector Pressed in the shade "Own your Light". First things first, I love the name. I find it really inspiring. So +1 point right of the get go. The only thing better would be if this was a colab with Kathleen Lights. Missed opportunity, right there.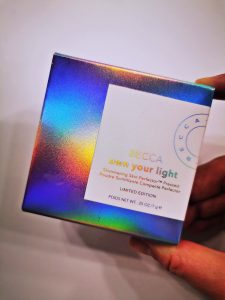 Next, let's talk packaging. My, oh my, am I a sucker for anything holographic. I might have been a cat in my past life, but anything that shines, sparkles, shifts in color….gimme. The box it comes in is stunningly beautiful and the compact itself (that Mr. Greyhorse calls "the buckler") is pretty and two-toned as well. The tones of peachy-pink and gold that are portrayed on the compact are the tones you will find shifting in the actual powder. So, even though the outer packaging seems detached from the concept (but gorgeous) the compact and the powder inside have a distinct color correlation. That is particularly helpful, if you own a bunch of Becca Skin Perfectors and you would like to be able to tell them apart without looking at the back or opening them.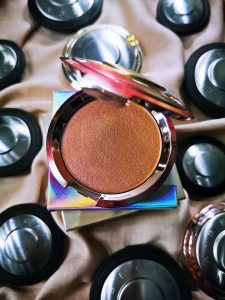 The product itself is stunning, bouncing light between pale pink, peach and gold. This is without a doubt Becca's most unique color in their Skin Perfector line. Don't get me wrong, I fully appreciate the range as is, because the shades of their highlighters are within the perfect wearable spectrum. But, as a limited edition item, this is a wonderful addition to anyone's collection.
In terms or wearability (is that a word?), the "Own your Light" Skin Perfector will either serve you as a blush topper or a show-stopping highlight depending on your skin tone. Currently, I am sitting pretty on a transitional Nars Sheer Glow 'Santa Fe' tone, that is bound to get darker as the summer progresses. At this stage of 'tan' this highlighter is not a highlighter on me. It looks better applied on the apples of the cheek, either alone or over a blush and gives me a really one-of-a-kind glow. If you're any lighter than that, understand that you could only use it as blush. For the lucky caramel, toffee and chocolate skin gals out there…give this product a chance. It will look really flattering on you.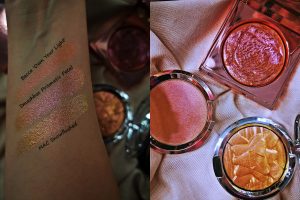 I have decided to swatch it right next to two other  LE highlighters by the ELC (coincidence?) that have a similar shift in color, but are too glittery and chunky to be categorized as "natural" or "wearable". Even though the Becca "Own your Light" doesn't seem to outshine (pun intended) its competitors, it is indeed a wonderful highlight.
As far as texture and formula, "Own your Light" is smooth, containing really fine micro-shimmer (not glitter at all) and almost has a sheer quality. Not in a bad way, but in the way that allows your skin to appear as skin even after applying and layering the product. For maximum glow results, I would suggest not over powdering the area prior to application and using a setting spray to meld everything together. This formula makes it ideal for editorial purposes as well. It doesn't emphasize pores or texture on the skin and you can rest assured that you will have to answer to quite a few curious people when they ask "bruh, what highlight are you wearing??"
I am so glad I didn't miss out on getting this baby, because I am honestly really impressed by it.
You can get yours at either Sephora or Cult Beauty, for £30/40€.
(if you want £10 off your first order on Cult Beauty, click the link above)
What's your favorite Becca Shimmering Skin Perfector?
xoxo,
Macy