Well, well, well…Long time no see, eh?
For those perplexed by the lack of EXISTENCE of this blog, just imagine a huge ass hurricane going over it. We were experiencing some 'technical difficulties' lately, gravely worsened by the Covid-19 pandemic bonanza. Long story short, the host of my original website flaked on us (bye, Felicia!), and decided to just not-be all the while not answering to any emails pleading to get my content back for months. But, in the spirit of 'we will rebuild!', we did! Make yourself comfortable, grab a drink. Enjoy!
---
During quarantine, I went haywire with the online makeup shopping, so there's a LOT of things to review. I decided to start off with a brand I had never tried before, and oooh boy do I have stuff to say.
Viseart is a brand generally considered to be catering towards professional MUAs, launching eyeshadow palettes fitted for a pro kit more than the makeup bag of the average Jane (or Karen). Lately, they have introduced some smaller palettes and even tiny palettes, I guess in order to target…the Karens (?)
The ones that caught my eye, were the 12-pan small palettes, the 'Edits'. The Edits are compact enough to fit in a makeup bag, great for travel, but also contain the same amount as a larger palette (i.e. Too Faced The Natural Nudes). The question at hand is, do they perform? Hmm…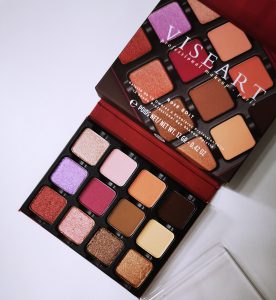 I picked up the Rosé Edit simply because the color scheme was the one closest to my taste. Originally, I was thinking about the Spritz Edit (their latest addition to the Edit line), but I realized that realistically speaking I have all those shades in numerous other palettes and that would refrain me from getting inspired enough to use it.
So, Rosé. Much like the wine, why bother?? And I'm going to thoroughly explain why you shouldn't, but before I bash this palette I want to present the shiny side of the coin first.
The size of this palette is perfect. The design is minimal, reminding me of Japanese origami. Looks and feels sturdy.
Lightweight, slick, compact and luxurious (at least on the outside).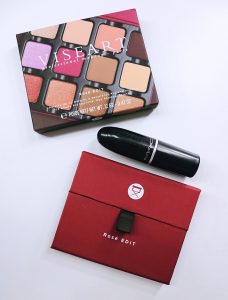 The amount of product you get for the price is quite fair ($35/£30 for 12 shadows of 1g each) and the matte-to-shimmer ratio is perfect (6 mattes and 6 complimentary shimmers). The mattes are performing amazingly, although there is some noticeable kickback in the pan. Sadly, the positives end here.
The negatives for me begin with the inside of the palette. The cheap looking black plastic that nests the eyeshadow pans is off-putting to say the least. Nothing about this design says 'high-end'. It looks like something they would use to ship equipment from China, in order for it to not move in the box during transit. The names of the shadows are only available in the outer packaging, so when you toss that out (preferably to the recycling bin, don't be douche), they are gone forever. So there's that…
The pans are magnetically attached, but the magnet is obviously not that strong (unlike the Inglot palettes for example), so the pans wiggle when you touch them. This of course is so that you can pop them out and take some with you, or replace them if needed. Please note this pattern for future reviews, because I am already annoyed as we speak.
I could (and would) ignore all of these minor flaws if the formula was as astounding as every guru led me to believe, but once more I fell into the hype-trap.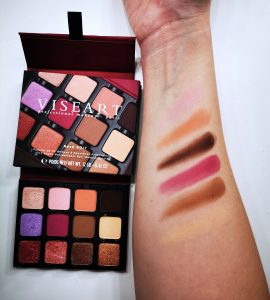 As I mentioned, the matte shadows have a very good formula, blending well into each other and layering nicely. You can build up the intensity with minimal effort and they do not appear patchy or dry. BUT. And it's a big but.
The shimmers are a total disappointment. It takes a lot to mess up a shimmer formula, but somehow Viseart did. All but one shimmer in the palette are a nightmare to apply, they don't show up on the lid unless you wet them with a setting spray and dig into the pan to get enough product. Forget about using your fingers, it doesn't work for them either. But wait, there's more!
The most obnoxious thing of all, was the staying power.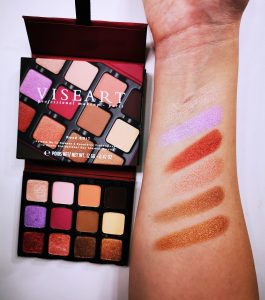 Might as well have spit in my face, Viseart. I have never experienced such a poor performance from a shadow. Ever. Within 5 minutes of a strenuous application of wetting and dipping (x3) the result was non-existent. I felt like I was part of some sick joke. Not to mention the condition of the eye look at the end of the day… I shall refer to them as Houdini Shimmers from now on.
I tried 4 different eye bases, so I can be sure that I have covered all….bases. (ok, Macy…)

I used the palette over the Anastasia Beverly Hills Eye Primer, the Too Faced Shadow Insurance, Tarte Shape Tape Concealer (my go-to base for my personal makeup) and finally a Sephora Colorful Shadow & Liner pencil. The latter was the only one that provided decent results. The worst was by far was the concealer, followed by the Too Faced primer.
I get severely triggered when high-end brands fail to produce decent shimmers because it's the easiest formula to make! SO many drugstore brands have aced the shimmer formula that honestly it's a bit insulting paying so much money to have to deal with this type of nonsense. Look at these comparisons swatches of a couple of shimmers from this palette versus Natasha Denona and Huda Beauty.
Needless to say, I won't be reaching for this palette, when I have Colourpop palettes that perform 100 times more efficiently. Well, at least if you're reading this, maybe I saved you the $35.
Go get yourself some steak, or lobster. Or a decent bottle of red or even white wine. Definitely not Rosé though…Thank me later.
xoxo,
Macy